Brown County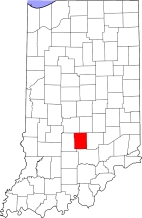 Brown County was created in 1836 from Bartholomew, Jackson, and Monroe Counties. It is located in south central Indiana. The county seat is Nashville.
The county courthouse experienced a fire in 1873 which resulted in a loss of all records except certain files from the Clerk's office.
Selected Holdings at the Indiana State Library
The following list is not complete. Further resources may be found by searching the Indiana State Library online catalog.
Print Materials from the Genealogy Division
Court Records
Circuit Court Records, 1836-1945
ISLG 977.201 B881rbc
Marriage Records
Early Marriage Records, 1836-1859
ISLG 977.201 B881ri

Marriage Records, 1853-1901
ISLG 977.201 B881sL

Marriage Records, 1880-1917
ISLG 977.201 B881daa

Marriages, 1836-1898
ISLG 977.201 B881rbr
Vital Records
Births, 1882-2000
ISLG 977.201 B881v v. 1

Deaths, 1882-2000
ISLG 977.201 B881v v. 2
Wills and Probates
Abstracts of Probate Records, 1836-1945
ISLG 977.201 B881rbp

Will Records, Books A-B, 1845-1914
ISLG 977.201 B881s
Other Library Materials
Online Resources
Marriage Records
Military
Miscellaneous
Locating Original Records
For Further Research
GEN SP 5-26-2022