Main Content
Article
From the Cradle
Early examples of the book from the collections of the Indiana State Library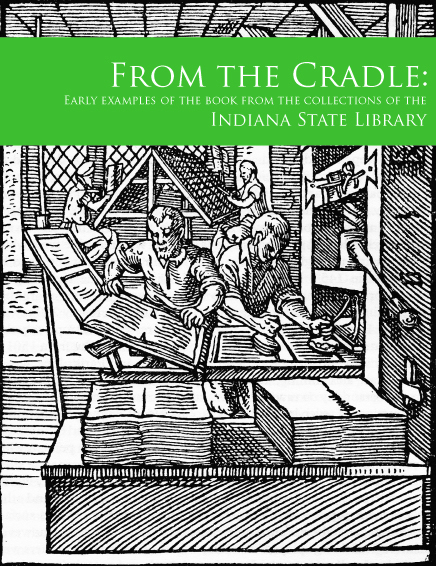 This exhibition in the Great Hall at the Indiana State Library features some of the earliest books in the collection that have never before been exhibited. Examples from the 'cradle' of printing (1450-1500) are displayed alongside a medieval manuscript and a modern printed book to illustrate the progression of book layout and design. Come view some of the treasures your Indiana State Library collection has to offer!
Featured Collection: Cookbooks
The ISL collection holds books on many subjects, from Art History to Zoology! Come view some of the diverse and unique cookbooks selected from all of our collections. A few highlights include an article from a Bureau of Fisheries Economic Circular (1918) entitled "SHARKS AS FOOD", a book from our general collections called "It's Smart to Cook with Beer!", 2 of 30 volumes of the Braille edition of "Joy of Cooking", and some historic books about canning and food preservation from the turn of the twentieth century to the World War II period. This small exhibit also features some interesting objects, including a Civil War period coffee can that still contains coffee grounds from our Rare Books and Manuscripts collection.
Complementary Exhibition: Federally-Funded Statewide Library Services
This exhibit located in the first-floor exhibit room takes an in-depth look at federally-funded library services administered by the State Library. The eight-piece exhibit looks at historical statewide services like the State Data Center and Talking Book & Braille Library, as well as newer technology services like the Evergreen Indiana library catalog consortia and Inspire, Indiana's Virtual Library.
Exhibit Highlights