Article
Section
Contests & Opportunities from ICB Partners
Hoosier Heroines Essay Contest
Students in grades 6 – 9, tell us about your Hoosier Heroine for a chance to visit the Indiana Statehouse as a special guest of First Lady Karen Pence and Indiana's female statewide office holders. Your 500 to 700 word essay should be typed in Times New Roman 12 pt. font, formatted with 1" margins and double spaced. In addition to your essay, you must also submit the completed cover sheet and signed consent form. Both documents are included in this packet.
Essays must be submitted electronically in PDF format and submitted to idoaspecialevents@idoa.in.gov by February 21, 2014. The subject line must follow this format: Hoosier Heroines essay, student's name, student's grade level.
Click here for complete contest rules and guidelines.
Indiana Money Smart Kid Essay Contest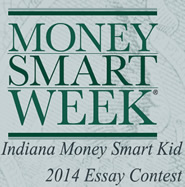 The Indiana Money Smart Kid Committee, in conjunction with and the Federal Reserve Bank of Chicago, has launched the Money Smart Kid Essay Contest for Hoosiers 6-8 graders. The contest asks students to describe how their future education and career choice will impact earning power and discuss what types of challenges could be involved in pursuing their education or career choice. Essays should be 500 words or less, typed, double spaced and submitted electronically, including the signed application, to indianamskid@gmail.com by February 28, 2014.
Finalists will be interviewed via phone March 12, 2014 and the three winners will be notified by March 14, 2014. Three finalists, along with their families and teachers or adult sponsors, will be selected to attend the Money Smart Week Indiana Kickoff Breakfast in Indianapolis on Friday, April 4, 2014. The winner will receive $750 and the runners up will each receive $375 CollegeChoice 529 Savings Accounts courtesy of CollegeChoice 529, Fifth Third Bank and PNC Bank.
Click here for complete contest rules and guidelines.
Rhyme Time Poetry Contest
Submissions are now being accepted for the Rhyme Time Poetry Contest. Poets entering the contest must be 16 years or older. All poems must rhyme and can be up to 32 lines. Previously published poems are acceptable. The deadline for submissions is March 8, 2014
There is a $2 per poem entry fee. Winner will receive forty percent of the entry fees and a copy of the book "Mimes Chimes and Rhymes" by Ian Graham. Sixty percent of the entry fees will go to the Indiana River of Words program that supports young Hoosier poets and artists. To enter, send poems along with the entry fee and cover sheet with name, address, phone number, email address and titles of poems submitted to:
Rhyme Time Poetry Contest
3121 Mounds Rd.
Anderson, IN 46016.
The Rhyme Time Poetry Contest has been organized by Stacy Savage, a poet, naturalists and activist residing in Anderson, Ind. For more information, visit the Poetry Contests for a Cause Facebook page, or email inquiries to Stacy at srsmith25@yahoo.com