April 2011

All Indiana State Library events and workshops are free and open to the public.
All events and workshops occur at the Indiana State Library. You can enter the State Library at 315 W. Ohio Street, Indianapolis, Indiana. Programs require no registration. For more information call 317-232-3675.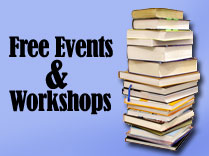 Family History Orientation Tours
Learn where different family history resources are located on the first and second floors of the Indiana State Library. This is a free orientation tour, geared toward genealogists. Pre-registration is required; please call 317-232-3689.
Upcoming Tours
Thursday, April 7, 2011
Tuesday, April 19, 2011
Thursday, May 5 2011
Tuesday, May 17, 2011

What's New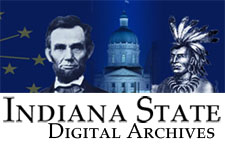 Did you know?
The John S. Wright Memorial Library, the Indiana Academy of Science's collection of materials, is located at the Indiana State Library. It contains an extensive collection of items from scientific organizations worldwide and is composed mostly of scientific journals. The collection can be accessed through the library's catalog, Evergreen Indiana. Items are free to view by anyone visiting the library, and most can be borrowed by patrons of the State Library, as well as through Evergreen borrowing and traditional interlibrary loan.
Resources from the
Indiana State Library
Federal Depository Library Program
Genealogy Collection
Indiana Collection
INSPIRE - Indiana's Virtual Library
Indiana Memory
Manuscripts & Rare Books Collection
Reference & Government Services Collection
State Data Center
More Online Databases

Helpful Links for
Indiana State Library Visitors
Hours & Directions
Map of Downtown Indianapolis
Nearby Dining
Parking


Upcoming Events & Workshops
But they weren't from Indiana:
Researching Southeast Genealogy at the Indiana State Library
Wednesday, April 6, 10:30-11:30am
History Reference Room
This program is fourth in a series on the genealogy materials for states other than Indiana that are at the Indiana State Library. The states covered in this program are: Georgia, Florida, Alabama, Mississippi, and Louisiana.
Making the Most of the County Histories
Thursday, April 7, 5:30-6:30pm
Indiana Author's Room
The county history collection contains historical and modern publications which detail county, city and township development. Learn how these materials can be useful for finding biographical sketches of your ancestors as well as a wealth of localized historical information.
Gene Stratton-Porter: The Girl of the Limberlost
Thursday, April 14, 5:30-6:30pm
History Reference Room
Come hear about the famous Indiana author who was a writer as well as naturalist and an early conservationist in Indiana. Her writings and her personal life will be discussed.
Gatling and His Famous Gun
Friday, April 15, 11:00am-Noon
Indiana Author's Room
Although known primarily as the father of the first successful machine gun, Richard Jordan Gatling was a medical doctor, inventor and successful businessman. Join us at the Indiana State Library to learn more about this fascinating individual.
Researching Your Family's Business
Wednesday, April 20, Noon-1:00pm
Indiana Author's Room
Are you curious about researching historic businesses in Indiana? You will get a brief overview of the ISL's tools and resources to help research businesses in Indiana.
Beginning Genealogy, Part 3
Thursday, April 21, 5:30-6:30pm
History Reference Room
Explore family history resources available in various organizations including the Family History Library in Salt Lake City, local genealogical and historical societies, public libraries, the National Archives, and others.
FDSys: America's Information Portal
Wednesday, April 27, Noon-1:00pm
Room 428
Finding Congressional bills and Presidential documents online is easy, but how do you know that what you are looking at is authentic? You can ensure authenticity is by using the Government Printing Office's (GPO) website FDSys. Come learn how to use this federal documents website.
Organize and Document Your Genealogy Research
Thursday, April 28, 5:30pm-6:30pm
History Reference Room
Gather tips for organizing and documenting your genealogy research and learn how to prepare for a research visit to a library.