May 2010

All Indiana State Library events and workshops are free and open to the public.
All events and workshops occur at the Indiana State Library. You can enter the State Library at 315 W. Ohio Street, Indianapolis, Indiana. Programs require no registration. For more information call 317-232-3675.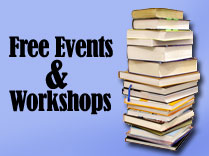 Family History Orientation Tours
Learn where different family history resources are located on the first and second floors of the Indiana State Library. This is a free orientation tour, geared toward genealogists. Pre-registration is required; please call 317-232-3689.
Upcoming Family History Orientation Tours

Tuesday, May 11, 2010
Thursday, May 27, 2010
Tuesday, June 8, 2010
Thursday, June 24, 2010

What's New

Did you know?

The State Library is now doing programs every Thursday evening from 5:30-6:30. There will be additional programs during the week at various times.
Resources from the
Indiana State Library
Federal Depository Library Program
Genealogy Collection
Indiana Collection
INSPIRE - Indiana's Virtual Library
Indiana Memory
Manuscripts & Rare Books Collection
Reference & Government Services Collection
State Data Center
More Online Databases

Helpful Links for
Indiana State Library Visitors
Hours & Directions
Map of Downtown Indianapolis
Nearby Dining
Upcoming Events & Workshops
The Liebers: an Indianapolis Family
Wednesday, May 5, 11:00 am-Noon, Indiana Author's Room
The program will take a look at the Richard Lieber family, including the Vonneguts, and their contributions on local and national levels.
Indiana Farm Machines
Thursday, May 6, 5:30-6:30 pm, History Reference Room
This program highlights the State Library's collection of agricultural implement catalogs from the 19th and early 20th centuries. The focus is on catalogs from Hoosier companies like Reeves, Rumely, and Oliver.
Have German Ancestors? Join the Klub!
Wednesday, May 12, 11:00 am-Noon, History Reference Room
Learn about resources and practices for finding your German ancestors and tracing them to their town of origin in Germany.
Indiana Academy of Science: Past and Present
Thursday, May 13, 5:30-6:30 pm, History Reference Room
The Indiana Academy of Science has a long and interesting life at the Indiana State Library. You will learn its history and some of the sources available in the collection.
Publishing and Printing in Indiana
Wednesday, May 19, noon-1:00 pm, Indiana Author's Room
Indiana has a rich history and a bright future in the publishing and printing industries. This program will explore Indiana's heritage in the creation of books.
But they weren't from Indiana: Researching North East Genealogy
Thursday, May 20, 5:30-6:30 pm, History Reference Room
This program is second in a series on the genealogy materials for states other then Indiana at the Indiana State Library. The states covered are: New York, New Jersey, Pennsylvania, Delaware, Maryland and District of Columbia.
Using Multiyear Estimates
Wednesday, May 26, Noon-1:00 pm, Room 428
The American Community Survey releases yearly estimates and has recently started three and five year estimates. Learn what multiyear estimates are, how they can be used and what makes them more reliable for using for grants, reports and projects.
L.S. Ayres & Co., 1905-1990: Indiana's largest retail company
Thursday, May 27, 5:30-6:30 pm, History Reference Room
Visit the Indiana State Library for a presentation about the history of L.S. Ayres, the famous tea room, its competitors, and the impact on Indianapolis shopping.

State Library Joins Evergreen Indiana
The Indiana State Library will become the 65th Indiana library to go live on Evergreen Indiana Friday, April 30th. Evergreen Indiana is a growing consortium of 77 public, school and institutional libraries located throughout Indiana that use the Evergreen ILS. Sixty-four libraries of these libraries are already live on Evergreen and serve over 654,000 Indiana residents.
The State Library will add over 2 million items and 900,000 bibliographic records to the Evergreen Indiana catalog http://evergreen.lib.in.us. The catalog will hold over 3 million bibliographic records and provide access to over 5.5 million items. While patrons of member libraries can use their Evergreen Indiana library card to view the catalogs and borrow materials from the other member libraries, State Library cardholders will not be able to borrow materials from other member libraries. However, all other Evergreen Indiana members will be able to view, place holds on items, and borrow from the State Library's circulating collection or find out what materials are available for onsite research.
"Though the State Library's holdings are available to all Indiana residents, we will be able to maximize the public's exposure to our collection through our membership in Evergreen Indiana," said Roberta L. Brooker, State Librarian of Indiana
The Evergreen Indiana Consortium has seen a steady rise in interest from all types of libraries around the state. For more information about Evergreen Indiana click here http://www.in.gov/library/evergreen.htm.