February 2010

All Indiana State Library events and workshops are free and open to the public.
All events and workshops occur at the Indiana State Library. You can enter the State Library at 315 W. Ohio Street, Indianapolis, Indiana. Programs require no registration. For more information call 317-232-3675.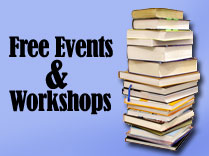 Family History Orientation Tours
Learn where different family history resources are located on the first and second floors of the Indiana State Library. This is a free orientation tour, geared toward genealogists. Pre-registration is required; please call 317-232-3689.
Upcoming Family History Orientation Tours

Tuesday, February 2, 2010
Thursday, February 18, 2010
Tuesday, March 2, 2010
Thursday, March 18, 2010

What's New


Did you know?

The State Library is now doing programs every Thursday evening from 5:30-6:30. There will be additional programs during the week at various times.
Resources from the
Indiana State Library
Federal Depository Library Program
Genealogy Collection
Indiana Collection
INSPIRE - Indiana's Virtual Library
Indiana Memory
Manuscripts & Rare Books Collection
Reference & Government Services Collection
State Data Center
More Online Databases

Helpful Links for
Indiana State Library Visitors
Hours & Directions
Map of Downtown Indianapolis
Nearby Dining
Upcoming Events & Workshops
Indiana Academy of Science: Past and Present
Wednesday, February 3, 10:00-11:00 am
History Reference Room
The Indiana Academy of Science has a long and interesting life at the Indiana State Library. You will learn its history and some of the sources available in the collection.
Do You Have Military Ancestors in Your Family?
Thursday, February 4, 5:30-6:30 pm
History Reference Room
This program will give a general overview the many resources that are in the Indiana State Library, Genealogy, Indiana, Reference and Document Collections relative to military records.
Indianapolis Brewing Company
Wednesday, February 10, 11:00 am-12:00 pm
Indiana Author's Room
Learn about Indianapolis Brewing Company, Indianapolis's oldest brewery, and its impact on local businesses and the city, including the sponsorship of a Negro League baseball team.
The Mother of All Pandemics: Influenza
Thursday, February 11, 5:30-6:30 pm
History Reference Room
Explore the State Board of Health Reports and other state documents that have played a role in major flu pandemics, including the influenza outbreak of 1918.
Hear Ye! Hear Ye!
Tuesday, February 16, 10:00-11:00 am
History Reference Room
An overview of the types of genealogical information that can be found in the Indiana county court records at the Indiana State Library.
The 2010 Census
Thursday, February 18, 5:30-6:30 pm
History Reference Room
Census Day is April 1st! This program will help answer questions about the 2010 census like why the U.S. holds a census, how safe the census is, and what questions will appear on the census this year.
Madam C.J. Walker: The Wonderful Hair Grower
Wednesday, February 24, 12:00-1:00 pm
History Reference Room
Visit the Indiana State Library during Black History Month to learn about Madam Walker, the first female millionaire by her own achievements, who grew her enterprise in Indianapolis.
PERSI for Genealogists
Thursday, February 25, 5:30-6:30 pm
Room 428
Use PERSI (The Periodical Source Index) to boost your genealogy research. This vast index includes citations for articles dating from the 1700's to the present. Learn how to use the index, as well as how to access the periodical articles found.