In This Issue

What's New
New Volunteer Projects
Meet our Volunteers

Volunteer @ the Indiana State Library

The Vision Expo connects people with vision loss, as well as their families, to new technologies and services. Last year over 700 people attended this one-day event. For information about volunteering, please contact Carole Rose, Vision Expo Coordinator, by calling 800.622.4970 or e-mail crose@library.IN.gov.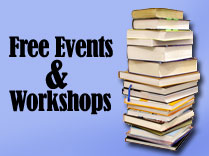 Volunteer Connections is a production of the Indiana State Library

Contributions to this newsletter made by:

Autumn Gonzalez
Volunteer Coordinator Librarian, Genealogy Collection

Contact Us
Volunteer Services
Indiana State Library
140 North Senate Avenue
Indianapolis, Indiana 46202-3269
Phone: (317) 232-3689
Email: islvolunteers@library.IN.gov and request an application
New Volunteer Projects
Several new volunteer projects have recently been added to the ISL Volunteer Program. Check out two of the projects below and visit the volunteer website for additional opportunities. Don't forget to mention us to your family and friends looking to get involved in the community!
Film Preservation Assistant
Location: Conservation Lab (located at the Indiana State Archives)

Date & Time:

Long-term position. Flexible shifts are available for volunteers during the Archives normal hours of operation Monday - Friday, 8:00 a.m. - 4:30 p.m.

Position Summary:

Participate in a survey of the library and archives movie reel film collections.

Project Description:

Examine film for markers of deterioration and record findings, wind onto archival cores, re-house in conjunction with preservation standards. Training will be provided.

Qualifications:

Experience handling reel films is preferred, but not necessary.

Project Completion Date:

Ongoing
Cataloging Database Volunteer
Location:

Indiana State Library – Cataloging Division

Date & Time:

Long-term position. Flexible shifts are available for volunteers during the Library's normal hours of operation Monday - Friday, 8:00 a.m. - 4:30 p.m.

Position Summary:

Assist the cataloging team with improving our catalog database (Sirsi ILS). Enhance and otherwise edit records in our databases, authority control work, and other tasks.

Major Responsibilities:

Editing records in our database.

Qualifications:

Able to use a Windows-based computer. Attention to detail is a must. Preferable qualifications are to have basic knowledge of the MARC cataloging format.

Project Completion Date:

Ongoing
Meet our Volunteers
Get to know your fellow volunteers! Each quarter we will highlight an individual Volunteer and the project they work on.
Cathi Taylor
Cathi Taylor became interested in volunteering at ISL when she came downtown to visit IUPUI's School of Library and Information Science program (SLIS). With her love of genealogy and history, volunteering at the State Library seemed a perfect fit. She has since enrolled at IUPUI and has started classes in pursuit of a master's degree in library science.
Cathi volunteers on several different projects at the library including abstracting obituary clippings for the VINE (Vital INformation Exchange) database and working with Indiana state documents. Cathi was also responsible for the organization of Indiana phonebooks and the creation of a finding aid for these resources.

In her spare time she loves to crochet and read non-fiction about history. She crochets afghans, but also loves to crochet finer items with cotton thread, such as doilies and curtains. Cathi entered a table top in the Hendricks County Fair and won a blue ribbon this year.

Like many genealogists, Cathi is also very interested in cemeteries. From time to time, she assists others in the surrounding counties restoring pioneer cemeteries. She enjoys working in cemeteries so much that she hopes to start a side business cleaning grave stones.