November 2009

All Indiana State Library events and workshops are free and open to the public.
All events and workshops occur at the Indiana State Library. You can enter the State Library at 315 W. Ohio Street, Indianapolis, Indiana. Programs require no registration. For more information call 317-232-3675.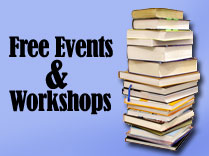 Family History Orientation Tours
Learn where different family history resources are located on the first and second floors of the Indiana State Library. This is a free orientation tour, geared toward genealogists. Pre-registration is required; please call 317-232-3689.
Upcoming Family History Orientation Tours

Tuesday, November 3, 2009
Thursday, November 19, 2009
Tuesday, December 1, 2009
Thursday, December 17, 2009

What's New



Did you know?
The Indiana State Library is part of the Federal Depository Library Program. This program is administered by the U.S. Government Printing Office (GPO) through which selected U.S. government documents are made available in libraries throughout the country. The Indiana State Library's collection of federal documents dates back to 1789.
Resources from the
Indiana State Library
Federal Depository Library Program
Genealogy Collection
Indiana Collection
INSPIRE - Indiana's Virtual Library
Indiana Memory
Manuscripts & Rare Books Collection
Reference & Government Services Collection
State Data Center
More Online Databases

Helpful Links for
Indiana State Library Visitors
Hours & Directions
Map of Downtown Indianapolis
Nearby Dining

Upcoming Events & Workshops
Remarkable Indiana Dames
Wednesday November 4, 2:00-3:00 pm, History Reference Room
Learn about Hoosier women who worked to change life in Indianapolis and Indiana during the 19th and 20th centuries. Women such as: May Wright Sewall, Gene Stratton Porter and Madame C.J. Walker.
Naturalization Process and Records
Thursday November 5, 5:30-6:30 pm, History Reference Room
This program will discuss the naturalization process, including laws, search strategies, how to locate records, and websites useful in naturalization research.
Mobilizing the Home Front: Hoosiers and World War I
Tuesday November 10, 12:00-1:00 pm, Indiana Author's Room
Early in 1917, as relations between the United States and Germany became stained, Hoosiers volunteered their time and money to assist in the war effort. Learn about some of these efforts at the Indiana State Library.
Indiana Microbrews
Thursday November 12, 11:00am-noon, Indiana Author's Room
Historical significance can be found in unusual places. Learn how the names of some of Indiana's microbrews and breweries are tied to Indiana's past.
Using Maps in your Research
Tuesday November 17, 10:00-11:00 am, Indiana Author's Room
Learn about the different kinds of maps available at the Indiana State Library, including digital maps and microfilmed maps. Sanborn, topographic, transportation maps and more will be covered.

Hoosier Mama, Hoosier Papa
Thursday November 19, 5:30-6:30 pm, History Reference Room

Get an introduction to the materials in the Indiana State Library for family history research. This is a good follow-up to the Genealogy for Beginners program.
Preservation for the Non- Professional
Wednesday December 1, 10:00-11:00 am, Indiana Author's Room
This program is for the layperson who is interested in safeguarding their own personal papers, photographs, scrapbooks and other assorted memorabilia in non-digital formats

L.S. Ayres & Co. at Christmastime
Thursday December 3, 12:00-1:00 pm & 5:30-6:30 pm, Indiana Author's Room
Join us for a presentation with a special holiday focus on L.S. Ayres, the famous tea room, its competitors, and the impact on Indianapolis shopping. Tea will be served.
Census Data Literacy
Monday December 7, 2:00-3:00 pm, Room 428
The Census Bureau can help you get the population number for your next report, paper, or grant application. This workshop will walk you through using Census maps online and the American FactFinder website to find data down to the neighborhood level.


Indiana Vital Records Resources
Thursday December 10, 5:30-6:30 pm,
History Reference Room

This program is an introduction to the Indiana Birth, Death, and Marriage Indexes and other resources at the Indiana State Library. It covers print, microfilm, and electronic resources with emphasis on the special materials within the Genealogy Collection.
African-American Newspapers in Indiana
Monday December 14, 12:00-1:00 pm, Indiana Author's Room
Patrons will learn or relearn the history of black newspapers in Indiana. Patrons will be given a brief overview of the newspapers and be able to look at examples and ask questions about how to access them.
Unique Genealogy Sources
Thursday December 17, 5:30-6:30 pm, History Reference Room
Come and learn about little-known sources for Genealogy research available at the Indiana State Library. Enhance your research with these unique and useful resources and find hidden information that you never knew existed.