September 2009

All Indiana State Library events and workshops are free and open to the public.
All events and workshops occur at the Indiana State Library. You can enter the State Library at 315 W. Ohio Street, Indianapolis, Indiana. Programs require no registration. For more information call 317-232-3675.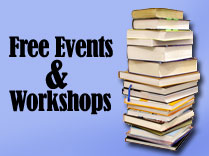 Family History Orientation Tours
Learn where different family history resources are located on the first and second floors of the Indiana State Library. This is a free orientation tour, geared toward genealogists. Pre-registration is required; please call 317-232-3689. All tours take place from 9:30 a.m. to 11:00 a.m.
Upcoming Family History Orientation Tours

Tuesday, September 1, 2009
Thursday, September 17, 2009
Tuesday, October 6, 2009
Thursday, October 22, 2009
Thursday, October 29, 2009 5:30-7:00 pm


What's New
The Indiana Collection is pleased to house all titles nominated for the Best Books of Indiana competition. Copies of all of these titles are available to check out.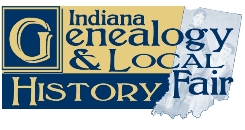 Did you know?
Technically, not all of Indiana remained in the Union during the Civil War. Boggstown and the rest of Sugar Creek Township in Shelby County, twenty miles southeast of Indianapolis, voted to secede from the Union on February 16, 1861. Visit the Indiana State Library to learn more about Indiana during the Civil War.

Resources from the
Indiana State Library
Federal Depository Library Program
Genealogy Collection
Indiana Collection
INSPIRE - Indiana's Virtual Library
Indiana Memory
Manuscripts & Rare Books Collection
Reference & Government Services Collection
State Data Center
More Online Databases

Helpful Links for
Indiana State Library Visitors
Hours & Directions
Map of Downtown Indianapolis
Nearby Dining
Upcoming Events & Workshops
Communicating American Community Survey Data
Tuesday September 1, 2:00-3:00 pm, Room 428
This program helps users know where to start when using or teaching others to use American Community Survey (ACS) data, the Census Bureau's population estimates which come out annually. It guides users through different parts of the Census Bureau's website and demonstrates portals to ACS information for 10 specific users.
Genealogy Internet Links
Thursday September 3, 5:30-6:30 pm, History Reference Room
Find out how to use the Indiana State Library webpage to find your family history using internet links. We will explore how to access valuable genealogy information with the click of a mouse.
Common Problems with Electronic Records
Wednesday September 9, 10:00-11:00 am, Indiana Author's Room
Electronic records have unique characteristics that are very different from their paper counterparts. Come explore the various challenges associated with the creation, retention, storage and use of electronic records.
Publishing and Printing in Indiana
Wednesday September 9, 12:00-1:00 pm, Indiana Author's Room
Indiana has a rich history and a bright future in the publishing and printing industries. This program will explore Indiana's heritage in the creation of books.
The Porter-Griffin Papers
Monday September 14 12:00-1:00 pm, Indiana Authors' Room
The Porter-Griffin papers hold keys to studying American political and social history. This collection includes business records, political correspondence, legal and personal papers of the Porter family daughters and their descendants from 1845 to 1940.
Early Indiana Genealogy Resources
Thursday September 17, 5:30-6:30 pm, History Reference Room
Finding information about your ancestors prior to 1850 can be tough. Learn about Indiana related resources and techniques for conducting early family history research.
State Documents in Spanish
Wednesday September 23, 11:00 am-12:00 pm, Indiana Author's Room
Come learn about Indiana state documents available in Spanish during this Hispanic Heritage Month presentation.
Is Your Norma Listed as "Warnie" in the Census?
Thursday September 24, 5:30-6:30 pm, History Reference Room
Learn how researchers deal with a variety of indexing errors such as mangled names and misapplied geographic identifiers, as well as other types of errors evident in many indexes.
Unconventional Federal Documents
Wednesday September 30, 12:00-1:00 pm, Indiana Author's Room
Federal documents are more than just legislation and declarations. This programs looks at some unique documents published by the Government Printing Office like how to grow tomatoes, feed an army, and why not all books are kept out on display.

The Indiana State Library invites you to attend the 2009 Indiana Vision Expo in Indianapolis on Saturday, September 26, 2009. The Vision Expo connects people with vision loss, as well as their families, to new technologies and services. Over 700 people attended the 2008 Indiana Vision Expo, making it the largest low-vision convention in the Midwest.
The 2009 Expo will include more products and service information, and several new features designed to enhance the experience for attendees.