June 2009
All Indiana State Library events and workshops are free and open to the public.
All events and workshops occur at the Indiana State. You can enter the State Library at 315 W. Ohio Street, Indianapolis, Indiana. Programs require no registration. For more information call 317-232-3675.
Family History Orientation Tours
Learn where different family history resources are located on the first and second floors of the Indiana State Library. This is a free orientation tour, geared toward genealogists. Pre-registration is required; please call 317-232-3689. All tours take place from 9:30 a.m. to 11:00 a.m.
Upcoming Family History Orientation Tours
Tuesday, June 2, 2009
Tuesday, June 18, 2009
Tuesday, July 7, 2009
Thursday, July 23, 2009
Tuesday, August 4, 2009
Thursday, August 20,2009

What's New
The Indiana Collection is pleased to house all titles nominated for the Best Books of Indiana competition. Copies of all of these titles are available to check out.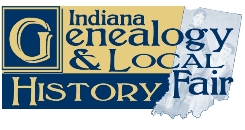 Did you know?
Did you know that the four murals on the walls of the State Library were painted on-site? They were designed and executed by New York artist J. Scott Williams. Photographs and an oral history with the artist are available in Manuscripts & Rare Books Collection.
June 12, 2009 is when TV goes digital nationwide.
Resources from the
Indiana State Library
Federal Depository Library Program

Genealogy Collection

Indiana Collection

INSPIRE - Indiana's Virtual Library
Manuscripts & Rare Books Collection

Reference & Government Services Collection
State Data Center

More Online Databases
Helpful Links for
Indiana State Library Visitors
Hours & Directions
UPDATE
Can't locate the Indiana data you need? Check out Stats Indiana, and you'll see a brand new interface. Explore Profiles, Data by Topic, and Data by Location. Are you looking for graphics to complete that report? Try the Dashboard Indicators, a collection of charts covering popular economic indicators such as Jobs, Income, Unemployment, and Population counts. Under Additional Resources, there are Tools including an Inflation Calculator, a Nationwide City-to-County Finder, and a more detailed A to Z guide by topic. On the right-hand side of the page, find links to today's data trends and a variety publications like the Indiana Business Research Center's InContext.
Upcoming Events & Workshops
Lyles Station: Indiana's Last Remaining African-American Settlement

Wednesday June 3, 12:00-1:00 pm
From its inception in 1886, to the devastating flood of 1913 and the 2003 renovation of the historic schoolhouse, come learn about Gibson County's Lyles family and its legacy during this lunchtime presentation.
Genealogy for Beginners
Thursday June 4, 5:30-6:30 pm
Get an introduction to the beginning elements of genealogy research and overview of the basic documents and resources used in tracing your family tree.
Unconventional Federal Documents
Monday June 8, 12:00-1:00 pm
Federal documents are more than just legislation and declarations. This programs looks at some unique documents published by the Government Printing Office like how to grow tomatoes, feed an army, and why not all books are kept out on display.
From Cradle to Grave
Thursday June 11, 5:30-6:30 pm
Church records are important resources that can provide a wealth of information about your ancestors. This program will discuss the many church records and related sources available in the collections of the Indiana State Library.
Judging Books by Their Covers
Saturday June 13, 11:00 am- noon
Hand cut stamps were used to emboss cloth book covers in the 19th century. These stamps had many changing styles and can shed light on the social and artistic history of the time.
Researching Manuscript Collections
Wednesday, June 17, 11:00 am- noon
Learn how to research manuscript and/or photograph collections using various tools available at the Indiana State Library.
Will Hays, Jr.
Thursday June 18, 2:00-3:00 pm
Will Hays, Junior is the son of the "Czar of Hollywood". Learn more about the younger Hays, a published author, Indiana mayor, and an interesting Hoosier personality.
Remarkable Indiana Dames
Wednesday June 24, 10:00-11:00 am
Learn about Hoosier women who worked to change life in Indianapolis and Indiana during the 19th and 20th centuries. Women such as: May Wright Sewall, Gene Stratton Porter and Madame C.J. Walker.
Hoosier Mama, Hoosier Papa
Thursday June 25, 5:30-6:30 pm
Get an introduction to the materials in the Indiana State Library for family history research. This is a good follow-up to the Genealogy for Beginners program.
Using Maps in your Research
Monday June 29, 12:00-1:00 pm
Learn about the different kinds of maps available at the Indiana State Library, including digital maps and microfilmed maps. Sanborn, topographic, transportation maps and more will be covered.
Non-Population Census Records
Thursday July 2, 5:30-6:30 pm
This program will focus on the kinds of information that can be obtained from Agricultural, Manufacturing, Mortality, and other schedules to enhance your research.
New Books
Studebaker: The Life and Death of an American Corporation by Donald T. Critchlow
Studebaker's corporate life spanned more than a century, during which the company made a commitment to the community of South Bend, accepted unions when other automobile manufacturers bitterly fought collective bargaining, and produced distinguished cars that still enjoy a loyal following. This book explores managerial choice, corporate tradition, and the importance of ideas - not simply "market forces" - in shaping institutions in 20th-century America.
The Indiana Rail Road Company: America's New Regional Railroad by Christopher Rund A Mini Splendored Thing: A Celebration of 30 Years of the 500 Festival Mini-Marathon by Patricia Hagen
This book chronicles the growth of the 500 Festival Mini-Marathon, the nation's largest half-marathon. Each May for the past 30 years, thousands of runners and walkers have surged through the streets of Indianapolis and around the legendary Indianapolis Motor Speedway.
Forgotten Patriots: African American and American Indiana Patriots in the Revolutionary War: a Guide to Service, Sources and Studies edited by Eric G. Grundset
This second edition publication identifies over 6,600 African Americans and American Indians who contributed to American independence. It contains details of the documented service of the listed Patriots, historical commentary on happenings of the time, an assortment of illustrations, and an extensive bibliography of research sources related to the topic.
Female Index to Genealogical Dictionary of the First Settlers of New England by James Savage compiled by Patty Barth Myers
When Savage's first edition of Genealogical Dictionary of the First Settlers of New England came out in 1860 were published in alphabetical sequence by family name, the males were usually found by checking their surname. The females were difficult to find. This new Female Index lists all the females alphabetically by maiden name and married names (over 50,000 names altogether).
Family Maps series by Gregory A. Boyd
The Family Maps series of Land Patent Books are published county by county, state by state, for original settlers whose purchases are indexed in the U.S. Bureau of Land Management database. Locate your ancestor's federal land purchase by simply finding them in an index within the book, which directs you to a map of first-land-owners. Below is a list of Indiana counties currently available in the Genealogy Collection; additional Indiana counties are acquired regularly.
Adams, Allen, Bartholomew, Brown, Boone, Carroll, Clay, Clinton, Daviess, Decatur, Dubois, Grant, Greene, Gibson, Harrison, Hendricks, Henry, Howard, Jay, Jennings, Kosciusko, Madison, Marion, Montgomery, Morgan, Orange, Parke, Posey, Putnam, Ripley, Rush, St. Joseph, Scott, Shelby, Steuben, Tippecanoe, Vigo, Wabash, Warren, Washington.