· National Volunteer Week, April 19-25

Volunteer @ the Indiana State Library


Volunteer Connections is a production of the Indiana State Library


Contributions to this newsletter made by:

Autumn Gonzalez Volunteer Coordinator Librarian, Genealogy Collection


Drake Land
Director, Indiana Voices Indiana Talking Book and Braille Library
Volunteer Services
Indiana State Library
140 North Senate Avenue
Indianapolis, Indiana 46202-3269
Phone: (317) 232-3689
Email: islvolunteers@library.IN.gov and request an application
What's New
Volunteer Connections is the Indiana State Library and Indiana Historical Bureau's new, quarterly newsletter to keep current and potential volunteers informed and connected!
National Volunteer Week, April 19-25
Dear Indiana State Library Volunteers,
Volunteers are not paid – not because they are worthless, but because they are priceless. Susie Riner
In honor of National Volunteer Week, April 19 – 26, I want to give a heartfelt "thank you" to all of the priceless Indiana State Library (ISL) volunteers for their hard work and dedication! The success of numerous ISL projects and programs is attributed to our wonderful group of volunteers. Without volunteer assistance, programs and services such as Indiana Voices and free, online databases would not be possible. Our volunteers also work on Indiana Memory digitization projects, and work in Talking Books duplicating, rewinding and reshelving tapes. As a result, tapes are ready quickly for our Talking Books patrons.
State Library volunteers contributed over 3,500 hours of their time and talents to the Indiana State Library and the Historical Bureau during 2008. Volunteers work on a number of projects, both onsite and "virtually" from home. There are currently 36 onsite volunteers and 19 virtual volunteers.
There is also a unique group of approximately 25 volunteers called Elfuns. Elfun volunteers are retired and current employees of GE in Fort Wayne, Indiana which donate their time to repairing and refurbishing Talking Book and Braille Library tape players. These tape players, along with books on tape, are used by Indiana residents who are unable to read regular print, because of a visual or a physical disability. In 2008 this valuable group of volunteers contributed over 2,000 service hours.
Because of our volunteers, not only are more services available, but those services are made available faster. Perhaps the world doesn't remember individual acts of kindness, but people do.
"Don't ever question the value of volunteers. Noah's Ark was built by volunteers; the Titanic was built by professionals." Dave Gynn, Coleman Professional Services, OH
Thank you for all of your dedication and hard work to help make the Indiana State Library a customer service focused organization. We cannot do it without you!
With Warm Regard,
Roberta L. Brooker
Indiana State Librarian
Meet our Volunteers
Get to know your fellow volunteers! Each quarter we will highlight an individual Volunteer and the project they work on.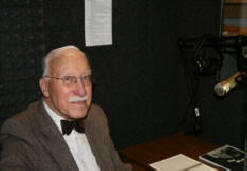 Carl Henn, a long-time narrator for the Talking Books program, got his start when working for the Indiana Chamber of Commerce. His assistant, Anna McAndrews, told him she was making books for the blind and physically impaired. "That sounded to me as a great thing to do," he said. "My office was so near the location of the Indiana State Library that I could walk back and forth. Once I began, I was hooked."

His love of literature began early in life. "In my youth I was a huge fan of fiction. My father had several sets of books by Jack London, Rudyard Kipling, etc., and I haunted the library."
Carl has been a volunteer for the current Indiana Voices project since its inception. A book he narrated The Eccentric Billionaire: John D. MacArthur--Empire Builder, Reluctant Philanthropist, Relentless Adversary (Kriplen), was one of the first made available to patrons of the Indiana Talking Books and Braille Library. He continues to volunteer his time and his resonant voice to the Indiana State Library on a weekly basis.

Carl began his career in 1948 as a reporter for the now-defunct Indianapolis Times. He was named communication director for the Indiana Chamber of Commerce, and eventually became manager of the Philharmonic Orchestra of Indiana. Carl now avoids free time by peppering his schedule with various volunteer engagements and visits with family and friends. "Having breakfast or lunch with other ROMEOs (retired old men eating out); taking my wife to events and performances we enjoy; attending meetings of the Indianapolis Literary Club and the Indianapolis Public Relations Society; performing chores for the Philharmonic Orchestra, for which I still hold the title of executive producer."

Carl has had the chance to travel much of the United States and further across the globe. He now enjoys his life in central Indiana due to the closeness of family and dear friends. Carl says that he has been blessed with "a wife who, fortunately for me, has no desire to be elsewhere."