The Collection
The Camp Atterbury photographs were taken by William J. Moriarty, Sr., a second lieutenant in the U.S. Army, as part of his duties for the U.S. Signal Corps while he was stationed there in 1943. The images demonstrate the daily activities of camp life and training, as well as social events, and depict racial segregation among regular army troops and the Women's Army Corps (WAC).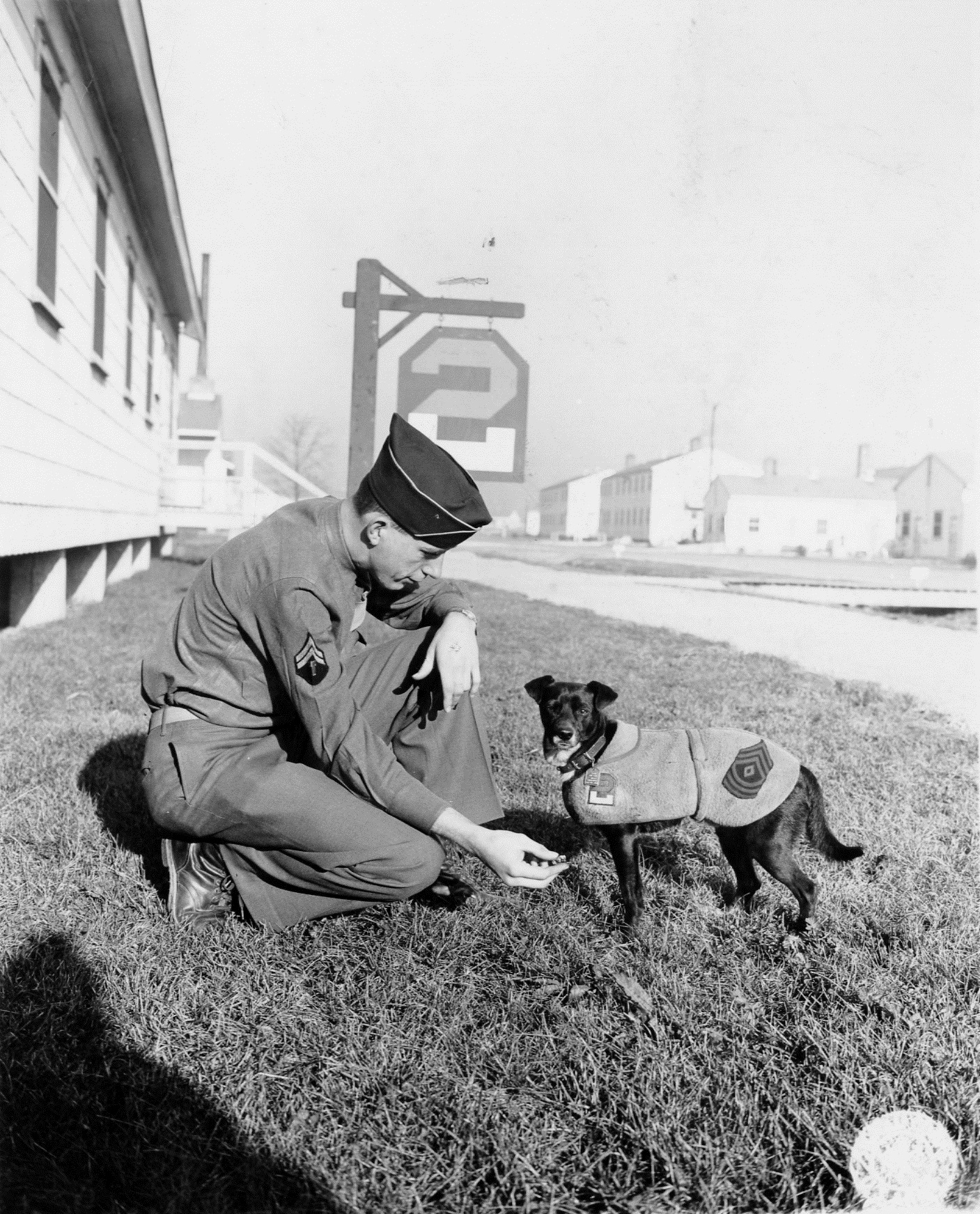 Soldier offering mascot 'Buddy' a treat, 1943 December 4
View the complete Camp Atterbury Photograph Collection. More materials related to World War II and other topics can be found in the ISL Digital Collections (http://digitalcollections.library.in.gov).
For more information, please see the collection finding aid.
About Camp Atterbury, Indiana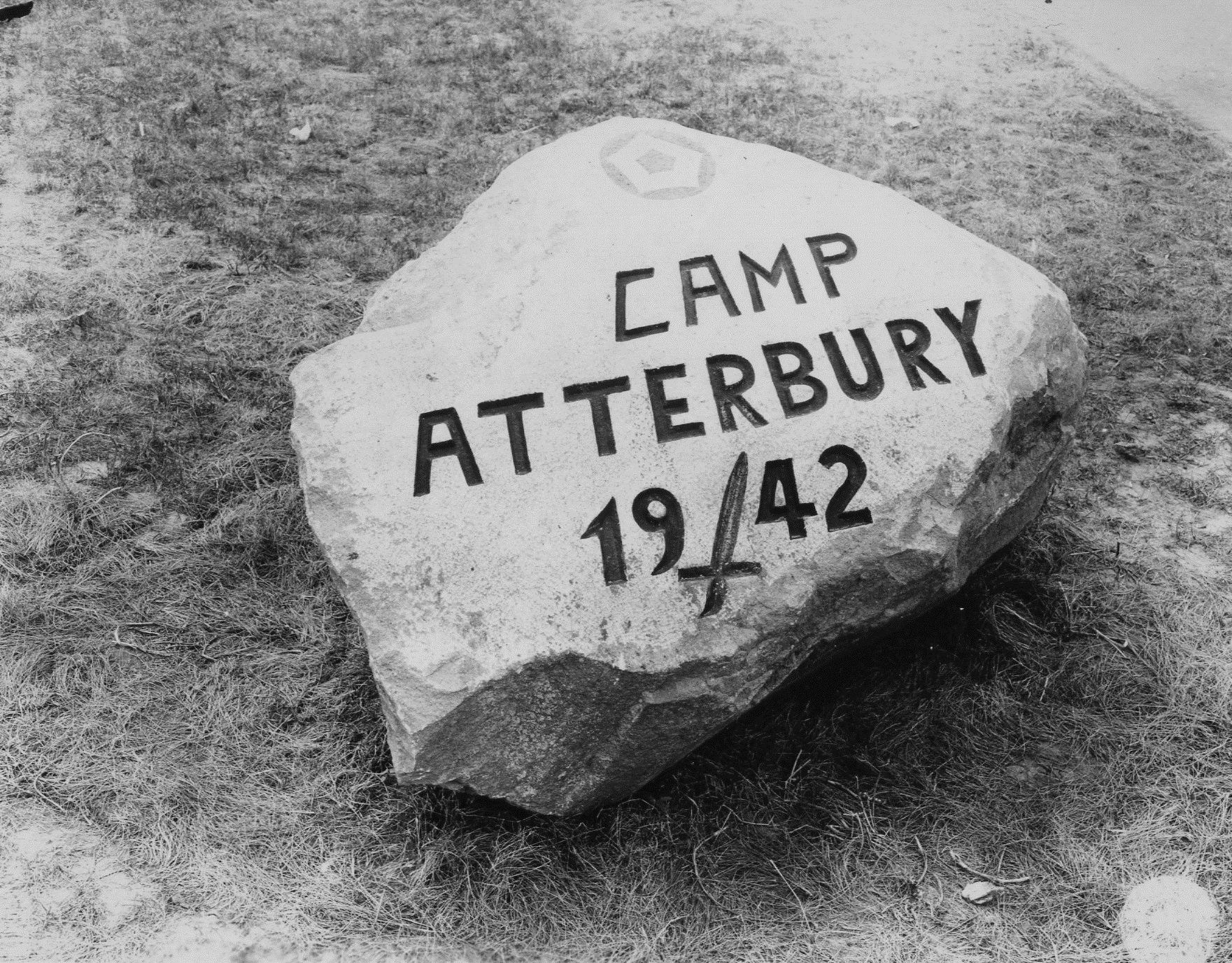 Rock at camp entrance, 1943 June 24.
Camp Atterbury was activated as a base for the U.S. Army on June 2, 1942. Four miles west of Edinburgh,Indiana, the camp comprised just over 40,351 acres from land purchased from Bartholomew, Johnson, and Brown counties. It was named in honor of General William W. Atterbury, the Director of Transportation of the American Expeditionary Forces (AEF) during World War I, and president of the Pennsylvania Railroad.
Over 275,000 soldiers trained at Camp Atterbury during World War II, including the 83rd Infantry Division; 8th Detachment of Special Troops,
2nd Army; 365th Regimental Combat Team, 92nd Infantry Division; 30th Infantry Division; and 106th Infantry Division.
Colonel Welton M. Modisette served as Post Commander of Camp Atterbury until June 13, 1945 and
the 1560th Service Command Unit, part of the 5th Service Command, staffed Camp Atterbury from 1942 to 1946.
The base hosted a stationed company from the Women's Army Corps (WAC) and around 38,000 women trained at Camp Atterbury during the war. Many WACs went to Camp Atterbury to train for three to four months as x-ray, laboratory, surgical, medical, or dental technicians at the Enlisted Medical Technicians School, part of Wakeman General Hospital. (For more information, read the blog post, "It's Our War, Too!: The WAC at Camp Atterbury during WWII.")
Colonel Modisette awarding WAC officers, 1943 September 24.
During the Second World War, Camp Atterbury had 1,780 buildings providing housing to 44,159 officers and troops, including:
499 enlisted men barracks
40 Bachelor Officer Quarters (BOQs)
23 WAC barracks
61 prisoners-of-war (POW) barracks
193 mess halls
12 chapels
5 service clubs
3 officer clubs
6 theaters
4 gymnasiums
4 swimming pools
1 hospital and convalescent center (68 buildings occupying 80 acres)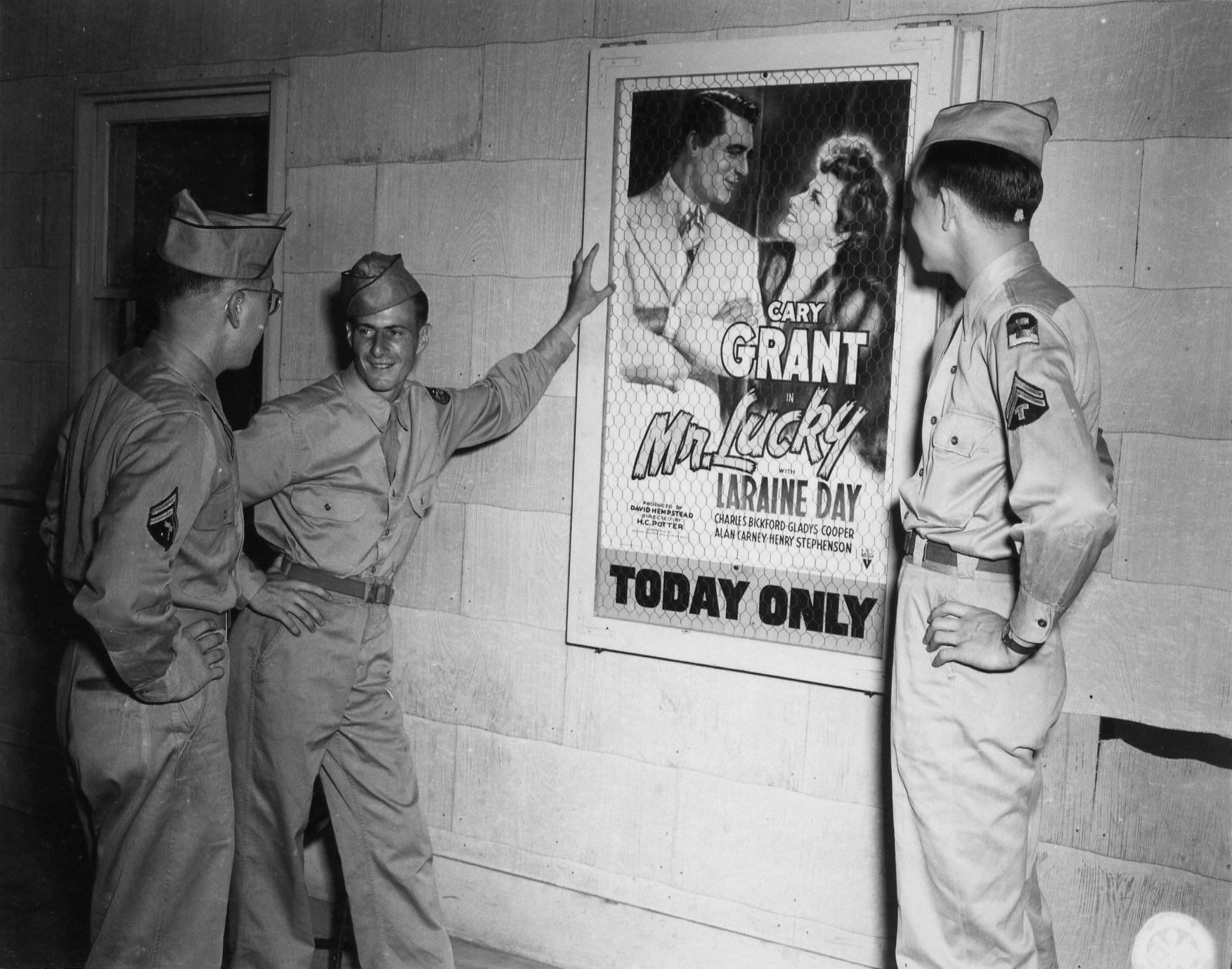 Three soldiers going to the pictures, 1943.
The Camp also served as an internment camp, housing between 12,000 and 15,000 Italian and German prisoners of war. The prisoners were housed in a large compound located on the extreme western edge of camp.
Following the end of World War II, Camp Atterbury was inactivated for the first time on July 31, 1946. During the subsequent decades, the base was reactivated and inactivated as the United States' martial conflicts waxed and waned. The Indiana Military Academy moved from Fort Benjamin Harrison to Camp Atterbury in July, 1965. The base became an Army National Guard Training Site on September 1, 1976 and until the 1990s, the camp provided support to the Indiana National Guard through different conflicts. Today Camp Atterbury primarily provides military training and serves as a mobilization site for the U.S. military.
Sources:
Atterbury Muscatatuck. "History." About Us. Last updated April 20, 2017. Accessed October 4, 2017. http://www.atterburymuscatatuck.in.ng.mil/Home/AboutUs/History.aspx.
Goodson, Felix E. The Indiana Guard Reserve. Indianapolis, IN: Indiana Creative Arts, 1998.
Hinds, James M. Camp Atterbury, Indiana. [Franklin, IN: Camp Atterbury?}, 1985. (at the Indiana State Library: Indiana Pamphlet. ISLO 355 no. 57)
"Indiana Village and Farms to Give Way to New 55,000 Acre Army Camp." <emph render="italic">Indianapolis Sunday Star</emph>, February 1, 1942.
"New Hospital Pride of Camp Atterbury." <emph render="italic">Indianapolis Star</emph>, October, 25 1942.
"U.S. Orders Work Started on Southern Indiana Camp." Indianapolis Times, January 7, 1942.
RBM BK 10-6-2017