Volunteer Program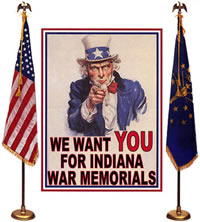 Exhibits at the Indiana War Memorial Museum and at the Colonel Eli Lilly Civil War Museum show only part of Indiana's military history. What makes our exhibits come alive, what makes history become real, is a dedicated corps of volunteers. Trained docents always enhance the museum experience, and the many people volunteering behind the scenes (in a wide variety of ways) help us create the very best in historically accurate programs.

If you are interested in preserving our past, protecting our future, and honoring our veterans, we can use your help. We particularly encourage husband-wife or family teams, offering a chance to perform a valuable community service while spending time together. Whether you're a student seeking museum experience, a retired veteran who still has the desire to serve, or an ordinary citizen, We Want You!

The museums are open to the public Wednesday through Sunday from 9:00 am to 6:00 p.m. Many different volunteer time slots are available. We will provide "on-the-job" training and cover all parking expenses.

There are many tasks to choose from. Please take a moment to consider which position below would allow you to contribute most effectively to the operation and preservation of our magnificent memorials.
Gift Shop: Customer Service Representatives that work with the Gift Shop Manager, handling sales, restocking inventory, maintaining appearance of shops, display cases, and merchandise, and generally assisting with daily Gift Shop operations. Work will be performed in either the War Memorial or the Soldiers and Sailors Monument branch of the Gift Shop. This position is perfect for those with retail experience.

Docent: Docents work with the Museum Specialists, and are mainly responsible for greeting visitors and giving guest tours of the Indiana War Memorial's properties, including the War Memorial Museum and the Colonel Eli Lilly Civil War Museum. Docents also provide information to visitors, answer questions pertaining to the museum and its artifacts and exhibits, and monitor guest satisfaction and/or requests. This positon is suitable for those who enjoy relating to the public, discussing history and telling "old war stories", or just people with a smile, a friendly face, and a desire to interact with school children, veterans, and other visitors.

Archival/Collections: Collections personnel also work with the Museum Specialists, helping to catalog and preserve the artifacts, weapons, uniforms, battleflags, and documents pertaining to Indiana's war-time history. They also assist in organizing and maintaining our storage areas, library, and flagrooms. Volunteers for this position should have a desire to get to know our collections, and enjoy learning the proper techniques to preserve, catalog, and describe the various artifacts in them. Anyone, especially those with archival/library training, who wishes to get "hands-on" experience with actual pieces of history will like this position.

Administration: Like every other office, the Indiana War Memorials needs people to assist in our Administrative and Museum Offices. This position includes normal office work, data entry, filing, copying, faxing, mailing, answering telephones, etc., as well as computer work on our World War II Veteran's Database or inputting the museum's collections on the computer. Other computer projects are currently being planned for the near future. Anyone with office/clerical/receptionist experience and/or computer skills would find this position enjoyable.
Please complete the Museum Volunteer Form and we will be in touch. If you have further questions on our Volunteer Program or need information on the Indiana War Memorials in general, please call us at 317-233-2124, or email us at iwm@iwm.state.in.us