Indiana War Memorial Exterior - Pro Patria
Henry Hering, 1929

Standing proudly on a base of pink granite, on the south side of the Indiana War Memorial, is Pro Patria.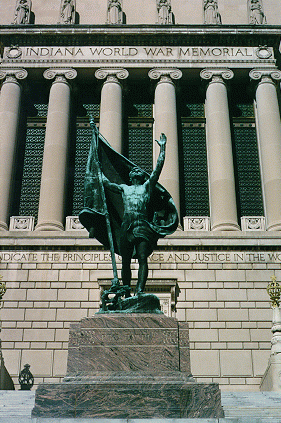 The statue is of a young man draped in an American flag reaching heavenward. Hering stated "I have attempted to embody in this memorial, the spirit rather than material concept of a soldier-- to give the figure an expression of all there is in humanity of aspiration, valor, renunciation and the perpetuation of the memory of the patriot fighting for the right. I include peace also, for the left hand raised in exultation also may snatch the olive branch." The statue is 24' high and weighs approximately seven tons. It was the largest sculptured bronze casting ever made in America at that time.