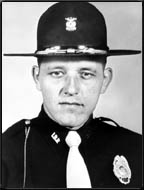 Hometown: Indianapolis, Indiana
Appointed: November 15, 1956
District: Charlestown
May 25, 1930 - September 30, 1957
While involved in a statewide search for two gunmen who had killed a Michigan state trooper, Trooper Kellems spotted the suspects driving through Scottsburg, Indiana. After observing the car, Kellems radioed the post, stating that he had stopped the car. As Trooper Kellems approached the suspects' car, two shots were fired out, fatally wounding him.
Grave Site