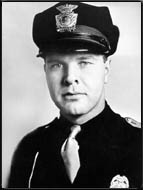 Hometown: Columbia City, Indiana
Appointed: January 20, 1936
District: Ligonier
August 1, 1911 - April 22, 1942
While transporting an army deserter, Trooper England attempted to pass a car when the driver made a turn in front of him. Trooper England struck the vehicle and then crashed into a tree. Although the deserter was not injured, Trooper England died as a result of the accident.
Grave Site