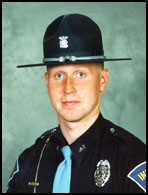 Hometown: Shelbyville, Indiana
Appointed: December 13, 1998
District: Bremen
January 16, 1975 - January 15, 2000
While patrolling southeastern Kosciusko County, Trooper Beal stopped to assist a wrecker operator, who was pulling a car out of a ditch. As the two men worked along side State Road 14, the driver of a passing vehicle lost control of her car on the icy roadway striking the wrecker and the state trooper. Trooper Beal died from his injuries three days later.
Grave Site