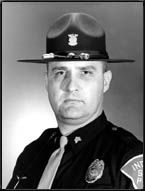 Hometown: Logansport, Indiana
Appointed: May 1, 1955
District: Peru
November 11, 1926 - April 26, 1971
While searching for a murder suspect, Sergeant Hosier and other police officers were dispatched to a residence on a report that the suspect was hiding there. Officers surrounded the house, while Sergeant Hosier, accompanied by three other officers, entered the residence. Leading the way up the staircase, Sergeant Hosier rounded a landing and the suspect shot him at close range.
Grave Site