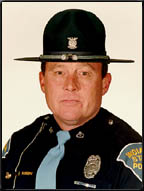 Hometown: Thorntown, Indiana
Appointed: June 10, 1976
District: Indianapolis
November 8, 1949 - February 5, 1993
While on routine patrol in Marion County, Master Trooper Greene stopped to question two male subjects stopped along Interstate 65. After checking with the post, he learned the men were wanted. As Master Trooper Greene was handcuffing one suspect, the other suspect shot and killed him.
Grave Site