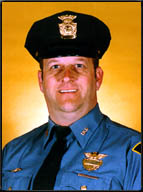 Hometown: Plymouth, Indiana
Appointed: April 16, 1968
District: Bremen
May 24, 1947 - August 3, 1995
While patrolling US 30 near Plymouth, Master Motor Carrier Inspector Ralph Reed stopped to inspect a semi-tractor trailer. As Inspector Reed walked around the tractor-trailer, an on-coming semi tractor-trailer hauling cattle struck and killed him. Inspector Reed was the first Indiana State Police motor carrier inspector to be killed in the line of duty.
Grave Site