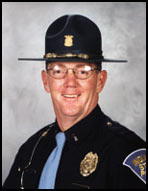 Hometown: Indianapolis, Indiana
Appointed: December 14, 1979
District: Headquarters
April 7, 1955 - August 22, 2006
While participating in a bicycle ride to honor fallen police officers, Lieutenant Gary Dudley and retired Lake County Sheriff's Department Chief of Police Gary Martin were killed when a box truck struck the riders' support vehicle shoving the support vehicle into the group of cyclists. Lieutenant Dudley and Chief Martin died at the scene of the crash on State Road 63 in Vermillion County. A third cyclist, retired Indianapolis Police Officer Spencer Moore was injured in the crash.
Grave Site