Main Content
IN.gov named 2nd best state online experience
IN.gov, the State of Indiana's digital portal that connects with citizens, was named the second best experience across all states by the Center for Digital Government (CDG) in the inaugural Government Experience Awards. The award recognizes states that have an excellent website, but also evaluates additional digital service delivery methods.
Indiana's citizen experience was bolstered this year by the introduction of voice –driven Amazon Alexa skill, the ability to text the State Information Center (1-855-463-5292) to ask a question, a simplified homepage, and a redesign of state agency websites.
"With an increasingly digital world, it is imperative to make conducting business with the state easy and simple," said Indiana Chief Information Officer Dewand Neely. "Our goal is to create a state government portal where citizens and business users can find the information they need and quickly complete transactions or find information. Governor Holcomb has tasked the State to deliver great government service and it is fantastic that Indiana continues to be recognized by outside experts."
With the Amazon Alexa skill, anyone can ask Alexa to find the contact information of a state employee. Alexa reads the information aloud, but also creates a card in the mobile app so users can just click to be connected.
"Citizen expectations for government are increasingly being reshaped by their experiences with consumer technologies. The website is no longer the only experience they use – it's now one of many channels in their overall experience," said Dustin Haisler, Chief Innovation Officer for the Center for Digital Government. "The Government Experience Awards were developed to recognize government agencies that are focusing on designing and delivering services across the overall experience and not necessarily just one channel."
Indiana, with a burgeoning technology sector, has a state digital presence to match. For 20 years, CDG's Best of the Web Awards recognized and benchmarked state and local government progress online. The contest has now been replaced with the Government Experience Awards. In the previous two years IN.gov placed in the Top 5 of the CDG Best of the Web awards. Overall, IN.gov has been recognized with more than 60 awards in the past three years.
In the last year, IN.gov has received more than 58 million visits and 193 million page views. IN.gov provides more than 500 online services for citizens and businesses. All webpages are created in responsive design, meaning they display properly whether a user is on a desktop or mobile device.
.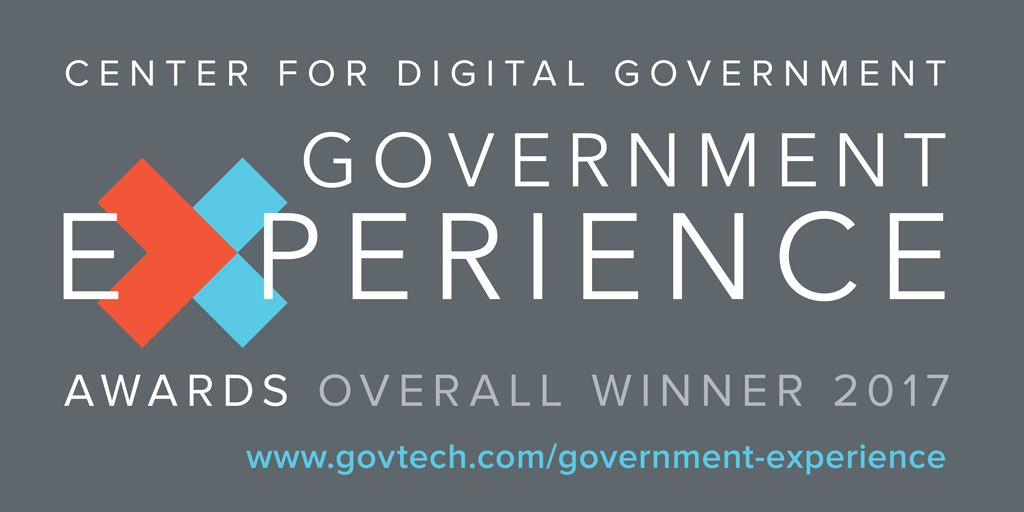 ---
INBiz takes home Government Experience Award
INBiz, Indiana's one-stop business portal, is the winner of the 2017 Government-to-Business Experience Award. The award recognizes INBiz for an outstanding website and online user experience. The Center for Digital Government, a national research and advisory institute on information technology polices and best practices in state and local government, will present the award at its annual award ceremony on September 15th in Austin, Texas.
"INBiz continues to receive recognition for its innovative approach to doing business with the state" said Indiana Secretary of State Connie Lawson. "The portal is truly the first of its kind, and it is very rewarding to see our efforts bearing fruit. The success of INBiz is a testament to the cooperative and business-friendly environment we are continuing to foster in Indiana."
---
Indiana Digital Government Summit - Oct. 11
The annual Digital Government Summit brings to together leaders from IT and Business from state and local government to discuss coming trends in digital government. The goal is to learn best practices and interact with other members of government.
This generally attracts 175-200 government employees, with the ability to speak and connect with each other.
Registration for the event is free for government employees. Speak with your manager to get approval to attend. Click here for the free registration.
Opening Remarks – Dewand Neely, Chief Information Officer, State of Indiana
Opening Keynote – Communicating the Right Way – It's Not Just What You Say, It's How You Say It!
Anthony Huey, President, Reputation Management Associates Communication skills are constantly being judged by others, often subconsciously. How you communicate in everything from casual conversations to formal presentations can be the difference between success and failure. Don't miss what is often your only opportunity to connect and leave a lasting impression. This session focuses on how to think quickly, take control and effectively communicate your message to a wide variety of audiences, including customers, vendors, staff, management, boards and even news media. Read more...
Sessions include:
Optimizing the Workforce and Workplace of Tomorrow
Smarter Communities and IoT
Next Generation Analytics
Declaring Indiana the First Spatially Enabled State in the Nation: Challenges and Opportunities
Changing the Citizen Experience
Mobile 1st
Turbulence Within the Cloud
---
Uber, Lyft - we live in an on-demand society. Sometimes it is easier to rent things than to purchase them outright.
Did you know you can rent Adobe products through IOT on a month-to-month basis? Sometimes for a project you only need software for a short duration and do not want to buy it. One of the advantages of the IOT Adobe cloud offering is that agencies can purchase Adobe products on an as-needed basis.
Adobe products currently offered by IOT:
• Adobe Acrobat Professional
• Adobe CC Enterprise
• Adobe InDesign CC
• Adobe Captivate
• Adobe Illustrator
• Adobe Photoshop
• Adobe Premier Pro
• Adobe Robohelp
• Adobe Dreamweaver
To order any of these, open an IOT Helpdesk ticket.
---
Agency ticketing system (vFire) receives an update
This past weekend, IOT updated vFire, the system where customers can view and track support tickets.
Some of the improvements include:
Better user experience in the system
View open tickets
Add comments or attach a document to already open tickets

---