Main Content
New Application Header Standards
IOT has developed a new standard application header that should be added to all new applications and retrofitted as older apps are updated. The app header follows design principles of the IN.gov website, so a commonality flows throughout the State's online experience.

There is a lot of functionality and ability to customize the app header. In total, there are four versions of the header, with all information able to be included or excluded. Additionally, there many icon choices, such as map, shopping card, login information that can be included.
The goal of this template is to standardize the look and feel of all state agency applications through a uniform header. The CSS styles and JS functionality are hosted globally on IN.gov.
To request the header for an app, visit http://in.gov/inwp/2656.htm
---
Using IOT's HelpDesk Assistant Application
Did you know there is a Windows application you can use to submit an issue to the IOT HelpDesk? You can use it from anywhere you have a network connection (office, home, desktop, laptop).
What Can I Do With This App?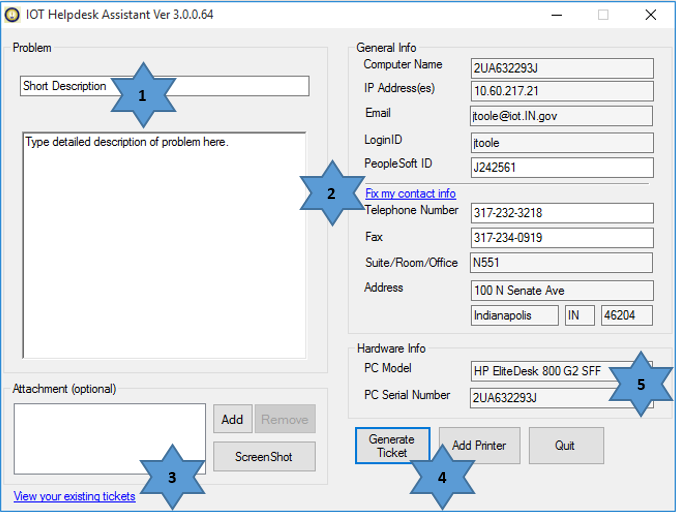 1. Submit an Issue
If you have an Information Technology related issue, you can call the IOT HelpDesk (317-234-HELP), OR you can use this app to create your ticket. You simply enter a Short Description of your issue (which becomes the title of the HelpDesk ticket that is created), and then you enter a Detailed Description about your issue, including attachments and screenshots if you believe they would be helpful to the person trying to resolve your issue. The more details you provide, the better chance IOT has to resolve your issue quickly and accurately. Then you hit Generate Ticket. Done!
2. Fix Your Contact Information
Select "Fix my contact info" to make changes to your telephone number, your FAX number, and your address. You can elect to make these change permanent or just for this specific ticket (maybe you are not currently working at your normal location). This can be very helpful to IOT Field Technicians if they have to visit your computer to fix the issue.
3. View Your Existing Tickets
Select "View your existing tickets" to be taken directly to the vFire Customer Portal where you can review all of "your" active tickets. Once there you can even leave notes to the person working on your issue. You must be ON the state network to use this.
4. Add a Printer
Select "Add Printer" to find/add your desired printer so you can print from MS Word, Excel, Outlook, etc.
5. Find Information About Yourself and Your Computer
This application automatically gathers information about the person and computer using it. So if you simply want to know the Name, IP address, Model or Serial Number of your PC without having to climb under your desk with a flashlight, use this app. Or find out information about yourself like email address, LogonID, PeopleSoft ID, phone number, and physical address.
Learn how to access the HelpDesk Assistant
If you have this ICON on your desktop, click it.

Or use your Windows Tool Bar – All Apps – IOT and click it.
Or visit the http://www.in.gov/iot/ website and click "Submit an IOT Customer Service Ticket".
---
State CIO Dewand Neely Honored
Chief Information Officer Dewand Neely recently was named one of GovTech's Top 25 Doers, Dreamers & Drivers of 2017. The award recognizes "change-makers inside and outside of government who have proven what a valuable tool technology can be in making the promise of responsive, customer-focused government real."
Below is a snippet of the story:
Indiana CIO Dewand Neely's predecessor Paul Baltzell cast a long shadow. In fact, we recognized Baltzell along with former Gov. Mike Pence and Office of Management and Budget Director Chris Atkins for their leading analytics efforts with a Doers, Dreamers and Drivers award in 2015. But in the year and a half since Neely has held the top tech spot, he's more than proven himself as a capable technologist with a firm grasp on the fine details and a simultaneous appreciation for the long view.
Since the game-changing analytics work the state embarked upon in reducing infant mortality, Neely has helped direct equally influential efforts in applying data from multiple agencies toward other problems that aren't unique to Indiana: recidivism and opioid addiction.
Click to read the full article about Dewand
---
StateScoop names top state IT, cybersecurity leaders
Indiana State Police Major Michael White was recognized by StateScoop in the area of State Leadership of the Year with a StateScoop 50 award. White, the Assistant Chief of Staff, Information & Communications, was touted for, in part, the predictive crash map developed by ISP and the Management Performance Hub.
Read who else was recognized with awards.
---
Indiana 'Crowdgranting' Platform Helps Fund Housing, Community Development Projects
A concept called "crowdgranting" has launched in Indiana, and it's helping to develop projects in communities across the state.
Using a system similar to that found on the crowdsourcing sites Kickstarter and GoFundMe (but with a few wrinkles), resident donations to initiatives are matched by grants from the Indiana Housing and Community Development Authority.
Say, for example, that a city council or a nonprofit community group wants to build a new park. The group posts details and plans for its project online, along with a funding goal, and donors then have between 30 and 60 days to match that amount. If they make it, the goal amount is matched by a grant from a sponsor.
The initiative is called CreatINg Places and so far has funded six projects, eliciting gifts from 495 residents, $160,000 of which was matched by sponsors. Throughout Indiana so far, CreatINg Places has helped fund a preservation tour in Gary, a monument to Martin Luther King, Jr., in South Bend, and a series of three street murals in Greensburg.
Read the whole story at GovTech
---
Shared State IT Vision in Indiana
Like other appointed administrators, state CIOs face uncertain futures whenever new governors are elected. But, in Indiana, newly elected Gov. Eric Holcomb asked Dewand Neely to stay on as state CIO largely because they share an IT vision.
For example, both want to improve cybersecurity, create better online services for citizens and build an environment for state agencies to innovate faster and more cost-effectively, which translates to better services, Neely says. As a result, it was a good fit.
"The new governor and I see eye-to-eye on his key pillars that he's laid out. I think he saw our efforts were in sync and that I'd be a good fit to help him from an IT perspective," says Neely, who first became state CIO in October 2015.
Read the whole story at StateTech Magazine
---
Q&A Roundtable: How the Newest State CIOs Are Renewing the Workforce
A new crop of state CIOs have taken over state IT leadership roles in recent years. Last year, 15 new state CIOs were installed. This new generation of state technology leaders brings fresh, new perspectives and deploys new technology and strategies that will shape state government IT for years to come.
StateTech magazine spoke to five recently appointed state CIOs and CTOs, discussing their priorities and new initiatives, from revamped service delivery models to cross-jurisdictional collaboration.
"The new governor and I see eye-to-eye on his key pillars that he's laid out. I think he saw our efforts were in sync and that I'd be a good fit to help him from an IT perspective," says Neely, who first became state CIO in October 2015.
Read the whole Q&A and see what Dewand added
---