September 17, 2010 the Indiana Natural Resources Foundation announced the second class of the Indiana Conservation Hall of Fame. The group includes a former director of the National Park Service, Indiana's first professional archeologist, a man who saved the American bison from extinction, educators and ordinary citizens.
"You cannot talk about conservation in Indiana without recognizing the contributions these Hoosier's have made to Indiana and the world." said Bourke Patton, executive director of the Foundation. "The message we should all take away from these giants of conservation is that regardless of our background, if we follow our passion for nature and history, we can make a tremendous and lasting difference in the world."

The 2010 class includes: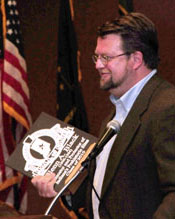 Mike Linderman, manager of Angel Mounds accepting induction on behalf of Glenn A. Black
Glenn Albert Black (1900 – 1964)
, considered Indiana's first professional archeologist, Black spent his lifetime studying and documenting Indiana's prehistoric sites. Most of what is known about Angel Mounds State Historic Site came via his Indiana University Field School and nearly 30 years of study at the site. He also documented over 5,000 prehistoric sites in Indiana and revolutionized archeological documentation in his two volume book, Angel Site: An Archeological, Historical, and Ethnological Study.
Garrett G. Eppley, from 1947 – 1967 Eppley served as chairman of the department of recreation at Indiana University. He was a pioneer in the parks and recreation movement and his impact can be found in park and recreation legislation, continuing education opportunities for park and recreation personnel, the development of municipal park and recreation programs, state park system development and countless other places.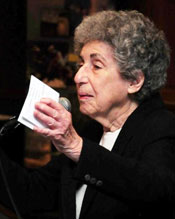 Ms. Herlocker-Meyer giving an impassioned address at the Hall of Fame Induction Ceremony
Irene Herlocker-Meyer
, personally led the most expensive and politically difficult preservation effort ever undertaken in Indiana. From 1967 – 1976 she fervently worked to see Indiana's last, best prairie remnant, Hoosier Prairie Nature Preserve, permanently protected. What began as 300 acres of grassland now encompasses 1,500 acres of prairie and savannah in the heart of Lake County.
William Temple Hornaday (1854 – 1937), born in Plainfield, Hornaday is credited with documenting the American Crocodile and saving the American bison and Alaskan fur seal from extinction. Over his lifetime he served as chief taxidermist of the US National Museum, superintendent of the Smithsonian's National Zoological Park, founder of both the Campfire Club of America and the Permanent Wildlife Protection Fund.
Dr. Alton A. Lindsey (1907 – 1999), Purdue professor of forest ecology from 1947 – 1973, Lindsey documented 340 of Indiana's best natural places in Natural Areas in Indiana and Their Preservation and his impact can be found from Antarctica to the Arctic, from New Mexico to Glacier National Park. He helped establish Indiana Dunes National Lakeshore and Big Walnut Nature Preserve and created and assured the passage of the Indiana Nature Preserves Act.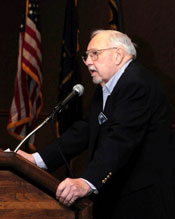 Mr. Mercier's acceptance speech at Hall of Fame Induction Ceremony
Dick Mercier
, 17 year leader of the Indiana Sportsmen's Roundtable, Mercier represented Hoosier sportsmen and sportswomen at the Indiana Statehouse and through all levels of policy making. His dedication helped advance hunter education, apprentice hunting licenses and led to the creation of the Land Owner's Liability bill which has opened up thousands of acres for hunting, fishing and trapping.
The Reads accepting their induction into the Hall of Fame
Herb and Charlotte Read
, joined the Save the Dunes Council in 1952 and have spent their lives working to preserve Indiana's dunes and expand and protect the National Lakeshore. They continue to work with Save the Dunes Council, Shirley Heinz Land Trust and the Indiana Heritage Trust to expand conservation across Indiana.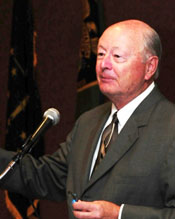 Ridenour discussing conservation at the Hall of Fame Induction Ceremony
Jim Ridenour
, from 1981 – 1989 Ridenour served as director of the Indiana Department of Natural Resources where he expanded educational outreach and established Summit Lake State Park. From 1989 – 1993 he served as director of the National Park Service where he solidified the mission of the NPS and oversaw strategic planning which resulted in the creation of The Vail Agenda which still guides the NPS. From 1993 – 2001 Ridenour served as director of the Eppley Institute at IU where he shaped the direction of parks programs throughout the country.
Click here for the 2009 Conservation Hall of Fame Class!
The Indiana Conservation Hall of Fame was created to demonstrate the difference inspired individuals can make in the protection our endangered natural and cultural heritage.
Their contributions to education, research, land acquisition and restoration, policy formation, and resource management have touched the lives and landscapes of not only Hoosiers but across our nation and even around the world.
These talented and dedicated men and women have spent their lives creating a legacy of natural and cultural riches from which current and future generations can draw inspiration.
Conservation Hall of Fame Selection Committee Members
Pam Bennett
Indiana Historical Bureau
Phil Bloom
IDNR, Communications
John Goss
Asian Carp Director, US Council on Environmental Quality
Frank Hurdis
IDNR, Historic Preservation and Archeology
Evie Kirkwood
St. Joseph County Parks
Ginger Murphy
IDNR, State Parks and Reservoirs
Bourke Patton
Indiana Natural Resources Foundation
Elizabeth (Betsy) Smith
Indiana Chapter of The Nature Conservancy
Jeff Ward
Indy Parks
Stephen Wolter
Eppley Institute at Indiana University
Amanda Wuestefeld
IDNR, Natural Resource Education, Fish and Wildlife Division
Information on nominating a person or couple for future classes for the Indiana Conservation Hall of Fame can be found by clicking here.