Main Content
The Indiana Public Retirement System (INPRS) is always looking for ways to improve the defined contribution (DC) investment lineup to the benefit of its members. After a period of evaluation, the INPRS investments team identified the need to change its target date fund allocations based on demographic trends and plan-specific changes since the target date funds were established in 2010. The goals of this change include: improving retirement outcomes and provide better alignment with similar offerings in the defined contribution market. Two new funds have been created and allow members to invest in funds designed to grow during their retirement years. These funds' addition make the glide path a "through retirement" model.
INPRS's Investment Policy Statement outlines the risks INPRS is attempting to better manage through investments, specifically:
Longevity risk: outliving your retirement savings,
Shortfall risk: not being able to maintain your desired standard of living,
Inflation risk: inflation outpacing investment returns, and
Market risk: market movements harming retirement savings
INPRS has made adjustments to its Target Date Funds that began on July 1, 2019. These adjustments include:
Changes to the investment mix, which include increased equity and inflation-linked bond exposure and decreased fixed-income exposure. These changes cause each funds' level of expected investment risk to increase and resulted in an overall change in the Target Date Fund glide path show in the graph below. For a PDF copy of these details, click here.
The new Target Date Funds have been designed to provide capital appreciation during your working years and income throughout retirement in order to combat longevity, shortfall and inflation risks in retirement.
This change makes the INPRS Target Date Fund glide path a "through retirement" model. To achieve this, two new Target Date Funds – the 2010 and 2015 funds are now available. The "through retirement" glide path construction can help members better manage longevity, shortfall, and inflation risks as they enter their retirement years.
Members who are currently invested in the Retirement Fund but, based on their age, should be in one of the new funds – the 2010 and 2015 fund – will have their Retirement Fund balances moved into the appropriate fund.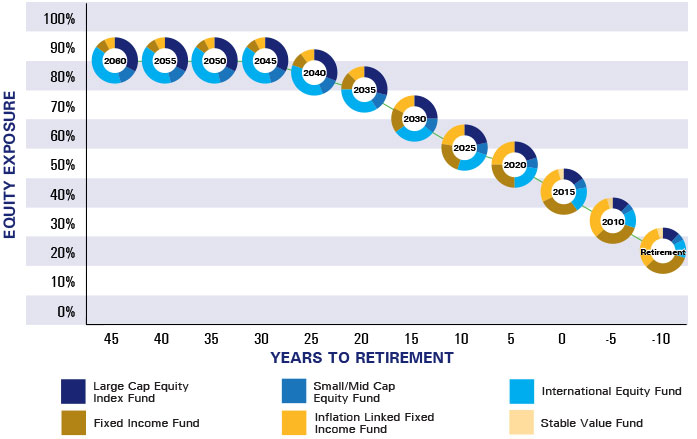 What do I need to know?
Risk is a normal part of investing. However, it's essential to understand what it means to your investment selections. Each of INPRS's investments has a designated level of risk associated with them, from low, medium and high risk. Risk, in investments, refers to anything that could negatively impact an investments' value. In this case, INPRS uses the degree of fluctuation in the share price of the funds to categorize them based on risk. For example, a high risk fund is expected to have extremely wide fluctuations in share prices and may be appropriate for investors who have a long-term investment horizon or have an aggressive risk profile. For more information on investment risk, please visit the website of the Financial Industry Regulatory Authority.
Changes began on July 1, 2019, and are now complete. These changes took place over three months to better manage market risk associated with trading. As a member, you may or may not notice much of an immediate difference in your account. If you are closer to retirement age (55+) and are in the 2020, 2025 or Retirement Funds, it will be vital for you to review if the new fund allocation is in alignment with your goals.
If you do not have any of your money in one of INPRS's Target Date Funds, no changes have been made to your investments. However, now is a great time to review where you've got your money invested and to consider if a Target Date Fund is a place for even a portion of your balance.
If you select investment options other than INPRS's Target Date Funds, we encourage you to monitor their performance regularly, making changes as needed to achieve your goals. If you don't have the time or desire to monitor and adjust your investment line-up regularly, Target Date Funds may be an option to consider.
For more details on these changes, please view our FAQs.