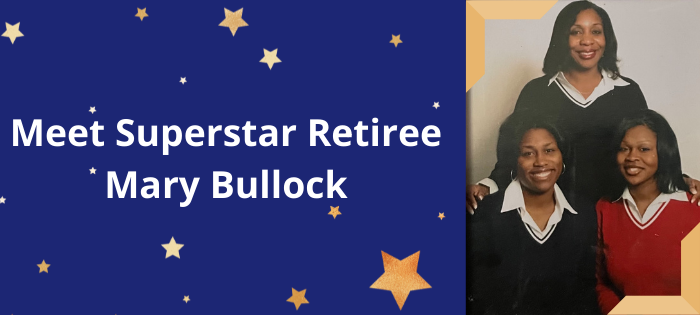 Retiree Mary Bullock became a licensed social worker 42 years ago because she wanted to help people have better lives. She also obtained an MBA because she wanted to develop social programs further and help as many people as possible. Mary's first job as a social worker was with the state of Indiana as a child welfare social worker. She lists this job as one of the most unforgettable in her career.
Before retiring, she spent the last 20 years of her career with the Indianapolis Healthy Start program at Eskanazi. She helped many women and babies through this program, including women who keep their babies in the Indiana Women's prison with services, classes, and resources.
Mary didn't start saving for her retirement until the age of 45. At this age, Mary began to learn more about retirement and savings. However, Mary shares "it's better to start late than never." Although she had a late start toward savings, Mary was still able to retire at the age of 65 and live very comfortably, with no money worries, with almost a half-million dollars saved by her retirement.
As a divorced single mother of two daughters, Mary helped her children plan early for retirement by encouraging them to invest in their 401Ks at an early age. The oldest daughter earned a bachelor's degree from Purdue University and an MBA from Indiana University and now works as a food safety manager at Gleaners Food Bank. The youngest daughter attended Duke Law School and is a corporate lawyer at Eli Lilly.
Her oldest daughter's words to her mother, after Mary encouraged her to start saving money for retirement at the early age of 23, were, "Mom, I don't want to think about retirement now; I am only in my 20's!" However, she listened to her mother, and now at the age of 40, she's grateful she took her mother's advice.
Mary loves spending time every week with her eight and six-year-old grandsons and her three-year-old granddaughter. She also cares for her 94-year-old father, who has lived with Mary for the past 15 years. Through good money management skills and savings, Mary built her father his apartment attached to her house 15 years ago. Her father, a World War II veteran, loves his own space and independence.
Thank you, Mary, for sharing your retiree experience and for your years of public service!
Want to share your retirement perspective? Email us at Info@inprs.in.gov.
1099R's are available online
1099-Rs will arrive in your mailbox and online any time after Jan. 31, 2022. You may view your 1099-R on your secure online account at www.myINPRSretirement.org.
Your 1099-R is an important piece of your income data, and you need it to complete your taxes accurately. Please pay special attention to Box 7 of your 1099-R to ensure it is appropriate for your situation. If the "early distribution-no known exception" box is checked and you believe that there is an exception, please consult your tax advisor.
If you need help downloading your 1099-R or if you still have not received it in the mail by Feb. 18, please call us at 844-GO-INPRS or 844-464-6777.
Understanding SRAs and COLAs
In December 2021, the Indiana General Assembly approved a 1.00% COLA, effective January 2022, to be paid from the Supplemental Reserve Account (SRA). So, what are SRAs and COLAs, and how does it affect retirees like you?
A Supplemental Reserve Account (SRA) is a savings account that takes in contributions from the Hoosier Lottery and surcharges paid by employers for the end-use of funding COLAs and 13th checks.
Cost of living adjustments (COLAs) are yearly increases made to your monthly pension benefit payment to help if the cost of living is more than when you retired. The Indiana General Assembly determines whether PERF, TRF, EG&C, and LE DB retirees receive a COLA or a 13th check in any given year. INPRS then administers the COLA or 13th check based on their direction. The Indiana General Assembly can only determine this during legislative sessions where the state budget is set.
To view our FAQs covering SRAs and COLAs, click here.
Manage healthcare costs in retirement
As Americans, we are living longer. With increased longevity, comes the need for increased savings to maintain your quality of life throughout retirement. There are many things to prepare for in retirement, and healthcare costs are often overlooked.
Medical costs, Medicare premiums, out-of-pocket premiums, and prescription medications continue to increase every year. Covering the cost of care for an unexpected medical event or long-term illness not covered by private insurance or Medicare has been shown to cause Americans to deplete their assets, including retirement savings.
Read more here.
Source: Voya Financial
2021 INPRS Comprehensive Annual Financial Report
Read the 2021 INPRS Comprehensive Annual Financial Report (Annual Report) here.