Find the answers to your questions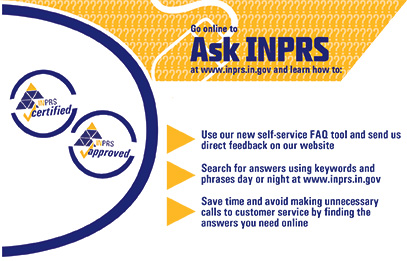 Ask INPRS is our new self-service tool for frequently asked questions (FAQs). Members can search for answers online using keywords and phrases 24/7 from anywhere on the site using the "Top FAQs" widget on the right side of each page. The new tool saves time and reduces calls to customer service. This tool also allows members to send us direct feedback on our website.
Updating your account information
When you're preparing to make a big change in your life, remember to inform us. It's vital that you keep us up-to-date about changes to your name, phone number, email address, mailing address or beneficiaries.
You can update this information easily when you register for your INPRS online account. Changing your information with your employer will not update the information with us. You need to contact us directly. This is the only way to update your personal information.
You can change your address or beneficiary using your online account once you've registered. Or, if you prefer to make your changes in writing, go here for the address change form, or here for the beneficiary change form. Print the form, complete it and return to us.
To change your name, you must complete the Member Data Change form. You can only submit requests for change of name in writing. Legal documentation such as a court order, divorce decree, or marriage license is required when you submit your change.
INPRS annuity rate is 4.01 percent
As of April 1, 2017, the INPRS annuity rate is set at 4.01 percent. Read more here.