Let's get social!
INPRS has joined the social media revolution! We're now on Facebook, Twitter and YouTube to provide members with the knowledge and tools necessary to get the most out of their retirements and benefits.

Make sure to check back frequently to get the latest news and information. "Like" us on Facebook, follow us on Twitter, and view our videos on YouTube to stay in the know!

Farewell to paper
Quarterly member statements are going electronic. Fourth quarter statements for PERF members will be available online in Jan. 2013. However, any member still wishing to receive a mailed statement each quarter will be able to do so.
Easy access to INPRS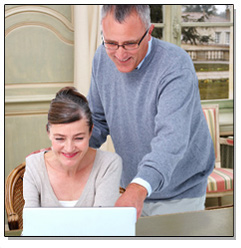 Follow these steps for logging in to your online INPRS account:

Go online to www.inprs.in.gov and click on Member Login.
Click on PERF Member Login.
Enter your most recently updated User ID and passcode.
If you have never accessed your online account, use your Social Security number (SSN) for the User ID and the passcode previously mailed to you.
Once you're logged in, go to the "My Account" tab and click on "Account Details", then "Online Statement." At that point, a list of statements will appear. Click on the one you'd like to view. It's that simple.
2012 Legislative Summary
The following legislative changes were approved by the 2012 Indiana General Assembly. Listed below are the items most relevant to our members. For a full list of legislative changes, visit http://www.in.gov/inprs/2691.htm.
The scoop on funded status and investment performance
Members and retirees of INPRS can be assured that INPRS remains in solid shape.

PERF and TRF are among the better-funded public retirement systems in the nation.

As of June 30, 2011, PERF's funded status was 80.5 percent. The funded status of TRF's 1996 Account was 91.7 percent, while the Pre-1996 Account funded status was 32.0 percent. The Pre-1996 Account is a pay-as-you-go plan and is not pre-funded, so its funding status is low by design.
What's the new Guaranteed Fund rate?
Members who invest Annuity Savings Account (ASA) funds in the Guaranteed Fund will earn an annual return of 0.28 percent beginning July 1, 2012. The rate is set annually by the Indiana Public Retirement System (INPRS) Board of Trustees.
Know before you apply
Q. I was eligible to retire in May 2011. Will my benefit be effective from the time I became eligible to retire?
---