Find the answers to your questions
Ask INPRS is our new self-service tool for frequently asked questions (FAQs). Members can search for answers online using keywords and phrases 24/7 from anywhere on the site using the "Top FAQs" widget on the right side of each page. The new tool saves time and reduces calls to customer service. This tool also allows members to send us direct feedback on our website.
Get to know your benefits in as little as five minutes
Click one of the links below to download a PDF copy of your fund's At a Glance:
1977 Fund members can leverage pension benefits
According to IC 36-8-8-17.2, 1977 Fund members may be able to deduct payments from their pension benefit for the following purposes:
Pay the premium on a policy of insurance for medical, surgical, hospitalization, dental, vision, long term care, or Medicare supplement coverage offered to retired fund members by the fund member's former employer, the state, or the system board;
Make a pledge or contribution to a charitable or nonprofit organization;
Pay dues to a labor organization of which the person receiving the benefit is a member.
An overview of INPRS' performance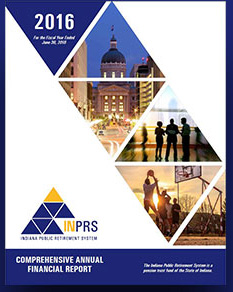 We have released the Comprehensive Annual Financial Report (CAFR) for 2016. The CAFR provides information about INPRS' financial positions during the 2015 – 2016 fiscal year which ended on June 30, 2016. For a quick look, check out our Summary Annual Financial Report(SAFR).