Preparing for life's next phase
What's your vision for retirement? Have you discussed your thoughts and ideas with your spouse? If not, you may want to candidly engage in conversation about how the two of you want to make the transition. You may want to relax at home while your spouse may want to travel. As you talk about the future and the resources you'll have available, consider factors such as rising inflation and longer life expectancies. Will your combined incomes be enough to sustain your lifestyle and life span?
Besides Social Security and your INPRS benefit, have you explored other avenues of securing a steady cash flow during your retirement years? Be prepared by finding out more about your INPRS benefit. Refer to your plan-specific handbook online at www.inprs.in.gov.
Breaking news for prosecuting attorneys!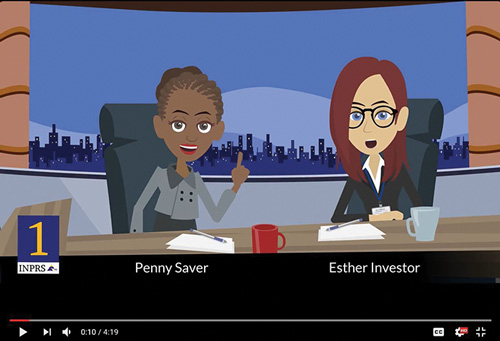 Whether you're new to membership or preparing for retirement and have questions about your PARF plan, you need to watch this video on our YouTube channel!
To subscribe to our YouTube channel, go here.
How do you know you're ready to retire?
Plan Name
Eligibility Requirements
1977 Police Officers' and Firefighters' Pension and Disability Fund

At least age 52 with 20 years of service

Judges' Retirement System

Age 65 with at least eight years of service, or
"Rule of 85" – age + years of service = 85 (minimum retirement age of 55)

State Excise Police, Gaming Agents and Conservation Enforcement Officers' Retirement Plan

"Rule of 85" – age + years of service = 85 (minimum retirement age of 55), or
At least age 50 with 25 years of service

Prosecuting Attorneys' Retirement Fund

At least age 62 with eight years of service