Article
Section
ERM is Live!
Essentials for ERM
ERM is now live! If you have not completed this checklist and taken advantage of all training offered , do so NOW.

If you still have questions after reviewing the checklist and completing ERM training, please contact EPPA at (888) 876-2707 or by e-mail at eppa@inprs.in.gov.
Getting started in ERM…your quick reference
The Getting Started in ERM Quick Reference Guide, available here, will provide you with the information you'll need to begin using ERM. Contact EPPA at (888) 876-2707 with any additional questions.
ERM dates to remember
Keep aware of these important dates and responsibilities for a smooth transition.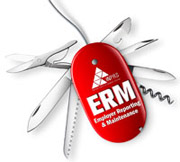 NOW until Oct. 15: submit an error-free 3rd quarter wage and contribution report and payment using your current reporting process and have it converted to ERM automatically. Missing the Oct. 15 deadline will require employers to enter their payroll data going back to July, in payroll order, starting Oct. 29.
Oct. 1: ERM went live.
Oct. 1 – Oct. 19: Add bank accounts, confirm payroll dates and add users ONLY. Do not submit member or wage and contribution information using ERM.
Oct. 20 – Oct. 28: ERM will be shut down to convert 3rd quarter wage and contribution data.
Oct. 29: ERM will be fully functional. Employers will start enrolling new members and submitting wage and contribution data that occurred from Oct. 1-29, in chronological order.
For example, you have a bi-weekly payroll frequency with payroll dates on Oct. 5 and Oct. 19. Beginning Oct. 29, you would submit your Oct. 5 payroll, resolve any errors, and then submit payment. You would then submit your Oct. 19 payroll, resolve any errors, and submit payment. You will then begin submitting on your scheduled payroll dates.
All current members will be converted to ERM and will not need to be re-enrolled. Only members hired after Oct. 1, 2012 will need to be enrolled using ERM.
ERM training webinars available
Due to popular demand, INPRS has scheduled additional webinars that focus on getting started in ERM. These will cover all set-up steps that need to be completed between Oct. 1 and Oct. 19, ensuring you are ready to fully use the ERM application on Oct. 29. This material was not previously covered in a webinar.
Webinars will last one hour and are available to all employers, even those who have previously participated in a webinar. Click
here
for the list of available webinars.
Technical requirements for ERM
Ensure your computer meets the minimum system requirements for ERM. More information is available here.
---
Every attempt has been made to verify that the information in this publication is correct and up-to-date. Published content does not constitute legal advice. If a conflict arises between information contained in this publication and the law, the applicable law shall apply.