Access ERM
Beginning at 9 a.m. on Monday, July 16, employers may access the ERM soft open environment.
To access ERM, visit http://inprs.in.gov/erm/faces/login.jspx.
Take note of shutdowns
ERM will not be available for access on Monday, September 3, 2012.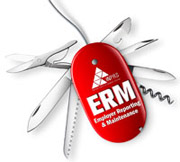 As this is a state holiday, INPRS staff will not be available to assist employers. Access will be restored on the next business day.
Bank accounts in soft open
Bank accounts in the ERM soft open environment will be set up for each employer.
Bank account information will be "fake" and therefore pose no security risk. Once ERM goes live in October, employers will be required to set up bank accounts in ERM.
Ease into soft open
Need help with logging in, setting passwords, etc. for ERM's soft open?
The 'Getting Started in ERM - Employer User Quick Reference Guide,' available here, will brief you on everything you need to know to begin in soft open.
Known ERM "bugs"
Before you log into ERM's soft open environment, familiarize yourself with some known "bugs" and ways to resolve them.
The 'Soft Open Issues - Quick Reference Guide,' available here, discusses snags in the ERM application. We are working to fix these issues before go-live but wanted to provide employers a "cheat sheet" of how to get around these issues so they can make the most of soft open. Please contact us with any questions.
Backing up soft open
During the soft open period, we will be performing nightly production backups of the soft open environment so that in the case of a disaster event, we can restore to the previous evening's backup.

This will ensure that all data entered during soft open would not be lost. Instead, only information entered since the previous evening would be unavailable.
Have questions or need assistance?
Contact our Employer Pension Plan Administration (EPPA) team at (888) 876-2707 or by email at eppa@inprs.in.gov. We're here specifically to serve employers!
---
Every attempt has been made to verify that the information in this publication is correct and up-to-date. Published content does not constitute legal advice. If a conflict arises between information contained in this publication and the law, the applicable law shall apply.