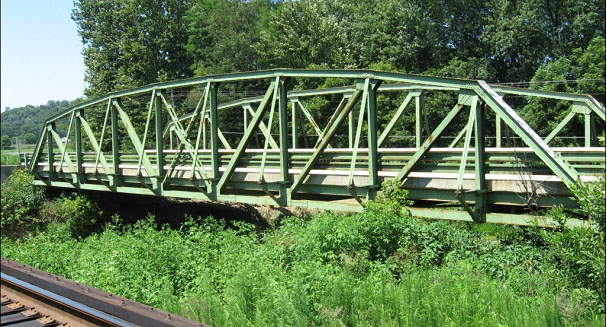 Location:
County
Road
Over
Number
Other Location Information
Morgan
S.R. 67
Lambs Creek
67-55-01564A
1.55 Miles S of S.R. 39
Statistics:
Owner
Length
Width
Year Built
Type
Indiana Department of Transportation
129.0 ft.
Clear roadway width: 28.2 ft.; Out-to-out deck width: 29.0 ft.
1939
Single-span, steel Pratt pony truss
Builder:
Indiana State Highway Commission
Status:
Available-To be dismantled and stored by INDOT until December 31, 2024.
Comments:
Current Load Rating: 16 tons - Concrete deck, deck stringers (with riveted connections) were replaced in 1986.
Contact:
Name
E-mail
Address
Phone
Mary E. Kennedy,
INDOT Office of Environmental Services
mkennedy@indot.in.gov
INDOT, 100 N. Senate Ave., IGCN 642, Indianapolis, IN 46204
(317) 694-3607
Back to Historic Bridge Marketing Program