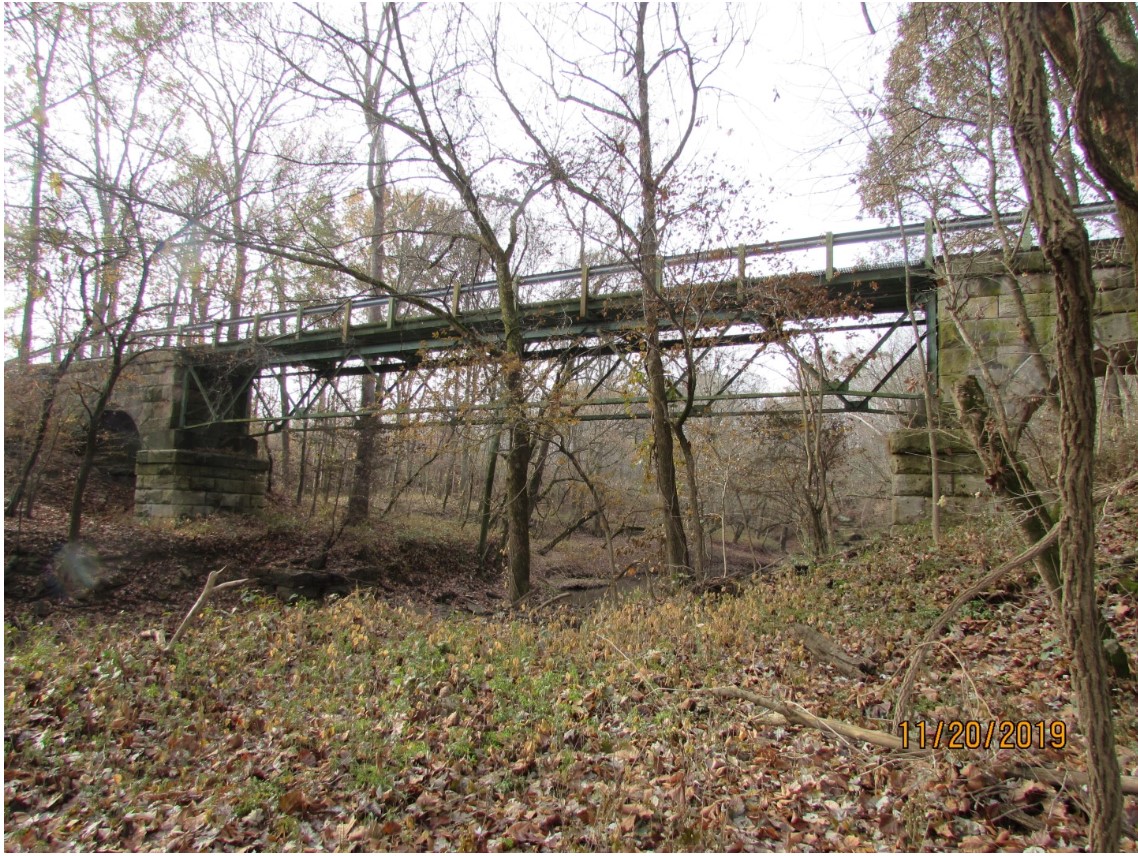 Location:
County
Road
Over
Number
Other Location Information
Martin
Brickyard Rd (aka Queen St)
Boggs Creek
58
0.04 miles northof US 50 near Loogootee, Indiana
Statistics:
Owner
Length
Width
Year Built
Type
Martin Co.
150'-4" (32',86',32')
12'
c. 1848; 1913
Steel Warren Deck Truss with Stone Arch approach spans
Builder:
unknown
Status:
Pending
Comments:

14 Tons (H-rating)
History of Modifications, Rehabilitations, etc.: The bridge was originally built as a stone arch bridge. It wasreconstructed circa 1913 with the steel deck truss main span. The bridge was repaired in 1996 and 2018.

Martin County Bridge No. 58 is a three-span structure originally constructed in 1848 and carries Brickyard Road over Boggs Creek near Loogootee, Martin County. The bridge has been reconstructed/repaired in 1913, 1996, and 2018. The bridge is 150 feet 4 inches long with a clear roadway width of 11'-8". The bridge consists of an 86' long Steel Warren Deck Truss main span and 2 - 32' long stone arch approach spans.
The bridge is eligible for listing in the National Register of Historic Places, but is rated "Non-Select" per the Programmatic Agreement Regarding Management and Preservation Indiana's Historic Bridges (Historic Bridges PA). The status of this bridge is currently "pending," which means that its future is currently unknown as the Section 106 historic review process is on-going.
Depending on the outcome of Section 106 consultation, interested parties may be able to acquire the bridge. The County is now accepting proposals for the rehabilitation and reuse, or the storage and future reuse of the bridge. Proposals will also be accepted for the salvage of elements that may be stored for future repair of similar historic bridges.