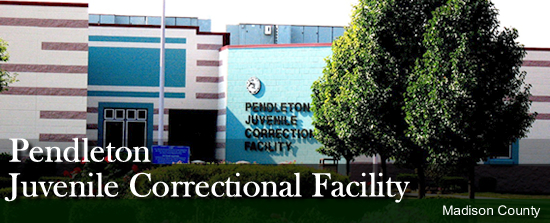 Facility Summary
Established
2000
Security Level
Maximum
Avg Daily Population
Calendar Year 2018: 188
Housing
Campus Style
Maximum security
housing for students
unable to manage
their behavior in
the open campus.
Warden
Angela Sutton
Address
9310 South State Road 67
Pendleton, IN 46064
Phone Number
(765) 778-3778
Facility Announcements
Family Council
Executive staff meet with parents to collaborate and improve communication between the facility and the families of the youth at Pendleton Juvenile. During the meeting, parents and family members over 18 years of age will be given a facility tour. Staff will discuss programs, policies and issues related to the administration of the facility. Parents are encouraged to bring suggestions and ideas for discussion. If you are interested in being a member of the Family Council please contact Angi Burrows at Aburrows@idoc.in.gov.