Main Content
Article
Indiana Cold Case Homicides Playing Cards
The Indiana Department of Correction, in partnership with the Indiana State Police and the Indianapolis Metropolitan Police Department, have released two editions of the "Indiana Cold Case Homicides Playing Cards". The decks of playing cards each profile 52 unsolved homicides and missing persons cases from around the state. Each playing card features information on an unsolved murder or missing persons case and a photo of the victim.
Members of the public who would like to provide information on the victim of a cold case homicide or missing persons case, or who would like to have a case reviewed for inclusion in a future release of the deck, may contact the Indiana Department of Correction at coldcasetips@idoc.in.gov
If you have information about any case in this deck or a case that does not appear in this deck, please call the Indiana State Police T.I.P.S. Hotline at 1 (800) 453-4756.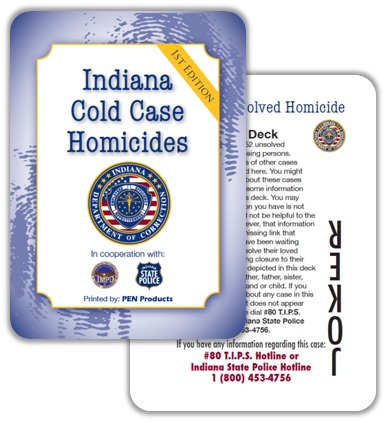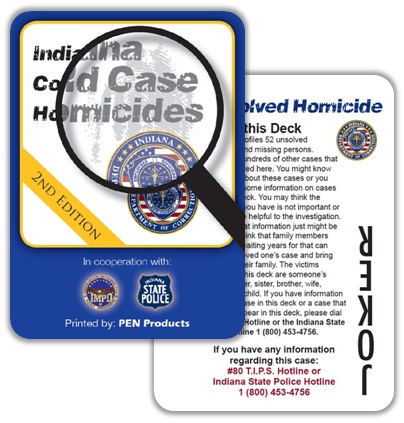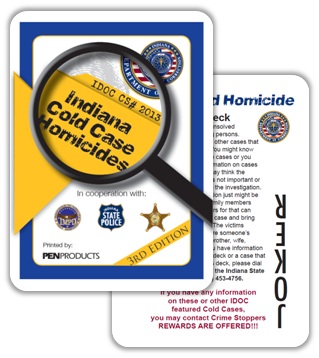 The card decks are being distributed throughout Indiana prisons and to law enforcement authorities, and will be the only decks of cards available for purchase in the state's prison facilities. The aim of the project is to create an awareness of these unsolved cases in the prison population and encourage offenders to provide information that might help solve the cases. Officials hope the cards may jar inmate memories or provide a clue that, when combined with other information, might provide the break investigators need to solve a case.