Main Content
Lake Maxinkuckee WMP 3-747
Summary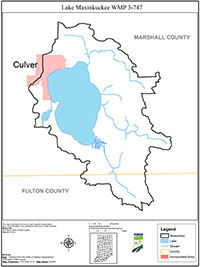 Click to Enlarge
This Lake and Watershed Management Plan (WMP) was developed for Lake Maxinkuckee and its 8,850 acre watershed which is located in and around Culver, Indiana and is designated by the 14-digit Hydrologic Unit Code (HUC) 05120106060010. Three main tributaries, Curtiss Ditch, Wilson Ditch and Kline Ditch, drain into the lake and contribute approximately 70% of the phosphorus loading. The watershed is mainly rural with agricultural land comprising 41% of the watershed (27% row crop, 14% pasture). Developed areas cover almost 13%.
With funding through the Indiana Department of Environmental Management's Section 319 grant program and the Indiana Department of Natural Resources Lake and River Enhancement Program, the Lake Maxinkuckee Environmental Council and their consultant held several public meetings to hear residents input, reviewed historical data, and conducted water quality sampling to identify current water quality concerns.
The 10 members of the Lake Maxinkuckee Environmental Council (LMEC) acted as the steering committee. As per their bylaws, members of the LMEC represent lake residents, Culver Academies, Town of Culver, and the agriculture areas – the major stakeholders in the watershed. A second committee of volunteers helped categorized the hundreds of public comments and reviewed problems statements. The first two public meetings focused on recording stakeholder input, the third public meeting presented the water quality sampling results, the fourth discussed goals and strategies and at the fifth the draft plan was presented for public comment.
After reviewing the public input it was clear the stakeholders are primarily concerned with keeping the lake healthy for the benefit of all watershed residents and adopted the following statement to guide their goals:
Working toward an ecologically sound Lake Maxinkuckee and its surrounding watershed
This statement guided all the aspects of lake and watershed management planning process. All decisions were then based on how the proposed objectives will promote a healthy lake ecosystem. While developing the goals and objectives the steering committee considered the public comments and was sensitive to all residents to include strategies and objectives which will achieve the goals and are acceptable to most of the stakeholders. Some original strategies were modified to achieve this.
Key issues were identified and strategies proposed for the following topics:
Nutrient and sediment loading
Land use issues (planning and zoning) and cooperation of local boards
Education of watershed residents on how to protect water quality of the lake
User-conflicts for boaters and potential over use by boaters
Shoreline and shore land stewardship
Turbidity
Fisheries resource
Centralized watershed management
The associated management strategies focus on improving water quality and quality of life to optimize ecological benefits to the lake while taking into account the stakeholder's uses in the lake and watershed, including agricultural production, residential, municipal, and recreation.
The Complete Lake Maxinkuckee Watershed Management Plan