From the Vault Blog
From the Vault | House Bill 264, 1897, the Indiana "Pi Bill"
Every March 14th will see a spate of new articles on today's subject, the infamous Indiana Pi Bill.
House Bill 264 of 1897 was introduced by the representative from New Harmony, Taylor I. Record, but was composed by Dr. Edward Johnston Goodwin. While Dr. Goodwin's education and medical credentials were as legitimate as any, he did not have any training or experience in mathematics. Despite or possibly due to this, he believed that he had solved the ancient mathematical problem of "squaring the circle" and had therefore created a new and much simpler value for Pi – 3.2. In reality, he had misunderstood the basic premise of the problem and made several groundless assumptions.
Perhaps unsurprisingly, Record, the part-time farmer and part-time legislator, accepted and submitted the bill for the esteemed Dr. Goodwin. While Goodwin's theory was not accepted by anyone of note, he managed to get it published early in the life of American Journal of Mathematics "by request of the author" meaning that it was not vetted nor peer reviewed. He recounted this publication and some vague endorsements by named academics to journalists, who also often did not question his theory. At one point he was slated to speak at the Chicago World's Fair, but was removed shortly before the event, presumably when he encountered someone that knew his theory was utterly flawed. He also had a supposed academic endorsement denied or questioned on more than one occasion. However, when recounted in most of the newspapers his accomplishments are listed without their caveats.

The combination of Dr. Goodwin's reputation and the bill's nearly inscrutable language and subject matter most likely got it through both the Canal and Education committees without amendment or comment, and it was engrossed by the House without issue. It was also approved by the Senate Committee on Temperance but was indefinitely postponed when it was read the the Senate a second time. The bill received no recommendations at any point of the process. It's failure is often attributed to Professor C.A. Waldo of Purdue, who was in Indianapolis to secure appropriations of the University and was able to explain to some Senators why the bill should not be adopted.
Images: Right - The Pi Bill as written by Dr. Goodwin. Below - The cover sheet to the Indiana General Assembly file.

ref. Hallerburg. House Bill 264 Revisited. Proceedings of the Indiana Academy of Science, 1974. https://journals.iupui.edu/index.php/ias/article/download/8180/8139/14312
Tales from the Interns | Myren
Hello! My name is Myren Mitchell, and I'm this year's Friends of the State Archive's summer 2022 intern. Currently, I am enrolled in Indiana University's Master of Library Science graduate program specializing in Archives and Special Collections. I have just completed my first year of the program, and I am interested in the hands-on experience putting to practice what I have been learning in my classes through this internship.
I started off my undergraduate experience studying Computer Science. I enjoyed working with computers and coding but found that the tech industry was not a great fit for me. I was also studying history classes on the side, and I began to look for a way to integrate my passions for history and computers. Then, through an opportunity to create an interactive, digital map of Grand Valley State University's campus with their Archives and Special Collections, I was able to confirm my interest in becoming an archivist.
This summer, I have worked on several projects, including processing a collection from Evansville State Hospital. I have never processed a collection from the beginning before, so I was excited to dive right in. I enjoyed the organization part of the process, deciding which materials should be categorized together into series. There were several different types of media I was able to work with and learn how to store, including photo negatives, film, phonograph records, CDs, scrapbooks, and even a box full of recipe cards! I feel that I have learned a lot through hands-on experience working with all these types of media in this project.

Another project I have worked on involved using the crowdsourcing platform FromThePage. Before this internship, I had no other experience working with this website, and I was interested to learn the behind the scenes work of setting up a project from scratch. I had access to several rolls of microfilm containing information on Indiana's draft for the Civil War in 1816. I decided to divide the initial project into two smaller ones, since the microfilm has information on both the men who volunteered for the militia and those who were drafted. Now both projects are available to the public here.
When I first began my internship with IARA, I was given a bingo sheet of different things I would most likely run across or experience working in the archive. One of my favorite bingo items was finding fun doodles on documents in the archives. As my internship draws to a close, I am excited to announce that I have successfully completed the entire bingo card!
This summer, I was also given the opportunity to job shadow for a day at the Micrographics Lab. Microfilm has become a recent interest of mine, and I enjoyed getting to spend a day learning how to capture and develop microfilm. I'm eager to continue learning how to properly create and duplicate microfilm. I will finish the rest of my internship working in Micrographics, and I've even been offered a part-time job there!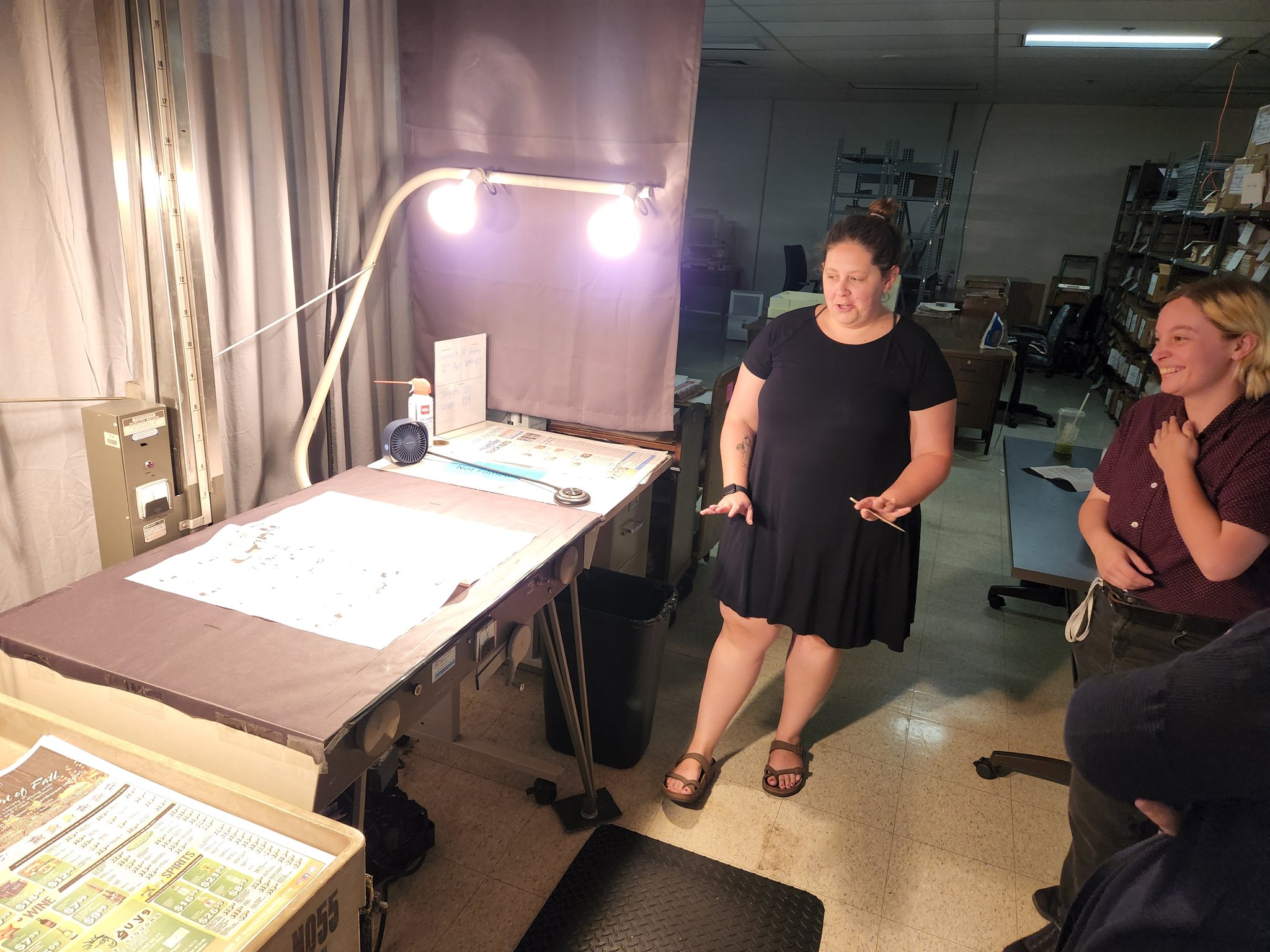 From the Vault | Barcoding

You've probably heard by now, but: We're moving!
The move won't happen until early 2025, but we have plenty of projects to keep us busy until then.
The largest, most important, and most time-intensive project we're working on is adding new labels and barcodes to every box and volume in our holdings.
This is a huge undertaking! Between our main stacks, paper and microfilm vaults, Records Center overflow, and Ready Reference room we have over one hundred thousand cubic feet of records that need to be checked, updated, and labeled.
A barcode is a unique identifier assigned to an individual box. Multiple boxes in the same archival accession share the same accession number, but each box has its own barcode. The barcode can be scanned or typed into our database to quickly find information about it, including its location, a description of the records, etc.
We began barcoding records in June 2021 and are halfway through the holdings in the stacks. Working in teams of two, our processing archivists, archives assistant, and interns each devote 4 hours a week to barcode. In these teams, one person manages the database while the other person checks the records on the shelf to confirm that the record description, container size, and dates match.
Barcoding will allow us to easily track our records as they are moved to the new building and there are other perks that will benefit our Archivists and patrons. The barcoding teams double check that record entries in our database accurately represent the records. When needed, we update record descriptions, fix typos, change dates, change locations and more. We may also update the extent (or size) of the boxes. This work makes it easier to locate records from our online catalog and it will ensure that patrons can easily find the records that they need.
Currently, many of the boxes in our stacks have old, outdated labels on them. Other boxes can only be identified by a handwritten note on the box. The new labels will allow us to quickly identify the records on each shelf.
Before: Boxes with handwritten labels
After: The same boxes with new printed labels
Our volumes are also being assigned barcodes. For the volumes, labels are attached to acid-free card stock and the non-labeled side is placed between the pages of the volume. Many of the spines on our volumes are in poor condition or have fallen off. Typically, the information researchers need are located on the spine, including title and date. The barcodes will make it much easier to identify volumes, despite readability of its spine.
As we barcode, we have discovered some boxes that were mistakenly reshelved in the wrong location, boxes that were never transferred to our current database, and mystery items. When we discover mis-shelved items we update the record's location in the database to reflect its current location. Mystery items and records that were skipped during the database change are the most challenging to fix. We need to discover what the item is, including the record series it belongs to, and we must double check that the record we found truly does not already exist within the database. Luckily, we've been able to correctly identify all the records with the help of our older databases and our archivists' institutional knowledge.
We keep track of records that need to be assessed by Conservation and records that might be a good project for volunteers or interns. One of our summer interns, Jamee, processed a collection of records from the Department of Correction's Farm Department that was discovered while barcoding. We make sure to post photos of the fun items we find on social media too!
Tales from the Interns | Jamee

Hello! My name is Jamee and I am the Indiana State Archives' Governor's Intern for summer 2022. I will be graduating with a degree in History and a Museum Studies certificate in the Spring of 2023. This is my first internship, and it has been a pleasure working with everyone for the summer. I am considering attending graduate school for a Master's in Library Science and this internship has been a great opportunity to learn more about the field and discover what I enjoy working on.
Before this internship I had not done any archival work. My first week I processed a box that contained optometry licenses. I learned how to remove staples, clean documents, and re-folder documents and pictures.
My next and more extensive project was from the Department of Corrections Farm Department. This series contained 10 cubic feet boxes which I weeded (removed non-archival records) and processed. The records were mainly between the years of 1939 and 1952, with the majority coming from the 1940s. While processing the documents I learned about the different state institutions that had farms such as the Madison State Hospital and the Indiana School for the Deaf. The farms allowed inmates to learn vocations and were also used to help make the institutions self-sufficient during World War II shortages. One of my favorite parts of the series was seeing photos of cows at institutions along with building plans and farm maps.
A majority of my summer has been spent in the stacks processing, but that is not the only work I have been able to do. I also have been busy working on projects to help prepare the Archives for its move in 2024, including barcoding records and digitizing finding aids. Barcoding large and old books is one of my favorite parts. Seeing the old handwriting and paper is interesting. Additionally, I have learned bits and pieces about the conservation work here, like how to mend a document.
From the Vault | Stories from the Archives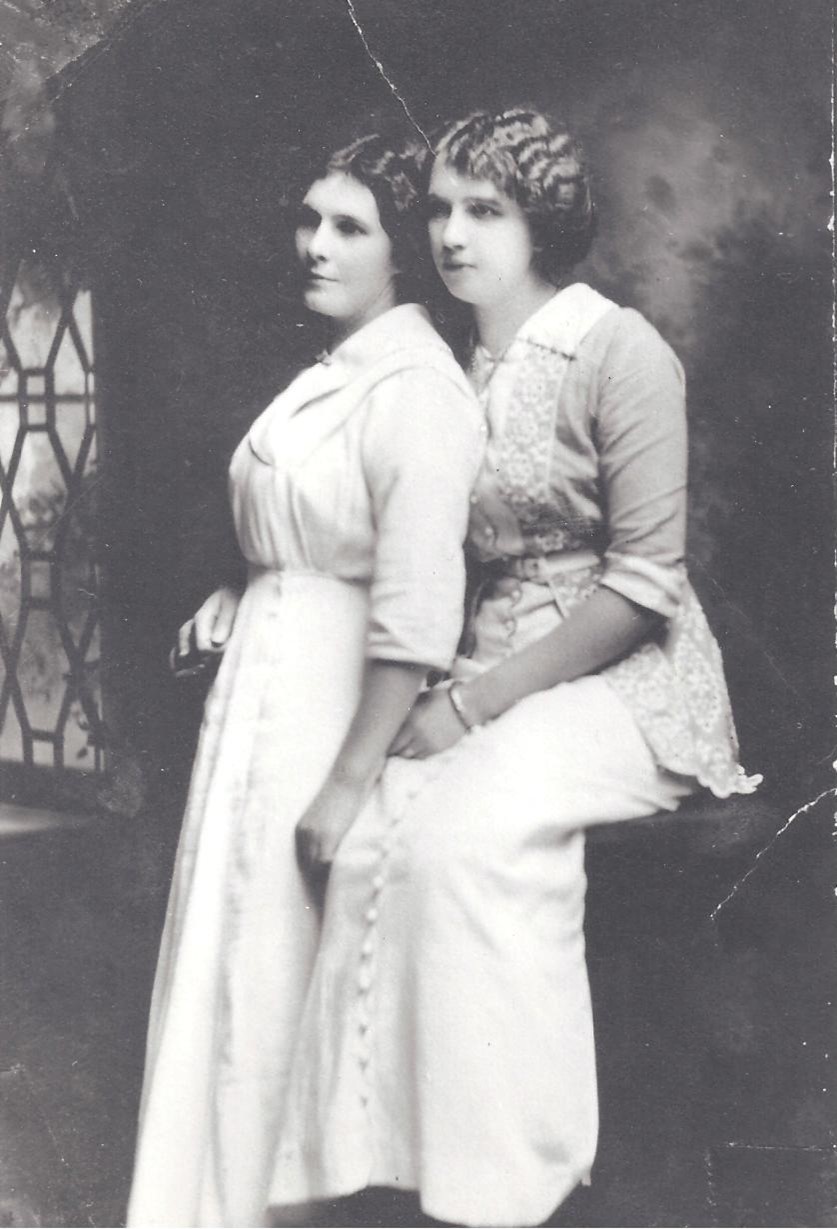 Open any box at the Indiana State Archives and you will almost certainly find an interesting story. Some collections naturally lend themselves to a greater likelihood of discovering a real page turner than others. Typically, collections that concentrate on individual people can always be counted on to be intriguing. A particular favorite for most genealogists is that of the Foster Care Files 1892-1910.
The Foster Care files, collected by the Children's Home Society and the Board of State Charities Child Saving Department, pertain to the placement of children in foster homes throughout Indiana. The files vary in size containing as little as a few sentences on a scrap of paper, or filled with multiple home reports, letters from family members, and an occasional adoption paper.
The Manlove-Wagner Family
To test the theory that one can open any box in this collection and find a great story, the first box was sampled. Naturally, thinking the larger files stood a better chance, a file for Lillian Clark was selected. Perusing the file reveals that little Lillian Clark was only three years old when she was taken in by the Children's Home Society in 1893 in Henry County, Indiana.
Lillian was soon sent to live with Earl and Melissa Rector in Jefferson County, Indiana. The Rectors were both fifty-two years old at the time. Their children were grown and living elsewhere. Mrs. Rector was not in good health, and Mr. Rector was a former Civil War soldier, now living in the town of Faulkner, where he hoped to buy a farm. He wrote to Reverend H.S. Hilton of the Children's Home Society that they would like to have a "a little girl from four to eight years old[,] an orphan preferred and that has not been spoiled[,] dark hair and eyes and healthy." In another letter he emphasized they wanted a child they "can raise and treat as we would our own."
On November 4, 1893, Rector wrote, "we are very well pleased with her[.] she is a very smart child for one of her age[.] will know in two weeks if we want to keep her[.] don't think we would like to part with her[.] Would like to know something about where she came from[.] if her parents are dead or alive and how old she is as near her age as possible." The Rectors were thrilled with little Lillian, and eventually adopted her. She apparently lived happily with the family for nearly seven years. After Mrs. Rector passed away, Mr. Rector was at a loss as to what to do. He sent Lillian to live with one of his older children's family, but they did not feel they could handle yet another child. Earl Rector remarried hoping to make a new home for Lillian, but that did not work out. His new wife could not get along with the little girl. Rector, now unemployed, feared he would be forced to go to the Soldier's Home, if he did not find a job soon.
Lillian was returned to the Children's Home Society on July 31, 1902, her young world once again upended. Eventually, she was placed with the Thompson family in Ladoga, Indiana. Attorney R.C. Woods, who helped the Thompsons arrange to foster her, described her as "a lovely child, and appears to be of a contented cheerful disposition, and I am sure she is a very kindhearted little one." According to the reports in her file, Lillian had a little trouble adjusting, but remained with the Thompsons until she married in 1907.
A few years later, a woman named Mary Wagner Brittenham saw an article about two identical twin sisters who were reunited in Indianapolis after being separated as foster children. Inspired by the story, she wrote to J.L. Peetz of the Children's Home Society and explained that she was looking for her sister's children. Mary's family had been separated when she was a child, and Mary, her brother, and her two nieces were all sent to different foster homes. Mary was sent to a home in Illinois and her brother Murray was sent to live with a farming family in Indiana.
Their experience was difficult. Unfortunately, Mary's file has not been discovered in the Foster Care collection, but her brother Murray does have a small file.
By today's standards, Murray's foster father would have been charged with abuse, and indeed the child was soon moved to a new home shortly after his foster father wrote to the agent that he beat him "like a mule" in order to gain any cooperation from him. Murray eventually also left the new home, returning to his mother who was then living in Knightstown, Indiana. Mary eventually also returned to their hometown and the siblings reunited with their father and older siblings. However, they were still unable to find their nieces.
Mary's inquiry to Peetz named the two girls as Nellie and Florence Manlove. Though Agent Peetz could find a file for Nellie Manlove, he had no information as to her whereabouts.
Unfortunately, he could find no file for a Florence Manlove. Peetz wondered if she might have been sent to the Children's Home Society under a different last name. Mary remembered that for a short time her sister Mattie had been married to a man named Clark. Peetz found information regarding a Lillian Clark, whom he believed might be Florence. He found her married name in correspondence sent just before her marriage in 1907 to Nelson Howard.
Mary wrote to Lillian who was shocked to learn that her family was still living. According to a letter in the possession of her great-grandson, Lillian believed her parents had died and did not remember having siblings. Lillian was soon reunited with both her aunt and her mother Mattie, now remarried to James Cavanaugh and living in Carthage, Indiana.
The reunion went well with Lillian frequently bringing her children from Lake County to visit her mother and aunt. Still, they all felt compelled to locate Nellie. Over the next two years Lillian joined in the search sending letters to various organizations, including the State Board of Charities and Children's Home Society. Both offices were attempting to make contacts.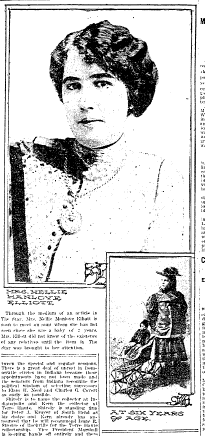 Suddenly the mystery of Nellie's whereabouts began to unravel. The women learned that Nellie had once lived in the home of a woman named Ida Black. After contacting the Marion County clerk, John Rauch, who took an interest in their search, a small article appeared in the Indianapolis Star describing the search for Nellie Manlove. The ad was spotted by Irene Black of the Humane Society who had formally worked at the Children's Home Society in Indianapolis. She remembered Nellie well.
Around the same time, the Board of State Charities also discovered Nellie had married James Elliott in Indianapolis and they were presently living in the Carter Flats at Massachusetts Avenue and St. Clair Street. Irene Webb called Nellie and explained the search her family was conducting. Nellie had only vague memories of family members whom she'd not been able to locate.
The family wasted little time reuniting, with Mary and her husband meeting with Nellie the same week. The Indianapolis Star and other central Indiana papers carried stories about their reunion.
Mary wrote to J.A. Brown, the State Agent for the Child Saving Department at the Board of State Charities. "…she and husband have visited us in our home[,and] we visited them in there [sic] home [,and] will be here Thanksgiving." Mary goes on to describe their lengthy separation, the relief evident in her writing. "Kind Sir[,] this will be the happiest thanksgiving to me. I shall have both the nieces and my baby brother all with us for the first time since we were all separated and placed out in homes…"
She continues, thanking him for his help, "thank you for your kindness just the same[.] us children have saw hard times and mean treatment but never more."
Sisters Nellie and Lillian reunited as well, even sitting for the portrait pictured at the beginning of this post.
Though Thanksgiving 1913 proved to be a good year for the Manlove-Wagner family, the few short years that followed were not. Lillian gave birth the next year to her fourth child who died of pneumonia within a few weeks. The Howards moved from Crown Point to New Castle, closer to her family, where Nelson worked as an engineer in an automotive plant. In 1916, Lillian passed away due to pregnancy complications.
During her search for Nellie, she had written to J.A. Brown that she had "a good husband and three sweet little children two girls and a baby boy seven months old the 28th of July."
All that from one file chosen at random, which led to two other children's files in the same collection! With a little work we were able to track down one of Lillian's descendants. Lillian's great grandson, the grandson of her son James Melvin Howard, kindly loaned the images of Lillian and Nellie, Mary Brittenham, and Lillian's children.
From the Vault | Santa Claus vs. Santa Claus
Right: Cover of Appellate Court Brief