2017 News
Archives Month, 2017

INTRODUCTION
Archives Month is an annual, month-long observance of the agencies and people responsible for maintaining and making available the archival and historical records of our nation, state, communities, and people. The events are a celebration of the work that we and our organizations do, but it is also a time to raise public awareness. By holding exhibit openings, workshops, lectures, open houses, and other related events during Archives Month, Indiana's archives community can make a concerted effort to bring the importance of our profession to the attention of our state's citizenry and public leaders.
Any agency that deals with archives and historical records in Indiana is invited to participate in Archives Month. The Indiana Archives and Records Administration (IARA) sponsors the celebration and will serve as an information clearinghouse for events occurring during the month.
WHY PARTICIPATE?
Your participation in Archives Month is important because increased public awareness of historical records translates into increased support of archives. Archives Month and other outreach efforts help the public and resource allocators such as administrators, trustees, commissioners, and legislators, understand and appreciate that historical records have value for both an understanding of the past and a contribution to the present. By participating in Archives Month, you get to show off your collections and the work done by your staff to your colleagues, patrons, and administrators and demonstrate the value of the records and the work you do with them.
---
Indiana Archives Month Poster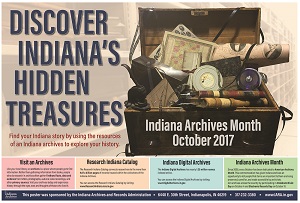 Click the above image to view the 2017 Indiana Archives Month poster. This year's poster "Discover Indiana's Hidden Treasures," reminds us of our responsibility to visit local archives and experience history through the eyes, ears and thoughts of those who lived it.
---
#AskAnArchivist Day
On October 4, 2017, Archivists from the Indiana State Archives and around the country will take to Twitter to answer your questions about any and all things archives. This day-long event, sponsored by the Society of American Archivists, will give you the opportunity to connect directly with archivists in your community—and around the country—to ask questions, get information, or just satisfy your curiosity.
As professional experts who do the exciting work of protecting and sharing important historical materials, archivists have many stories to share about the work they do every day in preserving fascinating documents, photographs, audio and visual materials, and artifacts. Increasingly, archival work extends beyond the physical and includes digital materials. #AskAnArchivist Day will give you a chance to connect with archivists who are tackling the challenges of preserving our digital heritage for the future.
What questions can be asked?
Archivists participating in #AskAnArchivist Day are eager to respond to any and all questions you have about archives and archival work.
No question is too silly ...
What's the craziest thing you've come across in your collections?
If your archives had a soundtrack, what songs would be on it?
What do archivists talk about around the water cooler?
... and no question is too practical!
What should I do to be sure that my emails won't get lost?
I've got loads of digital images on my phone. How should I store them so I can access them later on?
How do you decide which items to keep and which to weed out from a collection?
As a teacher, how can I get my students more interested in using archives for projects?
How does it work?
#AskAnArchivist Day is open to everyone—all you need is a Twitter account. To participate, just tweet a question and include the hashtag #AskAnArchivist in your tweet. Your question will be seen instantly by archivists around the country who are standing by to respond directly to you.
Have a question for a specific archives or archivist? Include their Twitter handle with your question. The Indiana State Archives' Twitter handle is: @IndianaArchives.They may not know every answer right away, but they will get back to you after they've had the chance to do some digging.
Don't have a question right away? Search Twitter for #AskAnArchivist and follow along as questions and answers are shared.
So get ready!
Archivists from universities, museums, historical societies, churches, businesses, local and state governments, and other organizations are taking to Twitter to answer your questions all day long on October 4 at #AskAnArchivist.
For more information about #AskAnArchivist Day, visit the Society of American Archivists' website: https://www2.archivists.org/initiatives/askanarchivist-day
---
Electronic Records Day is celebrated every year on October 10. It is an opportunity to share information about what you are doing to manage your state's digital resources and to enlist help in preserving electronic records.
Electronic Records Day is designed to raise awareness among state government agencies, the general public, related professional organizations, and other stakeholders about the crucial role electronic records play in their world.
To assist you in this endeavor the CoSA State Electronic Records Initiative's Advocacy and Outreach Subcommittee has developed several informational resources which can be found below. You are also encouraged to share your own resources and information with the public or other archival stakeholders in your community.
Spread the word through social media channels.
Do a special post on your blog.
Engage the public in a presentation on risks to digital content.
Start a dialog with other entities in your area that work with e-records on a daily basis.
Host a workshop on good digital preservation practices.
The purpose is to raise community awareness of our digital records, and of the need to manage and preserve them. After the day we would love to hear about what you did to promote e-records awareness. With your help we can make this year the most successful E-Records Day yet!
Talk about E-Records Day on Twitter using #ERecsDay
For more information about Electronic Records Day, visit the Council of State Archivists' website: https://www.statearchivists.org/programs/state-electronic-records-initiative/electronic-records-day/
---
Indiana Archives Month Blog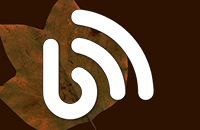 Click the above image to go to our 2017 Indiana Archives Month Blog.
Each week in October we will focus on different topics such as: patron services, electronic records, conservation and records processing.
We will be updating and adding content to this page throughout the month of October.
---
Archives Month 2017 Blog
During the month of October, we will be sharing blog posts related to the work that is being done by the staff and volunteers at the Indiana Archives and Records Administration. Learn how IARA staff is preserving Indiana's history through the blog posts below!
TOPICS
Patron Services
---
WHAT IS PATRON SERVICES?
The Patron Services team of the Indiana State Archives is tasked with ensuring that the public records of state and local government are preserved and accessible to the public. To meet this critical mandate, the section has developed several different programs that are administered by a group of extremely talented and committed archivists.
Our Patron Services team includes:
Vicki Casteel, Reference Archivist
Denise Deboy, Reference Assistant
Alan January, Director of Patron Services
Michael Vetman, Reference Archivist
Patron Services team members on "What is patron services?":
Michael: "The first line of response. When you contact the archives, we are the people you deal with. If we can't help you, we'll tell you who can and send you to the institution that may have the records you need."
Alan: "We research questions that come to us in all media (e.g. phone, mail, email), not just the people that walk in the door. We provide access to the records via many methods as well—sometimes over the phone or email…we reproduce records for people in all formats."
Vicki: "As reference archivists we are the ones who help you with your research. We interpret the questions and help find the right collections that will meet your information need. Sometimes researchers don't quite know what records they need to see. They may come in or call and say 'I want to see all of your DNR records.' We help people find the right questions, then the answers."
---
STAFF PROFILE: DENISE DEBOY
Denise is the front line of patron services. She greets visitors that come through the doors of 6440 E. 30th, helps orient them to the archives, and assists innumerable people over the phone. She efficiently answers questions and provides instructions on how to access records, but also plays a critical role in directing people to other state and federal agencies when the archives does not hold the records they seek. No matter your information need, Denise will get you on the path to the right place!
Years at the Indiana Archives
Denise has worked for the Indiana Archives for 17 years, as of August 2017.
Experience/Path to the archives
Denise began working for the state as an RDC employee (a maximum security prison facility in Plainfield part of Dept. of Corrections). After 3 years, she moved to Forms Management under the Indiana Commission for Public Records (now Indiana Archives and Records Administration), before transferring to the archives division to work in an administrative and reference assistance capacity.
What are your typical tasks?
The first face you see upon arrival, Denise greets all visitors, signs them in, and introduces them to the archives. Countless questions are answered or re-directed over the phone by Denise, saving information seekers significant time. Answering questions about records we have here and telling people where to turn next for what we don't have is a huge part of her job, in addition to her administrative duties.
Typical referrals Denise makes include:
Denise can help people determine which institution will have the needed records, and how to contact them.
All school transcript requests are processed by Denise. She routes incoming requests to archivists, and when the transcript is located, copied, and sealed, she manages the outgoing process.
Questions she answers every day:
"Do you have school transcripts?"
Along with this standard question, Denise receives many Education Verification requests from educational institutions or prospective employers who want to know if and when a student attended an institution. The Indiana Archives is not able to outright provide this information and verify dates of attendance, but is able to fill transcript requests if the Archives has records for the closed educational institution. Denise describes and helps all requesters through the process.
"Do you have the medical record for my grandmother, who was in Central State Hospital?"
Describing the process to obtain medical records is another key area Denise covers. She tells requesters what information they need to provide to access these confidential records. Relationship needs to be verified, for example, to request medical records of deceased family members (e.g. a birth certificate, marriage license).
Another common information request
Genealogists also frequently request prison records if they have determined an ancestor served time in Indiana.
Tips for new visitors/researchers
Review our website before visiting so you can make the most of your time here. For genealogical research, it helps to do a bit of preparation to determine if your ancestor would be documented in some way in state records. There are so many options now: websites like ancestry.com, resources from the State Library Genealogy Division, etc. Knowing that an ancestor served in the Civil War, for example, will help you narrow down what kind of information you're looking for and whether it would be in records at the state archives.
Best part of the job
"The people I work with here. They keep me motivated!"
---
WHAT ARE SOME TYPICAL QUESTIONS?
What kinds of information requests do Patron Services archivists answer every day?
Do you have my grandfather's discharge papers? He served in WWII and we would like to apply for veterans' burial benefits.
I was a student at Lockyear's Business College in Evansville. I know they shut down, but do you have my transcript?
While some may think of an archive as just a place to do historical research, we have information that impacts people in the present.
Institutional records held by the Indiana Archives such as military records, school transcripts, and hospital records can help individuals or their family members apply for benefits, receive military recognition, or find a new job.
Military records requests
The Indiana Archives has DD-214s, which are a transcript of a veteran's military career. These are actually federal records, but the Indiana Archives has them because the State of Indiana offered a bonus for returning veterans following WWII, the Korean Conflict, and Vietnam War. If the veteran voluntarily filed his/her DD-214 with the state, we can often meet the request more quickly than the National Personnel Records Center in St. Louis. Additionally, we hold the only remaining copy of some records, due to a major fire at the records center in St. Louis in 1973. (https://www.archives.gov/st-louis/military-personnel/fire-1973.html)
The records are organized by time period and name, so it is very helpful to determine in advance the year of discharge or in which war the veteran served.
We also have a 1939 WPA Veterans' Grave Registration. This is mostly useful for genealogy research. (http://www.in.gov/iara/2557.htm)
Hospital Records
The Indiana State Archives has records from all six closed state hospitals, as well as some of the older records from still operating hospitals. These records are not just used for genealogical research, but to help with determination of disability benefits.
Transcript requests
When a for-profit educational institution in Indiana closes, the records come to the state archives because the closed institution was regulated by the Indiana Commission on Proprietary Education. We also have records from closed nursing schools. The state archives can meet transcript requests for former students applying for jobs, continuing their education, or any other need.
---
STAFF PROFILE: VICKI CASTEEL
Vicki is the archivist behind the arc@iara.in.gov email account. She manages incoming requests and routes them to appropriate staff, in addition to helping cover the reference desk, and researching and responding to requests. She also has managed the photo collections of the Indiana Archives, overseeing indexing, creates databases and manages data entry, conversion, and ingest for the Indiana Digital Archives. Vicki has worked extensively in outreach: creating and giving presentations about the archives, and assisting patrons with developing content for exhibits, collaborative projects, and publications.
Years at the Indiana Archives
20 years!
Experience
Vicki has brought her talents to reference work on the Patron Services team for most of her career, but has also helped out with processing when needed.
Path to the profession
History and genealogy research have been interests most of her life. She knew she wanted to gravitate toward a career in history in high school, where she also took some library science classes. Her path was diverted and for a time she worked in sales before returning to school, where she studied history, anthropology, museum studies, and earned a degree in English. After landing a position at the Indiana Archives, she began her masters work and earned a degree in Archives and Records Administration.
Most challenging or interesting question
"That's a good question! There are so many. I really love using the collections to find details that lead people to discover who their ancestors were as people. Solving genealogical mysteries is my favorite type of research challenge. I've also conducted research on Camp Morton, eugenics in Indiana, and the Dillinger gang."
What changes have you observed in your career?
Since birth and death records have become available through Ancestry.com and similar sites, Vicki finds she receives more requests from people who require help finding the one they need or searching for missing ancestors. Sometimes people need help accessing the sites. There has definitely been an uptick in genealogical research questions during Vicki's career! Learn more about vital records here: http://www.in.gov/iara/2497.htm
Best Part of the Job
"A patron's reaction when they finally unlock a mystery. We have a billion stories in this place, and I like to help people solve their mystery and find their story."
---
MOST REQUESTED RECORDS
What are the most frequently requested items or types of records in the State Archives?
One type of records that is frequently requested are our aerial photographs.
They are often used for environmental studies, determining drainage, surveying for construction, and people researching the history of family farm property. IDEM (http://www.in.gov/idem/), for example, is a stage agency that might use these records. We have also had a patron research the records to find historic images of family farm property to surprise their father on his 70th birthday.
We have the largest collection of aerial photography for Indiana in the state.
Aerial Photographs: These are land survey records. We have them from many different agencies from the mid 20th century to the early 2000s, but the more commonly used collection is from the USDA Agricultural & Stabilization Service, 1930-1979. We have aerial photography in 8X10 or 10X10 prints, as well as 36X30 Photostats, which we can print.
Learn more about the Archives Aerial photograph collection here: http://www.in.gov/iara/2414.htm
Other frequently requested record types:
State Supreme Court Records
Department of Corrections Records
Land Records

​Plat maps, survey notes—people are seeking information about townships, topography, vegetation, etc.

Dissolved Corporations

Filed with the Secretary of State's office, these records come to the state archive and can be very helpful for business research, tracing corporate lineage, or studying economic development.
Search the Indiana Digital Archives

​Please select Additional Historical Records-> Dissolved Corporations

Naturalization Records
Photographic collections by subject
Eugenics-related records
In addition to these frequently requested record types, we have records that garner a lot of interest such as those created by state agencies regarding John Dillinger and his gang.
---
STAFF PROFILE: MICHAEL VETMAN
Michael mans the reference desk most weekday mornings, adeptly fielding questions from callers seeking family military records and assessing the needs of researchers who walk up to the reference desk. His professional and helpful demeanor sets the tone for the reference room each day, no matter how many patrons walk through the door.
Years at the Indiana Archives
10.5 years.
Experience
Since becoming a State Archives employee, Michael has always worked for the Patron Services team. However, before this he served as Military Intelligence Officer in the U.S. Army, was an Access Service Librarian at the Department of Defense Federal Language Institute, and has worked in academic libraries.
Path to the profession
Michael decided to pursue a career in libraries and archives because it most closely aligned with his background and previous responsibilities handling information in his military and civilian work. His M.S. in Library and Information Science is from Kent State University.
Best part of the job
"The discovery—learning something new every day, helping patrons find out about their own past. I enjoy serving the people of Indiana."
---
WHAT IS THE READING ROOM?
The Reading Room is where patrons can work with staff to determine which records to request and view records retrieved by staff. View original records, including documents, maps and audio-visual material, in our reading room in Indianapolis, IN.
If you are planning a visit to our reading room, check the location of the records you wish to see and whether they are available for viewing by searching the Research Indiana Catalog. Records can only be viewed at the state or county office where they are held. Some records are stored remotely and may require advance notice in order to retrieve them for your visit.
Our guidelines, while they may seem more restrictive than those of your public library, are designed to protect and help preserve records for all current and future researchers.
Most archival records are one of a kind, or may be fragile. Archivists are stewards of unique information resources, and are bound by professional ethics to ensure the most equitable and sustained access possible.
From our staff:
We do appreciate when visitors call or email in advance, because it helps us prepare for your research and create a better experience. Archives staff can pull records in advance then bring them directly out when researchers arrive, significantly decreasing wait time.
Our staff think of the room as a place of discovery and happiness.
Vicki Casteel: "This is the room where people do a happy dance…where they finally get the answer to their questions."
---
STAFF PROFILE: ALAN JANUARY
Alan is the Director of Patron Services and an excellent source of information about the history of mental health and hospitals in Indiana. He has recruited many of the long-standing archives volunteers and manages their project assignments. If you visit the Indiana Archives on an afternoon, you will most likely be greeted by Alan at the reference desk.
Years at the State Archive
26 years.
Experience
Alan has more or less worked in the area of patron services, serving the public, since joining the Archives staff in 1991. He holds a Ph.D in history and worked as a professional researcher prior to moving to the other side of the reference desk.
Path to the profession
Working for the Indiana State Legislature writing the history of the Indiana General Assembly helped Alan become very familiar with the Indiana State Archives. When a position became available, he stepped in and has been with us ever since.
What changes have you observed in your career?
Indexing projects, such as the Indiana Digital Archives, has improved access, making the lives of both researchers and staff easier. Genealogy has grown in popularly and Alan has noticed people are more comfortable requesting records such as mental hospital and prison records, which in the past might not have been investigated.
Interest in gaining a comprehensive understanding of family history has increased, and indices and other online access points have eased the discovery of information.
Most exciting project
Participating in the restoration of the two state constitutions, thanks to the support of the Indiana Bar Foundation. Read more here: http://www.in.gov/iara/2772.htm
Challenging/interesting question in the past few weeks, or overall
Recently, he met requests for three executive orders, just one of many administrative records from the governor's office which are ultimately preserved by the Archives.
Another interesting question
Alan was able to help a researcher confirm the founding of Michigan City by locating the 1836 act that chartered the city. Did you know that at one time the state legislature could charter cities and towns, as well as grant divorces? This was under the original 1816 constitution. Decreasing government spending and reducing operational costs motivated creation of the 1851 constitution.
A clause in the current constitution explicitly states what the state legislature cannot do, including "granting divorces" (see section 22: http://www.in.gov/history/2867.htm).
Best part of the job
The genuine gratitude of researchers.
"It is very rewarding and nice to find something meaningful for patrons they didn't know about…pictures of ancestors they've never seen, confirmation of family lore."
Helping people procure documents needed to sign up for military benefits or verify information for a Hoosier Homestead Award is meaningful for those on both sides of the reference desk.
---
HOW DO I BEGIN MY RESEARCH?
Not sure? Contact the Indiana Archives at arc@iara.in.gov
If you are lost in your research, unsure of the next step, call or email us! We can help you shape your questions and start on the path to finding the answers.
Visit the Indiana Archives in person: http://www.in.gov/iara/2801.htm
Browse collection overviews by subject: http://www.in.gov/iara/3197.htm
Search the Indiana Digital Archives, an index of popular record types, such as
Photograph Collections
Court Records
Naturalization Records
Institutional records

(e.g. Dept. of Corrections, School for the Deaf, etc.)
Search our new Research Indiana Catalog
We are here to help you find your Indiana story!
---
Preservation Cleaning And Mending Workshop
Wednesday, August 23, 2017 | 9 a.m. - 11:30 a.m. | Indiana State Archives
This was a hands-on workshop in which participants learned to dry-clean and mend dirty, torn documents without using tape.
Preservation methods were included throughout the workshop and participants learned the reasons for using specific supplies and techniques. Each participant received a tool-kit to take with them as well as a list of resources from which to purchase archival supplies.
The 2 1/2 hour workshop was limited to 12 seats.
---
Preservation Week Road Show
April 22, 2017 | 10 a.m. to 3 p.m. | Eugene and Marilyn Glick Indiana History Center
Learn the value of historic objects in your family collections and how to best care for and preserve them for future generations. This free opportunity to consult with professional appraisers, conservators and digital photographers comes once a year.
In 2017, guests had an opportunity to work with IHS Digitization staff to receive free digital scans of their items. "Bringing appraisers and conservators together is a unique addition to the popular road show format, and a great opportunity for our guests to discover more about their valued family heirlooms, " said IHS President and CEO John Herbst. "This year guests may choose to have certain types of objects digitized for free as part of the event. "
Elizabeth Hague of the Indiana Archives and Records Administration was one of the conservators attending the Preservation Week Road Show, where she focused on documents and manuscripts.