News & Events
UPCOMING IARA EVENTS
From the Vault | "Friends of the State Archives" Summer Internship
Hello, everyone! My name is Grayson and I am the Friends of the Indiana State Archives (FISA) Summer 2021 intern. In this post I am going to tell you a little bit about myself and catch you up on what I am working on this summer.
A little about me: I am currently a Master's of Library Science student with a specialization in Archives and Records Management at Indiana University – Bloomington. I moved to Indiana for graduate school during the pandemic with my cat, Iggy, in tow. My first year of graduate school was held virtually so I am excited to be at the ISA this summer interacting with collections in person. I am not sure what type of archive I would like to end up working at after graduation, so this internship is informing that decision by giving me valuable experience in how government archives operate.
My Projects: My first project was processing a box of records from the backlog that was accessioned in 1984. The records pertain to the Kentucky-Indiana Boundary dispute of the Ohio River from the 1960s-1980. It took me about two days to process and arrange the box. It was a fun first project to lead off the internship and get me acclimated to the act of processing and arranging archival materials.
My second project is much more expansive: processing a series of 11 boxes from the Department of Conservation collection. The boxes contain records from 1901 to the 1940s. The series concerns the creation of Indiana's State Parks, an endeavor spearheaded by Richard Lieber. Lieber, an ardent conservationist, is often called "the father of Indiana State Parks" and was the first Director of the Department of Conservation.
So far, I have gone through all 11 boxes to get an idea of the content. Luckily, someone (either Lieber or someone close to him) seems to have sorted the records into named folders. I have compiled a folder-level inventory with the help of this previous benevolent organizer. The folders are not seemingly organized by subject so my supervisor, Claire, and I decided to come up with an arrangement plan for them. Using the folder-level inventory and an Excel sheet, I am sorting all the folders into separate series (such as Correspondence, Administrative Files, Speeches, etc.). I am currently about halfway through this mock-arrangement plan. Claire will look over my plan once I am finished. If the plan looks good, I will move on to actually physically rearranging the files.
I also have a couple of smaller endeavors I am working on this summer. One is helping to monitor the State Archives' indexing project on FromThePage.com. Virtual volunteers are helping index the Jeffersonville Land Office Receipt Books. My job is to review and respond to any comments from people transcribing the pages, and to also look over any pages that volunteers mark as needing review. The other is learning conservation basics from the Conservator. So far I have learned how to dry clean records and how to mend torn or otherwise damaged records. After a few weeks of mending practice, I am now mending a letter from the Lieber collection from 1903 that is torn at the folds from sitting folded for almost 120 years. See the before and after here:
Before: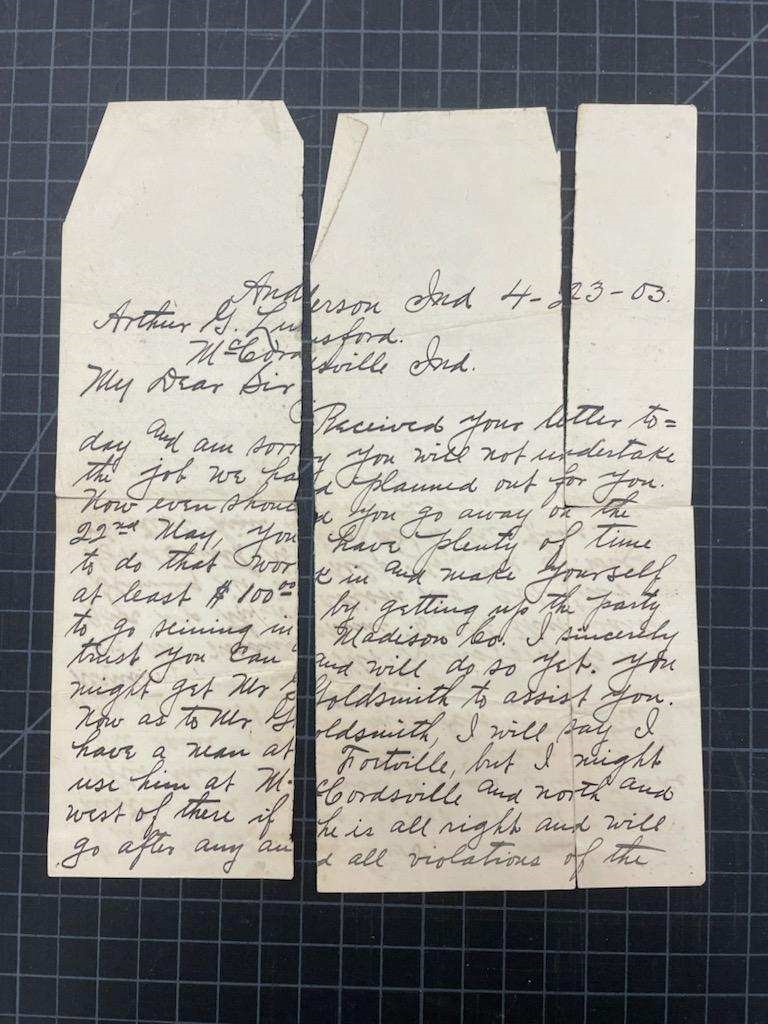 After: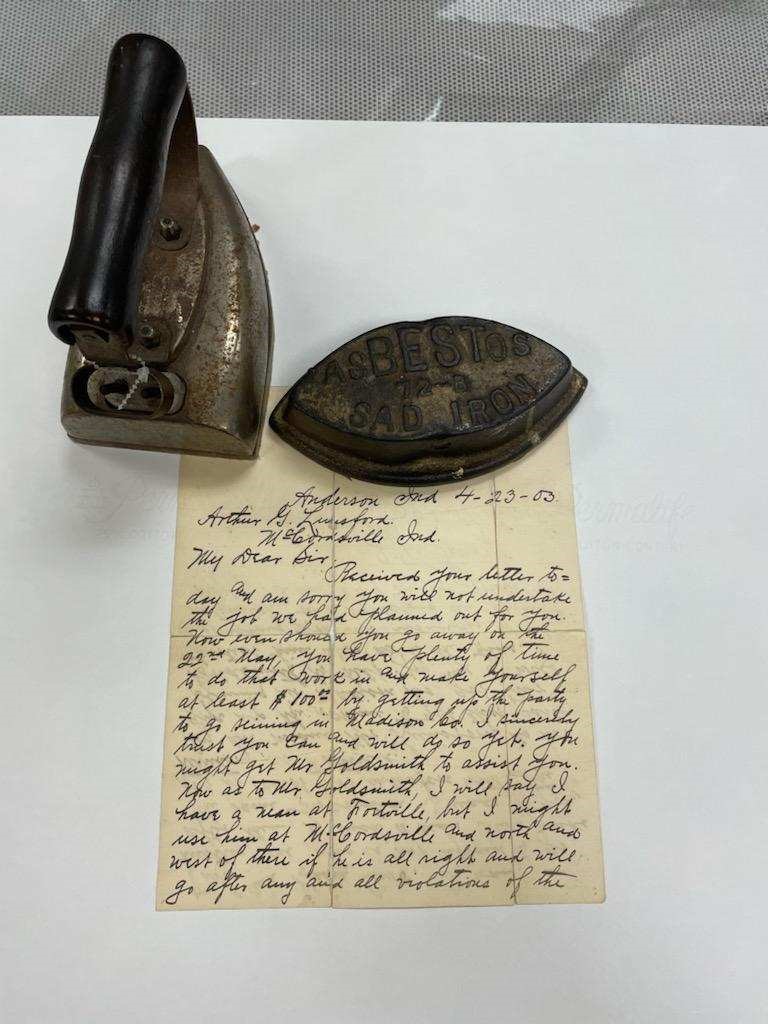 I am enjoying my time so far and have learned a lot in a short period of time. I want to thank FISA for making this opportunity possible!
From the Vault | Working From Home: The WPA Card Catalog
Much of our work at the Indiana Archives and Records Administration requires access to original state records, and can't be done from home. Tasks like repairing Civil War documents, researching historic mental health records, digitizing documents, and accessioning new transfers to the Archives will have to wait until we can return. Our Imaging Lab also uses specialized equipment that can't exactly be installed in someone's home office.
It's disappointing to put these functions on hold, but we are also trying to seize this opportunity to complete long-awaited projects. One of the first things to come to mind was transcribing the WPA Card Index.
The WPA Card index is a collection of over 400,000 cards which point to individual name entries in the Indiana Archives' collection. The card index was created using Works Progress Administration (WPA) labor. Indexing began in December 1936 and was completed in late summer of 1938.
The WPA workers went through all of the records in the custody of the Archives at the time, dated 1850 and earlier, and created a card for every name they found. For example, they went through each Supreme Court Order Book and created a card each time they saw a personal name on the page. The cards are color-coded and use alpha-numeric codes to point back to the correct book and page. Some of the records they indexed include Supreme and Territorial Court records, land records, Auditor of State records documenting the creation of the canals and railroads, and military records.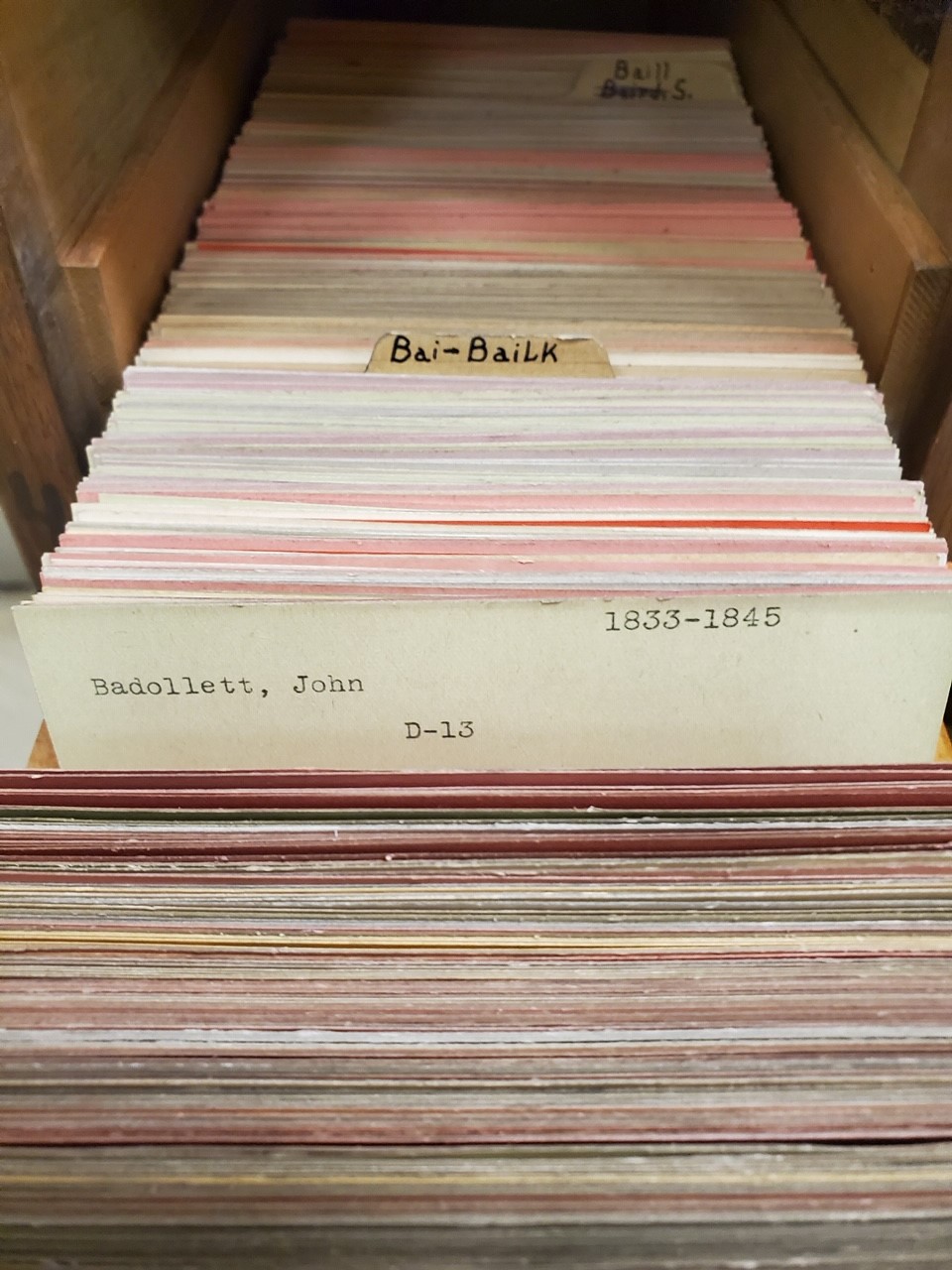 The WPA Card Index lives in a large card catalog in the Archives' stacks area. Our archivists use it for research, but with over 400,000 cards, it isn't exactly browseable. Currently, the card index is most useful for researching known names. For example, we can open the "B" drawer and quickly find over 40 references to John Badollet, one of Indiana's founding fathers. Badollet's name (spelled five different ways!) was indexed in Territorial Court records, Supreme Court records, land records, and Auditor records.
Once we've transcribed the index, it will be much easier for our patrons to see if their ancestors or research subjects are included in the index. The index is especially useful for locating Native American names, which often varied in spelling, depending on the clerk who wrote the document, and were written phonetically. The Auditor records name many Native American as well as early settlers who may not have completed land purchases and do not appear in any other index.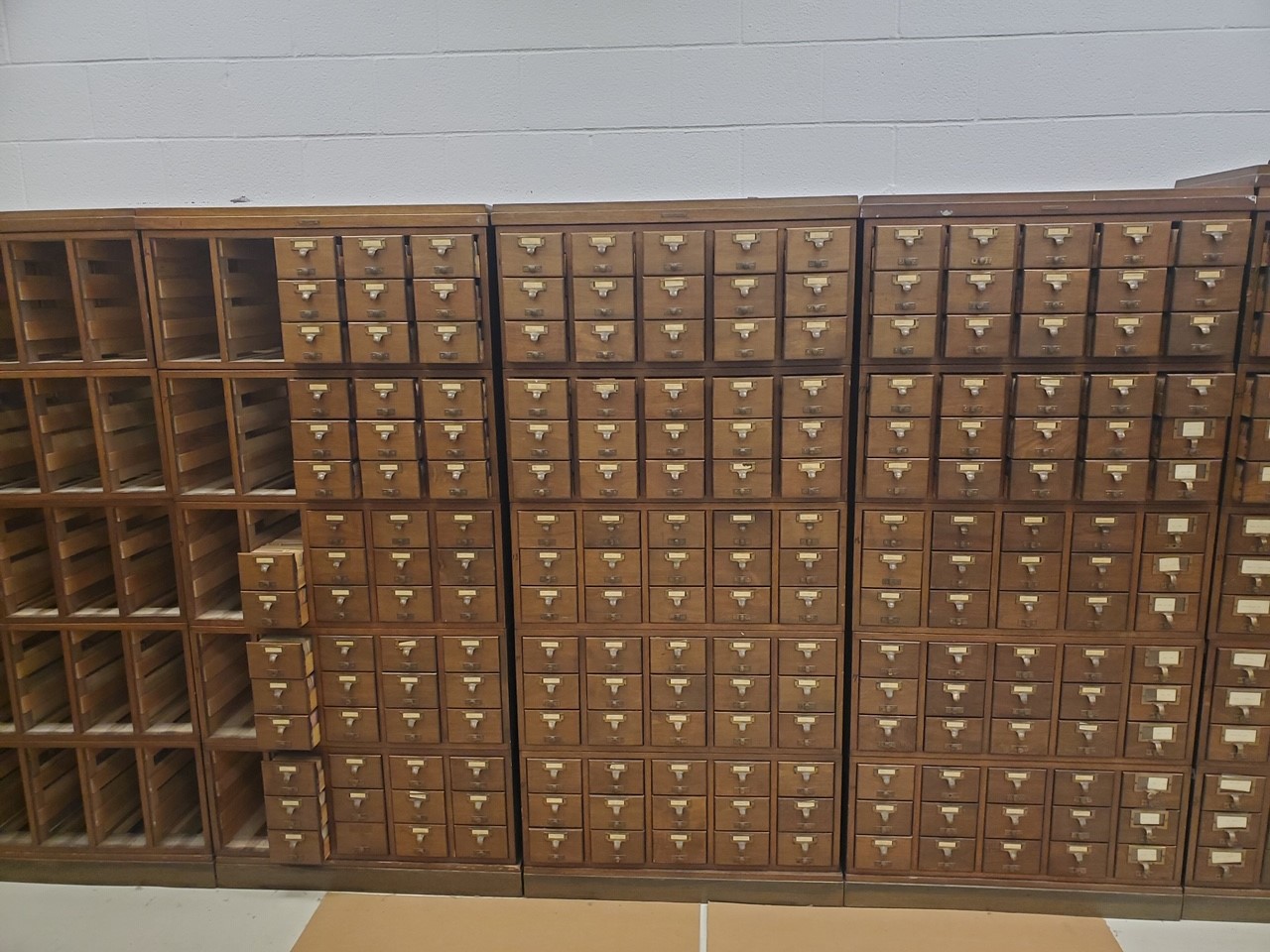 From the Vault | Essential Operations
The Indiana Archives and Records Administration, like other institutions across the country and world, has recently shifted to a remote work model. Working from home as an archivist is an exercise in creativity, and we'll be sharing some of our at-home projects soon. First, we wanted to share a bit about our essential operations, and the types of records that may be needed urgently.
DD-214s
The Indiana State Archives holds Indiana's collection of military discharge papers, or DD-214s. Although DD-214s are a federal document, many veterans submitted their DD-214s to the state in order to apply for a state-provided bonus. The state copy was transferred to the State Archives, and we now have an extensive collection of military service records from WWII to the present (in additional to our historic military collections). DD-214s are used to prove military service when applying for benefits, services, or military funerals. A catastrophic fire at the National Personnel Records Center in 1973 destroyed many federal military records, leaving Indiana's copy as the only document available for many veterans.
The need for DD-214s continues throughout the COVID-19 pandemic. Archivist Michael Vetman, himself a veteran, is currently at the State Archives providing DD-214s to his fellow servicemen and women. We feel very privileged to provide this service. Michael recently helped the family of a 101-year-old World War II veteran who had participated in D-Day.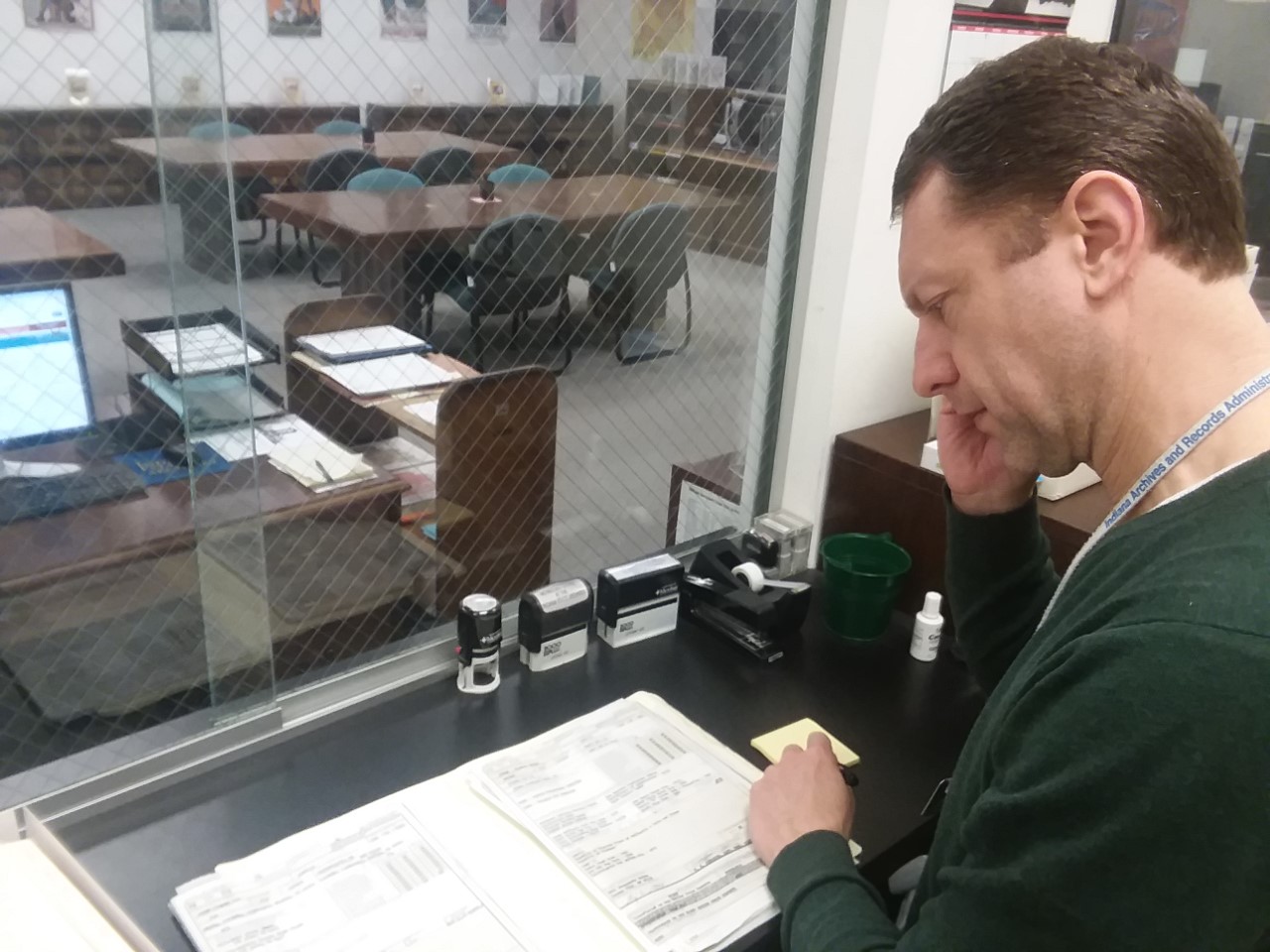 Medical Records
The Indiana State Archives is charged with maintaining state hospital patient records. With the closing of Central State Hospital, Fort Wayne State Developmental Center, and the recent move and rebranding of Larue Carter to its new location at Community East as the Neuro Diagnostic Institute, the Archives has seen an influx of patient medical records. Other hospitals, such as Madison State Hospital and Logansport State Hospital also store discharged patient records at the Archives. When a patient must return to the hospital, these facilities contact the Archives to obtain records for Continuity of Care. Like DD-214s, these records are needed urgently and are deemed essential. This is yet another type of the services Michael continues to provide during the COVID-19 pandemic.
School Transcripts
The Indiana State Archives is also home to the transcripts of closed for-profit schools, such as MedTech, Brown Mackie, and Harrison College. When these schools close, the Indiana Board for Proprietary Education transfers the transcripts to the State Archives for permanent retention. Many students require their transcripts to apply for jobs, licenses, and education programs for years or even decades after their graduation. Reference Assistant Denise Deboy continues to process these requests on a daily basis.
In addition to closed proprietary schools, the State Archives has transcripts and other records from state schools such as Morton Memorial High School, the Indiana School for the Blind and Visually Impaired, and the Indiana School for the Deaf. We also have transcripts for some nursing schools, such as Wishard, South Bend Memorial, and Ball Memorial.
During the COVID-19 emergency, it's more important than ever for medical professionals to be able to quickly join the workforce. The Indiana State Archives is waiving our transcript fee for all medical degrees. To see which closed schools we have transcripts for, and to submit a request, visit our website.
News Archive
Social Media
The Indiana Archives and Records Administration participates in social networking sites in order to share events, announcements, photos, and stories from the Indiana State Archives. Our goal is to share Indiana history and information with as many individuals as possible.
By clicking the icons below, you will be taken to a web service that is not owned by the State of Indiana and has different privacy and security policies. The State of Indiana is not responsible for, and does not endorse, guarantee, or monitor content, availability, viewpoints, products, or services that are offered or expressed on non IN.gov portal websites.
Moderation and Comments Policy
Welcome to an official social media account sponsored by the Indiana Archives and Records Administration.
IARA's social media platforms are a family-friendly outlet to promote our agency's activities, events, and programs.
We encourage questions and comments on content. We moderate IARA-sponsored social media profiles and pages but are not responsible for content generated by users. We accept comments but are not obligated to respond to comments.
We will moderate comments that include the following:
Obscene, profane, rude or vulgar language or images
Personal attacks or offensive terms that target specific individuals or groups
Threats or defamatory statements
Violent, hateful or racist language
Advocacy for any illegal activity
Personal information, including but not limited to addresses and telephone numbers
Web links to any site other than the IARA website
Advertisements or solicitations of any kind
Infringement on copyrights or trademarks
Comments will not be deleted and banning users is largely prohibited. Both actions violate a citizen's first amendment rights. However, the comments will be moderated. In unique and extreme circumstances, the communications director (in consultation with the executive director) can authorize the banning or blocking of a user. These matters must be dealt with on a case-by-case basis and approved by the executive director and the public access counselor.
Report Issues to IARA
To advise the Indiana Archives and Records Administration staff on issues regarding the above policy, please email arc@iara.in.gov or call 317-232-3380, 8 a.m. to 4:30 p.m., Monday through Friday.
Archives Current
The Archives Current is the newsletter of the Friends of the Indiana State Archives, Inc. You can read through their past newsletters by visiting: https://fisain.wordpress.com/the-archives-current-newsletter/.
*Please note that the issues of the Archives Current require Adobe Acrobat Reader to view.