Index to Life Prisoner's Statements: State Prison at Michigan City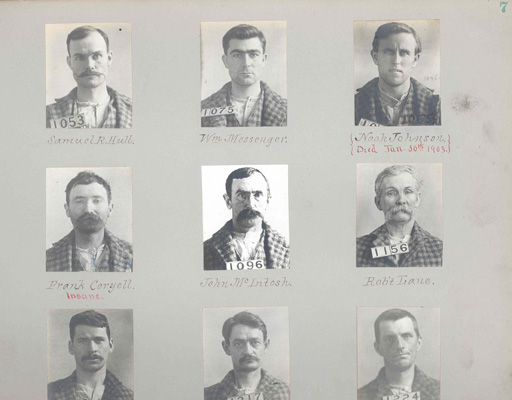 In the early 1900's the Board of State Charities conducted interviews with inmates at the Indiana State Prison in Michigan City, Indiana. Each prisoner was given the opportunity to give his side of the story. The men often named family members and others involved in the crime for which they were sentenced, and discussed whether or not attempts had been made to secure a parole or pardon.
The statements sometimes include follow up notes indicating the prisoner had died or was pardoned by the Governor, or in at least two cases the President.
There are a few prisoners who do not have photographs in the album; however, the Indiana State Archives has a large collection of early mug shots available as well. There is a group of prisoners at the end of the photo album who do not have corresponding statements available.
Reproductions can be made of the individual photographs. Microfilm copies of the statements are also available.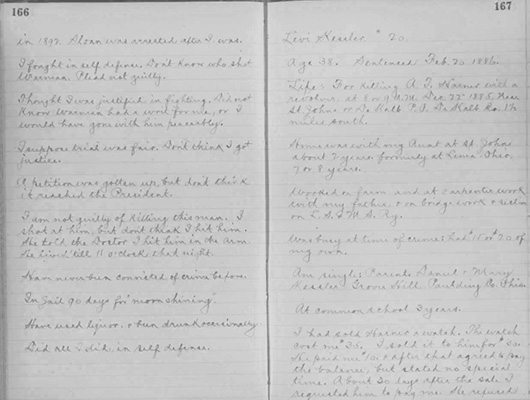 | | | | | |
| --- | --- | --- | --- | --- |
| Name | Date of sentence | ID No. | Volume | Page |
| Abbott, Louis | 1878/10/05 | 8 | 1 | 61 |
| Adams, Randall | 1895/02/19 | 312 | 1 | 164 |
| Adams, William | 1899/04/20 | 1490 | 1 | 264 |
| Alexander, Martin | 1894/03/09 | 144 | 1 | 148 |
| Andrews, James | 1903/07/06 | 2610 | 2 | 166 |
| Aszman, Edward C. | 1890/11/17 | 51 | 1 | 118 |
| Baker, James | 1882/03/18 | 13 | 1 | 272 |
| Baker, Lewis | 1901/01/26 | 1938 | 2 | 118 |
| Benson, William | 1889/04/17 | 366 | 1 | 173 |
| Blackwood, James | 1887/01/31 | 22 | 1 | 78 |
| Blume, William | 1899/04/18 | 1473 | 1 | 261 |
| Booker, Siemon | 1894/06/15 | 151 | 1 | 274 |
| Boyd, William | 1900/04/20 | 1732 | 2 | 114 |
| Bridgewater, William | 1898/02/19 | 1274 | 1 | 240 |
| Brown, Claburn C. | 1892/06/16 | 2336 | 2 | 137 |
| Brown, Cyrus | 1895/02/18 | 318 | 1 | 169 |
| Burke, Jack | 1898/04/23 | 1166 | 1 | 224 |
| Burton, James | 1897/11/29 | 1038 | 1 | 206 |
| Caves, James | 1891/03/17 | 69 | 1 | 132 |
| Clay, Fred | 1905/11/25 | 3309 | 2 | 250 |
| Clements, Henry | 1902/03/31 | 2281 | 2 | 74 |
| Cline, John | 1898/07/23 | 1272 | 1 | 238 |
| Constantus, Vassil | 1905/10/28 | 3273 | 2 | 244 |
| Cook, William | 1905/03/14 | 3110 | 2 | 242 |
| Coolman, Claude L. | 1903/10/03 | 2641 | 2 | 176 |
| Corey, Thamer | 1898/10/23 | 1316 | 1 | 244 |
| Coryell, Frank | 1898/01/28 | 1092 | 1 | 213 |
| Cripe, Frank | 1884/01/28 | 3179 | 2 | 231 |
| Darling, Clifford | 1904/12/02 | 2996 | 2 | 210 |
| Davidson, Thomas | 1890/07/08 | 53 | 1 | 121 |
| Derrigo, William | 1899/09/29 | 1552 | 1 | 280 |
| Dickerson, Nelson | 1900/03/02 | 1682 | 2 | 58 |
| Donahue, Edward | 1905/02/23 | 3107 | 2 | 225 |
| Drake, Ralph | 1894/10/05 | 165 | 1 | 150 |
| Duncan, David | 1900/04/17 | 1726 | 2 | 110 |
| Dunn, Charles | 1902/02/03 | 2238 | 2 | 79 |
| Ellis, Fred | 1898/04/28 | 1217 | 1 | 226 |
| Esra, John | 1895/04/18 | 355 | 1 | 171 |
| Eubanks, Henry B. | 1890/12/23 | 54 | 1 | 124 |
| Fenninger, John | 1902/12/01 | 2467 | 2 | 159 |
| Ferriter, John | 1897/10/12 | 987 | 1 | 204 |
| Fitzgerald, William | 1899/01/23 | 1417 | 1 | 254 |
| Fleming, John E. | 1889/07/02 | 43 | 1 | 109 |
| Flora, John | 1899/11/17 | 1596 | 1 | 270 |
| Flowers, William | 1877/09/19 | 6 | 1 | 59 |
| Freeman, Ernest | 1898/11/15 | 1321 | 1 | 246 |
| Fritts, George | 1901/11/29 | 2192 | 2 | 91 |
| Fritts, Nelson | 1901/11/27 | 2191 | 2 | 87 |
| Futrell, Robert | 1901/03/15 | 1987 | 2 | 120 |
| Gaynor, William | 1897/03/12 | 904 | 1 | 202 |
| Gehrs, Herman | 1904/06/04 | 2846 | 2 | 201 |
| Gibson, Harry | 1895/09/10 | 367 | 1 | 276 |
| Ginn, Vincent | 1901/04/27 | 2039 | 2 | 55 |
| Gray, Charles | 1897/03/12 | 903 | 1 | 200 |
| Gray, E. E. | 1899/05/22 | 1500 | 1 | 284 |
| Green, William A. | 1887/11/10 | 26 | 1 | 81 |
| Hampton, Charles | 1902/02/25 | 2254 | 2 | 76 |
| Harris, David O. | 1900/01/02 | 1634 | 1 | 282 |
| Harrison, Jackson | 1889/03/28 | 47 | 1 | 112 |
| Haxmon, Samuel | 1902/06/27 | 2084 | 2 | 95 |
| Haycock, Oliver | 1906/04/16 | 3425 | 2 | 261 |
| Heilman, Frank | 1903/01/24 | 2488 | 2 | 150 |
| Herbert, Joseph | 1902/11/07 | 2428 | 2 | 144 |
| Hinshaw, William E. | 1895/11/05 | 370 | 1 | 178 |
| Hobbs, Hiram | 1887/09/21 | 27 | 1 | 85 |
| Hobbs, Thomas | 1887/02/18 | 28 | 1 | 89 |
| Holland, Samuel | 1905/06/20 | 3199 | 2 | 234 |
| Homair, Fred | 1898/07/05 | 1239 | 1 | 235 |
| Hooper, Harry | 1904/01/04 | 2729 | 2 | 194 |
| Howley, Martin | 1894/03/24 | 181 | 1 | 153 |
| Hubbard, Charles | 1902/06/04 | 2325 | 2 | 93 |
| Hugis, Taylor | 1898/04/25 | 1230 | 1 | 233 |
| Hull, Samuel | 1897/12/18 | 1053 | 1 | 208 |
| Jackson, Virgil | 1899/03/28 | 1472 | 1 | 259 |
| James, John | 1905/12/12 | 3333 | 2 | 252 |
| Jaquith, Louis | 1901/06/21 | 2082 | 2 | 84 |
| Johnson, James E. | 1893/12/21 | 116 | 1 | 138 |
| Johnson, Noah | 1898/01/22 | 1085 | 1 | 211 |
| Johnston, James L. | 1901/11/29 | 2200 | 2 | 99 |
| Jones, Alfred | 1874/08/06 | 189 | 1 | 155 |
| Joyce, James | 1906/05/18 | 3447 | 2 | 272 |
| Julian, James A. | 1899/12/12 | 1604 | 2 | 57 |
| Kays, John | 1887/01/18 | 29 | 1 | 93 |
| Kendricks, Isaac | 1882/08/06 | 14 | 1 | 67 |
| Kenny, Charles | 1891/05/23 | 75 | 1 | 136 |
| Kessler, Levi | 1886/02/20 | 20 | 1 | 167 |
| Kettlehake, Fred | 1900/10/12 | 1847 | 2 | 112 |
| Knapp, John | 1905/10/23 | 3268 | 2 | 236 |
| Koerner, Andrew | 1884/11/20 | 17 | 1 | 73 |
| Lane, Robert | 1898/04/01 | 1156 | 1 | 222 |
| Lee, William H. | 1868/01/22 | 1 | 1 | 53 |
| Light, Ira | 1900/04/27 | 1739 | 2 | 62 |
| Lillard, Zachary | 1897/04/12 | 794 | 1 | 194 |
| Lint, Philip | 1893/10/31 | 119 | 1 | 144 |
| Love, Robert | 1898/12/17 | 1350 | 1 | 249 |
| Mallady, William | 1900/12/21 | 1905 | 2 | 116 |
| Mallory, Josephus | 1903/06/11 | 2595 | 2 | 162 |
| Masterson, James | 1902/12/08 | 2474 | 2 | 155 |
| Mauzy, John | 1905/11/06 | 3283 | 2 | 245 |
| McClure, Thomas Jesse | 1903/11/30 | 2718 | 2 | 189 |
| McDougal, Anthony | 1883/12/08 | 16 | 1 | 70 |
| McGlatchling, Estelle | | 2874 | 2 | 202 |
| McIntosh, John | 1898/01/28 | 1096 | 1 | 217 |
| Messenger, William | 1898/01/10 | 1075 | 1 | 209 |
| Musser, Albert | 1898/12/22 | 1365 | 1 | 252 |
| Neaphon, Patrick | 1902/02/15 | 2258 | 2 | 133 |
| Nolting, Joseph | 1906/04/04 | 3414 | 2 | 257 |
| Nulton, Wiley | 1903/11/05 | 2699 | 2 | 179 |
| O'Neil, Daniel | 1904/11/03 | 2975 | 2 | 207 |
| Osborne, Joseph | 1904/03/14 | 2794 | 2 | 199 |
| Owens, Elias | 1897/01/24 | 830 | 1 | 196 |
| Perry, William | 1896/12/31 | 564 | 1 | 192 |
| Petilliot, John F. | 1890/12/20 | 58 | 1 | 127 |
| Phillips, Lee | 1902/09/12 | 2391 | 2 | 97 |
| Pittser, Charles | 1902/04/21 | 2289 | 2 | 70 |
| Plew, Joseph W. | 1887/10/18 | 32 | 1 | 97 |
| Pope, Penfield | 1904/09/22 | 2899 | 2 | 204 |
| Porterfield, Horace | 1904/12/10 | 3005 | 2 | 215 |
| Powers, Alonzo | 1895/12/10 | 263 | 1 | 160 |
| Price, Samuel | 1893/12/14 | 123 | 1 | 145 |
| Purcell, Frank | 1900/04/18 | 1738 | 2 | 60 |
| Rankin, Nathan | 1903/10/14 | 2649 | 2 | 169 |
| Read, George B. | 1894/12/22 | 212 | 1 | 157 |
| Richards, Frederick | 1885/03/06 | 19 | 1 | 75 |
| Ritter, Henry | 1890/11/07 | 60 | 1 | 129 |
| Roach, Joseph | 1905/05/05 | 3164 | 2 | 230 |
| Robey, John | 1906/04/16 | 3426 | 2 | 264 |
| Rogers, Charles L. | 1901/04/08 | 2035 | 2 | 127 |
| Rubright, George | 1896/04/11 | 413 | 1 | 278 |
| Rutter, James | 1900/02/23 | 1687 | 2 | 108 |
| Ryan, Peter T. | 1888/06/05 | 39 | 1 | 102 |
| Sanderson, Earnest | 1905/11/20 | 3306 | 2 | 247 |
| Sauley, Elmer | 1887/10/26 | 33 | 1 | 99 |
| Shepherd, Charles E. | 1902/06/27 | 2342 | 2 | 68 |
| Shields, Frank | 1896/09/21 | 433 | 1 | 186 |
| Shultz, Victor | 1901/05/10 | 2053 | 2 | 66 |
| Siple, Frank | 1899/02/04 | 1430 | 1 | 256 |
| Sloan, Isaac | 1895/11/29 | 280 | 1 | 162 |
| Sluder, Jesse | 1906/04/04 | 3416 | 2 | 259 |
| Smith, Claude | 1897/01/23 | 853 | 1 | 198 |
| Smith, Henry | 1900/01/24 | 1684 | 2 | 106 |
| Snow, Isaac | 1898/09/20 | 1280 | 1 | 242 |
| Spaulding, Joseph | 1902/11/13 | 2454 | 2 | 147 |
| Spencer, Edward | 1900/05/15 | 1740 | 2 | 64 |
| Spicher, David | 1905/01/16 | 3052 | 2 | 219 |
| Sprong, Charles | 1905/05/03 | 3154 | 2 | 228 |
| Strine, Ora | 1902/03/02 | 2259 | 2 | 72 |
| Stroud, George | 1903/11/21 | 2712 | 2 | 183 |
| Suggs, George | 1906/02/10 | 3363 | 2 | 256 |
| Taylor, Edward | 1896/02/04 | 460 | 1 | 188 |
| Terry, Charles | 1903/12/01 | 2471 | 2 | 141 |
| Thrawley, John W. | 1898/06/09 | 1224 | 1 | 229 |
| Thurman, Frank | 1906/05/14 | 3445 | 2 | 270 |
| Tracy, Thomas | 1904/10/14 | 2949 | 2 | 206 |
| Trombly, Frank | 1905/02/04 | 3086 | 2 | 223 |
| Tucker, Thomas | 1901/06/04 | 2071 | 2 | 81 |
| Turner, John | 1900/02/01 | 1683 | 2 | 104 |
| Ulmer, John | 1896/05/11 | 473 | 1 | 190 |
| Van Blaricon, Charles | 1904/12/28 | 3027 | 2 | 217 |
| Vogus, James | 1880/10/21 | 11 | 1 | 65 |
| Waggoner, William H. | 1899/11/10 | 1593 | 1 | 267 |
| Waggoner, William H. | 1899/11/09 | 1593 | 2 | 101 |
| Wall, Josiah | 1876/05/29 | 5 | 1 | 56 |
| Warner, Edgar | 1896/09/19 | 390 | 1 | 181 |
| Welker, John M. | 1905/11/25 | 3308 | 2 | 248 |
| While, Nelson | 1906/01/19 | 3360 | 2 | 254 |
| White, Oliver | 1889/05/15 | 50 | 1 | 115 |
| William, William | 1905/01/23 | 3077 | 2 | 221 |
| Williams, Gus | 1888/04/07 | 40 | 1 | 105 |
| Williams, Jonah | 1906/07/09 | 3480 | 2 | 278 |
| Williams, Pack | 1903/01/22 | 2501 | 2 | 152 |
| Williams, Robert | 1906/05/26 | 3450 | 2 | 276 |
| Williams, Wesley | 1906/07/09 | 3481 | 2 | 280 |
| Winn, Louis | 1901/08/12 | 2109 | 2 | 122 |