Indiana Tartan Stone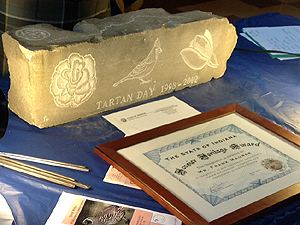 On July 30, 2012, the Indiana State Archives was presented with a hand-carved piece of Bedford limestone commemorating Tartan Day and the heritage of Scottish-Americans. California Stone Carver Frank Maurer has traveled the United States, providing numerous states archives with hand-carved stones specific to their state.
The Indiana Tartan Stone was the 23rd stone presented and features several symbols of Indiana including the Peony, Cardinal and Tulip Tree. In addition, the stone says "FII" denoting its carver and reads "Tartan Day 1998-2012." The top of the stone depicts the Wabash River and a Celtic Knot, which symbolizes eternity. The rear of the stone has the following inscription: "FII VI 2012" with a line under the "VI." This signifies that the stone was carved by Frank Maurer Jr. in June of 2012. The line under the "VI" indicates the use of a carbide chisel.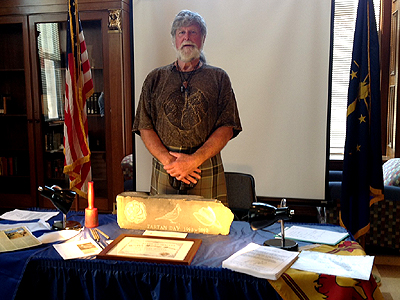 Tartan Day was first declared by the United States Senate as a Resolution in 1998 and later as a national day of recognition in 2008. April 6th was chosen as Tartan Day because the Declaration of Arbroath was written in Arbroath Abbey on that date in 1320, asking for the freedom of Scotland from England. Thomas Jefferson later used this document as a model for the Declaration of Independence.
The Indiana Tartan Stone will be available for use at events. Interested parties shall complete and submit State Form 54681 - Publish or Exhibit Materials from the Indiana State Archives.