Main Content
Archives Month - October 2008
Archives Month, October 2008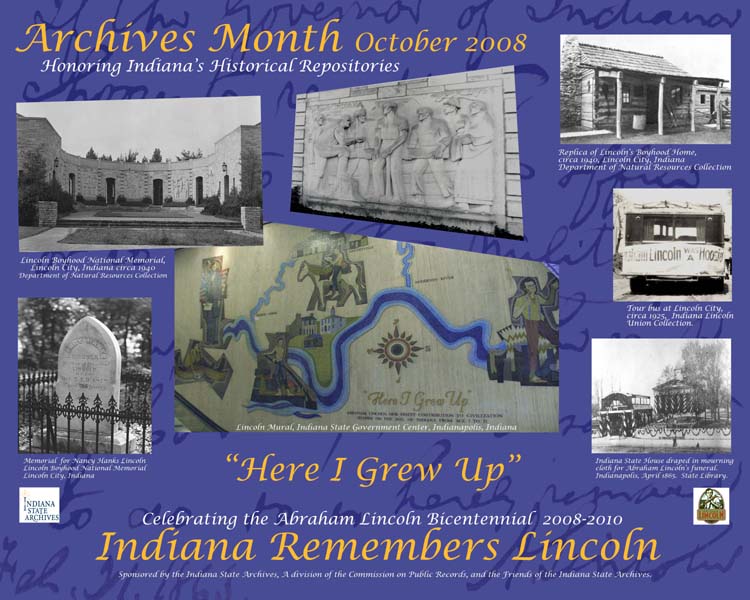 "Here I Grew Up": Celebrating the Abraham Lincoln Bicentennial
Archives Month
Indiana Archives Month seeks to promote the use of archives and the preservation of historic records within our communities. Archival repositories throughout our state, such as the Indiana State Archives, the Indiana State Library, the Indiana Historical, and numerous local institutions serve to preserve Indiana's heritage through the written record. Through the archives, Hoosiers can study the past, trace their ancestors, learn about their community, and maintain the laws of our state.
Join the State Library in celebrating Family History Month and American Archives Month!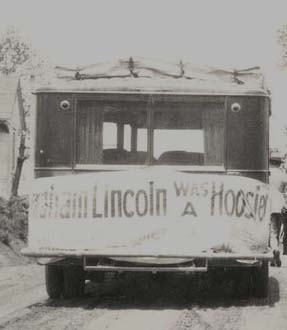 Abraham Lincoln Bicentennial
The state of Indiana is very lucky that part of our heritage includes the 16th President of the United States, Abraham Lincoln, who spent his boyhood in the Southern part of our state, from 1816 to 1830. On this website, to showcase the richness of our archives here in Indiana, particularly in regards to Lincoln, you will find links to and information about Indiana's Lincoln documents, photographs, and scholarship.
Lincoln Links and Resources
Lincoln Documents
Letter from John J. Crittende and others to Abraham Lincoln.
Edward Canby to John Kistler with endorsement of Abraham Lincoln.
Oliver P. Morton to Abraham Lincoln.
Conrad Baker and others to Abraham Lincoln.
Telegram book, Abraham Lincoln to Olver P. Morton.
Lincoln's Indiana Funeral expense statements.
Department of Natural Resources photographs of Lincoln Boyhood Home Memorial.
Photo of Lincoln's inauguration
Lantern slide portrait of Lincoln
Lincoln letter/autograph- Schuyler Colfax Papers
Southwestern Indiana Historical Society Collection
Clippings file- Lincoln and Lincoln commemoration/memorials in Indiana
Picture Collection
Manuscript of "Personal Recollections of Abraham Lincoln" (Robert W. McBride Papers- McBride was a bodyguard for Lincoln)
Selected works written about Lincoln by Indiana authors
Lincoln and Lincoln-related photographs.
Abraham Lincoln Papers, 1840-1866.
Scholarly works on Lincoln's life, work, and legacy.
Lincoln Bi-Centennial Activities