Huntington's Buildings over the River / Huntington's Ford and First Bridge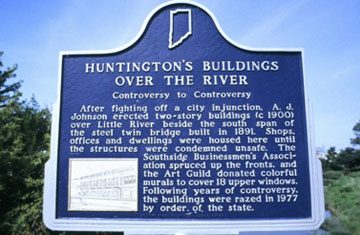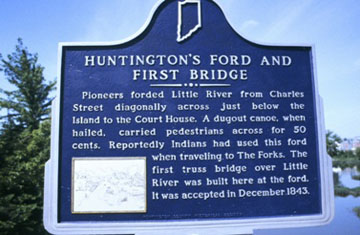 Location: Jefferson Street Little River bridge Huntington (Huntington County, Indiana)
South Side Business Association and Huntington County Historical Society
ID# : 35.1979.3
Text
Side one:
Controversy to Controversy
After fighting off a city injunction, A. J. Johnson erected two-story buildings (c. 1900) over Little River beside the south span of the steel twin bridge built in 1891. Shops, offices, and dwellings were housed here until the structures were condemned unsafe. The Southside Businessmens Association spruced up the fronts, and the Art Guild donated colorful murals to cover 18 upper windows Following years of controversy, the buildings were razed in 1977 by order of the state. [illustration]
Side two:
Pioneers forded Little River from Charles Street diagonally across just below the Island to the Court House. A dugout canoe, when hailed, carried pedestrians across for 50 cents. Reportedly Indians had used this ford when traveling to The Forks. The first truss bridge over Little River was built here at the ford. It was accepted in December 1843.
Keywords
Buildings and Architecture, Business, Industry, and Labor, Transportation