Home of Philo T Farnsworth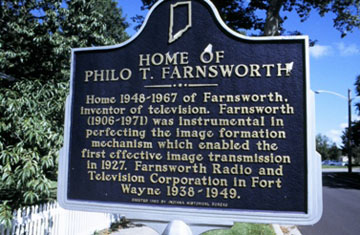 Location: St. Joseph & E. State Boulevards, Fort Wayne. (Allen County, Indiana)
Erected 1992 Indiana Historical Bureau.
ID# : 02.1992.1
Marker Review Report: Learn more here.
Visit the Indiana History Blog or listen to the Talking Hoosier History podcast to learn more about Farnsworth and the invention of television.
Text
Home 1948-1967 of Farnsworth, inventor of television. Farnsworth (1906-1971) was instrumental in perfecting the image formation mechanism which enabled the first effective image transmission in 1927. Farnsworth Radio and Television Corporation in Fort Wayne 1938-1949.
Keywords
Science, Medicine, and Inventions, Arts and Culture, Newspapers and Media