William Jacob Cuppy 1884-1949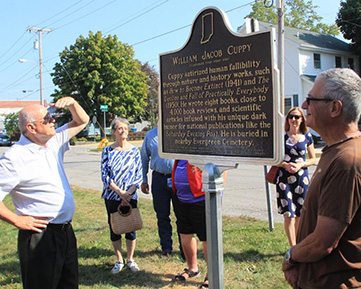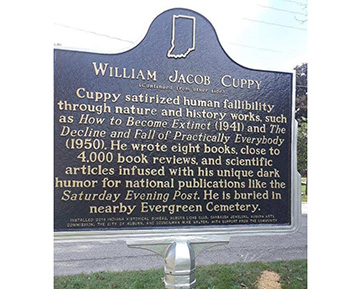 Location: 407 S. Jackson St., Auburn (DeKalb County) Indiana 46706
Installed 2019 Indiana Historical Bureau, Auburn Lions Club, Carbaugh Jewelers, Auburn Arts Commission, the City of Auburn, and Councilman Mike Walters, with support from the community
ID#: 17.2019.1
Learn more with the post "'Do Fish Think, Really?' And Will Cuppy's Other Musings?" on the Indiana History Blog.
Text
Side One:
Humorist, author, and critic Will Cuppy was born here. He graduated from the University of Chicago, where he published his first book in 1910. He moved to New York City ca. 1914 and became a book reviewer at the New York Herald Tribune. He lived in isolation on Jones' Island for eight years before gaining recognition with the publication of How to Be a Hermit in 1929.
Side Two:
Cuppy satirized human fallibility through nature and history works, such as How to Become Extinct (1941) and The Decline and Fall of Practically Everybody (1950). He wrote eight books, close to 4,000 book reviews, and scientific articles infused with his unique dark humor for national publications like the Saturday Evening Post. He is buried in nearby Evergreen Cemetery.