Planning for the Future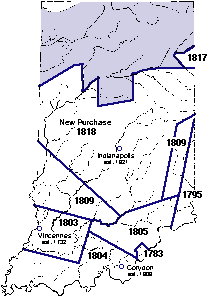 Lands belonging to indians in 1818 are shown in purple.
Map based on: The Indiana Junior Historian, November 1992, p. 3.
On June 10, 1816, forty-three elected constitutional delegates assembled at Corydon under the provisions of the congressional Enabling Act. With Jonathan Jennings presiding as president, these men wrote Indiana's first constitution.
This document provided for the government of the new state of Indiana, and it provided for a planned transition to statehood.
Delegates also provided for a new capital in Article XI, Section 11, of the constitution, which states, "Corydon, in Harrison County shall be the seat of Government of the state of Indiana, until the year eighteen hundred and twenty-five, and until removed by law."
The 1816 Enabling Act, in its last section, granted land for a state capital "on such lands as may hereafter be acquired by the United States from the Indian tribes within the said Territory."
On October 2-6, 1818, United States Treaty Commissioners Jonathan Jennings, Lewis Cass, and Benjamin Parke met in St. Mary's, Ohio with leaders of Delaware and Miami tribes located in Indiana. The treaties concluded there brought the middle third of the state-called the "New Purchase"-under United States ownership.
Most settlements at statehood were located in the southern part of the state, although the state's designated territory extended far north. The acquisition of Indian lands in that territory opened a major area for legal settlement. The acquisition also enabled the General Assembly to implement the constitutional provision for a new capital.
Sources: Barnhart and Riker, Indiana to 1816; Hawkins, Indiana's Road to Statehood; Kettleborough, Constitution Making.