Appointing Commissioners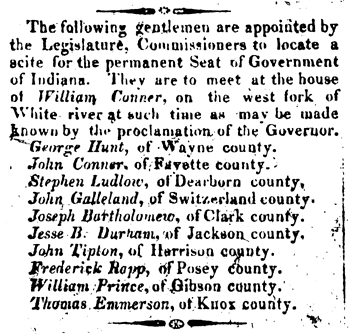 Indiana Centinel, January 29, 1820, p. 3.
On January 11, 1820, an act of the General Assembly provided for the appointment of ten individuals "to select and locate a site for the permanent seat of government of Indiana."
The act had four main sections with instructions for the commissioners:
to locate and select a permanent site for the seat of government.
to meet at William Conner's house (near present Noblesville) and determine the site "most eligible and advantageous."
to appoint a clerk to "keep a fair record of their proceedings" which must be filed with the secretary of state's office and the General Assembly.
to receive an allowance of "two dollars each, per day, for their services, and also the sum of two dollars for every twenty-five miles each may travel."
Source: Laws of Indiana, 1819-1820.