Indiana Governor Roger D Branigin (1902 - 1975)
Roger D. Branigin
Governor of Indiana
January 11, 1965-January 13, 1969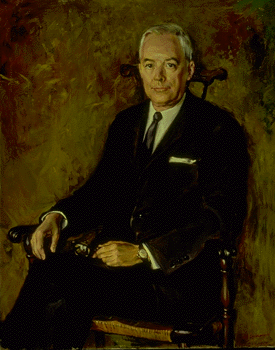 Artist: Helen Briggs Duckwall, American, b. 1912, painted 1967
oil on canvas, 44 x 36 (111.7 x 91.4)
Signed l.r.: H. B. Duckwall
ROGER BRANIGIN was born in Franklin, Indiana, graduated from Franklin College, and received his law degree from Harvard University. He practiced law in Franklin, Louisville, Kentucky, and Lafayette before serving in World War II; after the war he returned to his law practice in Lafayette.
Following an unsuccessful run for the governorship in 1956, Branigin, a Democrat, was elected governor in 1964 by a record-breaking plurality. The poll tax and personal property tax on household goods were abolished during his administration, and the "right-to-work" law was repealed.
He was a highly entertaining public speaker, storyteller, and wit, well known for his salty language. When asked to comment on his appeal to ordinary people, Branigin, the Harvard-educated lawyer, slyly replied, "People ask me if I'm for the common man....I'm a Hoosier, a Baptist, and a Democrat, and, by God, you can't get much commoner then that."
Branigin ran as a favorite-son candidate for President in the Democratic primary in 1968, losing to Robert F. Kennedy, and returned to Lafayette to practice corporation law. He also served as a trustee of Franklin College and the Lilly Endowment and, in an appropriate expression of his interest in Indiana history, was a board member of the Indiana Historical Society.
Source: Peat, Wilbur D. Portraits and Painters of the Governors of Indiana 1800-1978. Revised, edited and with new entries by Diane Gail Lazarus, Indianapolis Museum of Art. Biographies of the governors by Lana Ruegamer, Indiana Historical Society. Indianapolis: Indiana Historical Society and Indianapolis Museum of Art, 1978.