Indiana Governor Ralph F Gates (1893 - 1978)
Ralph F. Gates
Governor of Indiana
January 8, 1945-January 10, 1949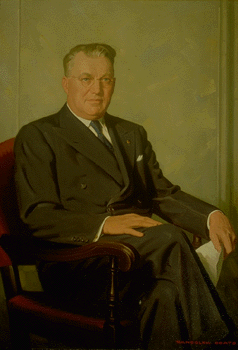 Artist: Randolph LaSalle Coats, American, 1891-1957, painted 1946
oil on canvas, 45 1/8 x 34 (104.6 x 86.3)
Signed l.r.: RANDOLPH COATS-
RALPH GATES was born in Columbia City and continued to call it home throughout his life. After receiving both undergraduate and law degrees from the University of Michigan, Gates returned home to enter his father's law practice. He served in World War I and upon his return became politically active as his father had been. Eventually he served as Indiana commander of the American Legion and as Republican state chairman.
In 1944 Gates was elected governor, his first public office and the first Republican to be elected governor of Indiana since 1928. During his administration state departments were created to deal with problems of revenue, flood control, veterans' affairs, and traffic safety. A lively, dynamic man, who spoke effectively in a deep, gravelly voice, Gates' popularity was frequently attributed to his grass roots familiarity with the state.
Following his term as governor, Gates resumed his law practice in Columbia City, eventually being joined by both his son and his daughter, and continued to be active until 1974. He was for many years a force in state politics, acting as GOP national committeeman from 1947 to 1961. Much of his retirement was spent at his home on Crooked Lake, where the Ralph Gates Nature Preserve was dedicated in the spring of 1978.
Source: Peat, Wilbur D. Portraits and Painters of the Governors of Indiana 1800-1978. Revised, edited and with new entries by Diane Gail Lazarus, Indianapolis Museum of Art. Biographies of the governors by Lana Ruegamer, Indiana Historical Society. Indianapolis: Indiana Historical Society and Indianapolis Museum of Art, 1978.